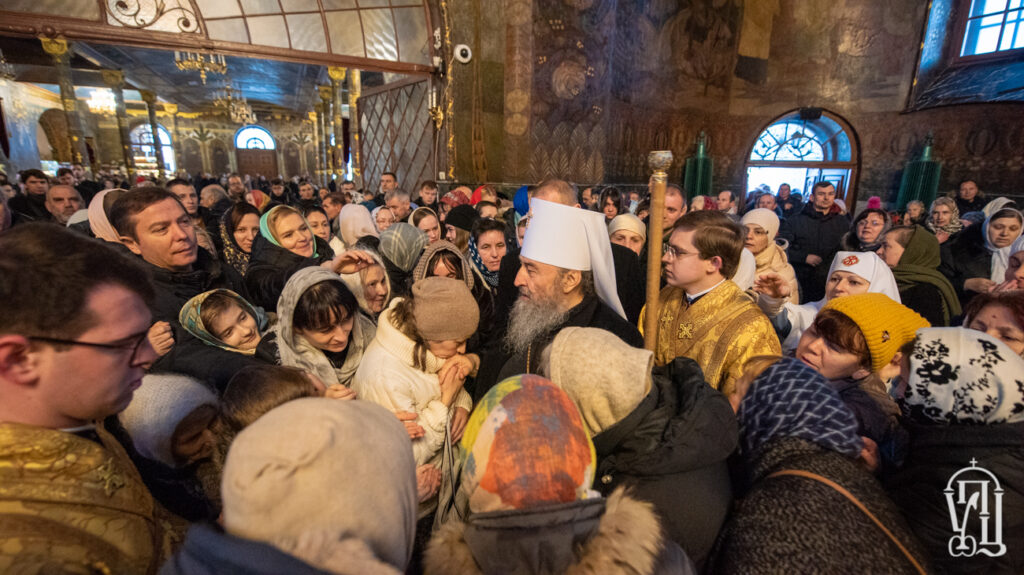 "Christians must be stubborn in prayer and humble in good works," said Metropolitan Onufriy of Kyiv in his homily during the Divine Liturgy in the church of St. Anthony and Theodosius of the Caves on Sunday, February 3. The primate focused his homily on the Gospel story of the healing of the blind by the Lord near the gates of Jericho, the Gospel read on that day in the Orthodox Church.
"We learn from this story that we must be persevering. The blind man was forced to shut up, but he shouted even harder for Jesus to show him mercy. This is an example of how we must persevere in prayer."
Only those who stand firm in prayer receive what they ask for. Insistent prayer only brings salvific fruit, said the archpastor. "When we start praying, things try to stop us, one way or another: either the devil, or life circumstances, or the conditions in which we find ourselves, or anyone among those present, and if we are alone, obstacles come from our thoughts, and maybe we will not feel like praying. But despite this, we must be persevering and insistent in prayer, and then prayer will bear fruit," said the primate.
He also pointed out that in the story of the healing of the blind, we are given an example on how to perform good works. "When we do good works, or rather when the Lord, through us, does good to the neighbor, we must enter the darkness of humility. According to our criteria, when the Lord healed the blind man, He should have asked someone to take a picture of them together, and then placed the picture somewhere for everyone to see. Instead, the Lord said to him, "Your faith has saved you! "(Lk 18:42). He immediately put His human nature aside… We must not prevent our neighbor from seeing his true benefactor, the Lord." "If we hide in humility, the Lord will reward us for the good we did, for having let Him use us as an instrument. But if are applauded, congratulated, and praised, we have already received our award here on earth," explained the Metropolitan.
He wished the strength of the Spirit to all and the ability to leave their own being aside, while doing good.
"Then our life will be righteous, and the blessing of God will rest upon us. We will walk on the path that the Lord has described as narrow, but which leads us to happiness, joy, peace, and eternal salvation in Heaven, in Christ Jesus, our Lord," concluded Metropolitan Onufriy.