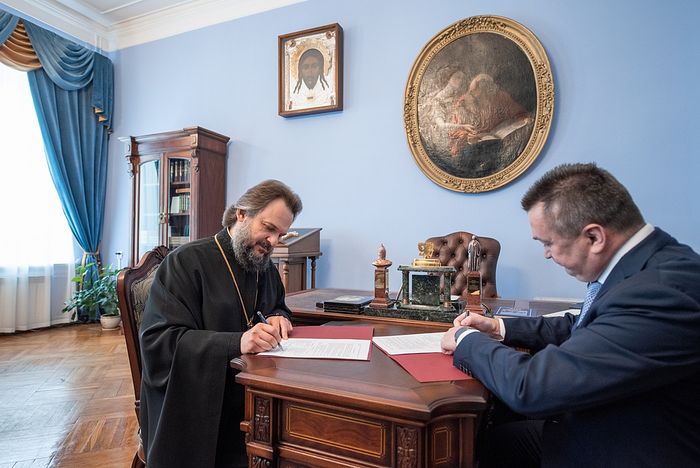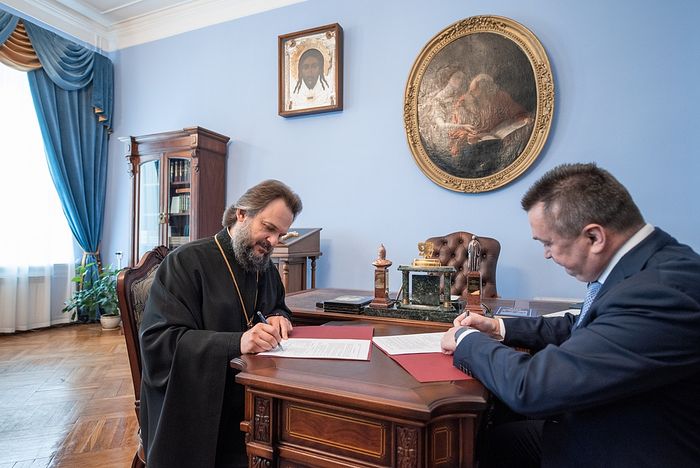 On March 22, Vladimir Miklushevsky, the rector of Moscow Polytechnic University, visited Moscow Theological Academy and the Trinity Lavra of St. Sergius. The rector was accompanied by Ekaterina L. Khokhlogorskaya, the director of the Higher School of Printing and Media Industry, and Alexey Vinokur, the director of the director of the Print, Media and Information Technologies Institute.
Archbishop Ambrozy of Vereysk, the rector of Moscow Theological Academy, welcomed his guests at the Trinity Lavra of St. Sergius. There, they worshiped the relics of St. Sergius of Radonezh, then went to the Nikonovsky chapel and to Serapion's Chamber.
Afterwards, the guests visited Dormition Church and went to the building of Moscow Theological Academy. Archbishop Ambrozy spoke about the history of the Academy Church, dedicated to the protection of the Mother of God. This church was severely damaged by a fire in 1986, and its frescoes were completely repainted. They are now cleaning off the soot, repairing the ventilation, and reinforcing the lighting and the sound systems. And students of the department of iconography are at work on the scaffoldings currently occupying the whole surface of the church.
The guests then visited the Academy Museum. In the rector's office, Archbishop Ambrozy and Vladimir Miklushevsky signed the cooperation agreement beyween both universities. The rector of the Theological Academy thanked the rector of the Polytechnic University for his willingness to cooperate: "Thank you very much for responding to our proposal. You have outstanding colleagues and highly qualified teachers, with whom we have had the opportunity to discuss. Today, the Church faces tasks that can only be performed at a high professional level. Of course, we fulfill our vocation first of all. But often, we lack the professionalism to do it. For our message to be more easily understood by our contemporaries, we would like to have a contemporary approach, in the good sense of the word. I hope your colleagues, teachers, and students will help us. For our part, we can perhaps bring the highlight also needed by your students to the life of the Polytechnic University".
These educational institutions will combine their efforts in the field of Orthodox books publishing, printing, marketing research, sociology, and the Russian market for religious literature. Books will be published jointly. Common courses will be open to students from both universities, as well as master classes, refresher courses, exhibitions, lectures, and pilgrimages. Teachers and students will be able to form groups to develop publishing projects. Teaching materials and teaching methods will be developed.
Source (dont photographie) : Pravoslavie