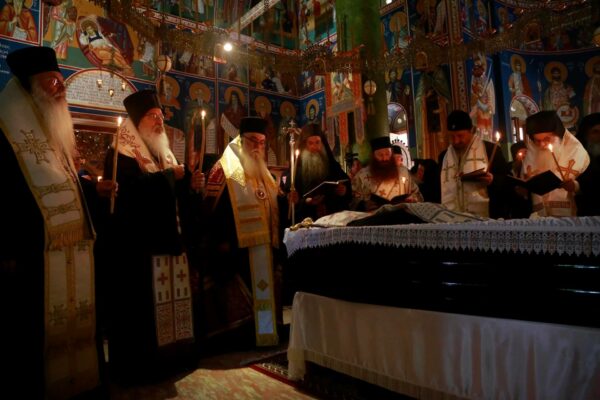 The funeral of Archimandrite Aimilianos of Simonopetra took place on Friday, May 10 at Ormylia Monastery, in the presence of a large number of monks and nuns, and many faithful.

The day before, Archbishop Ieronymos of Athens, accompanied by Bishop Symeon of Thespiae, had already come to celebrate a trisagion for the deceased.
The funeral was concelebrated by several hierarchs of the Ecumenical Patriarchate and of the Church of Greece: Metropolitans Nicholas of Mesogaia, Apostolos of Miletus, Nicodemus of Kassandra, Ioustinos of Nea Krini and Kalamaria, Panteleimon of Veria, Joel of Edessa, Seraphim of Kastoria, Athanasios of Sisanion and Siatista, Ioannis of Lagada, Barnabas of Neapolis and Stavroupolis, Hierotheos of Zichna, Ieoronymos of Larissa, David of Grevena, Panteleimon of Maroneia, Amfilochios of Adrianoupolis, Christodoulos of Avlon, for Archbishop Job of Telmessos; Bishop Nicholas of Amathus (Cyprus), and Bishop Athanasius (Yevtich), the retired bishop of Herzegovina.
Were also present the Athonite hegumens Prodromos of the Great Lavra, Ephrem of Vatopedi, Nathanael of Iviron, Methodios of Hilandar, Tykhon of Stavronikita, Alex of Xenophon, Gabriel of Pantocrator, Chrystophoros of Grigoriou, Bartholomew of Esphigmenou, former hegumen Vasileios of Iviron, and Father Nicodemus of Agiou Pavlou.
Monks and nuns of monastic communities from Greece, Cyprus, France, Belarus, Serbia, Romania, England, Switzerland and other European countries also came for the service. Metropolitan Apostolos of Miletus read Patriarch Bartholomew's message. Then Father Prodromos, the Great Lavra's hegumen, pronounced a eulogy on behalf of the Athonite Community. Then Archimandrite Vasileios, Iviron's former hegumen, spoke about the deceased with warm words.He mentioned the legacy of the blessed Elder. Finally, father Eliseus of Simonopetra, Elder Aimilianos's spiritual son and successor, deeply moved, evoked the deceased.
The hierarchs, the clergy, the monks and nuns, as well as a large number of faithful venerated the remains of Archimandrite Aimilianos of eternal memory. He was buried under the portico, outside the catholicon of the monastery.
You can watch here below the two videos of his Funeral and Burial.

Source in Greek