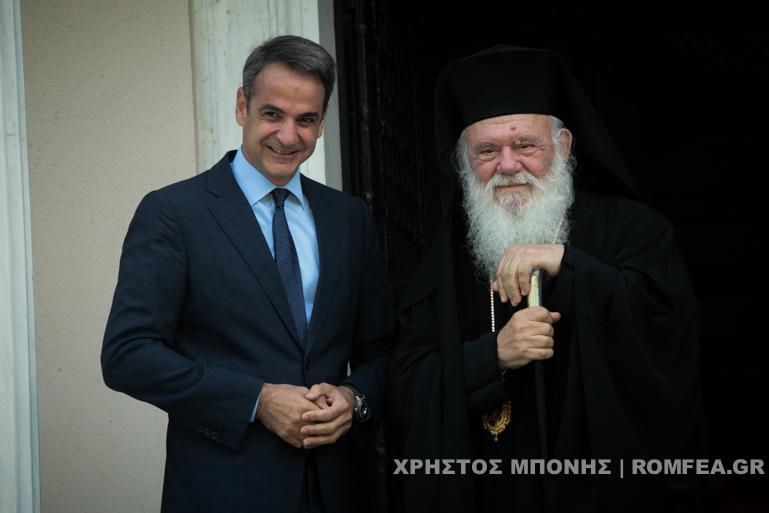 The Prime Minister greeted the archbishop at the entrance of the building:
"I am very pleased to welcome you officially, and I am looking forward to a very substantial collaboration with you. There are many issues to be tackled, but always with good faith, good disposition, and in accordance with the requirements of Articles 3 and 13 of the Constitution – that there is no question of amending during the constitutional revision, as I have already informed you," said the Prime Minister.
For his part, the Archbishop wished the new Prime Minister strength and patience in his work.
"I personally  and amicably want to wish you strength and patience, because our country has so many needs. We must find the appropriate solutions for the problems that you mentioned and others, through a close collaboration between the Church and the State," said Archbishop Ieronymos.
The Constitutional Articles referred to by the Greek Prime Minister are the following:
SECTION II
Relations of Church and State
Article 3
The prevailing religion in Greece is that of the Eastern Orthodox Church of Christ. The Orthodox Church of Greece, acknowledging our Lord Jesus Christ as its head, is inseparably united in doctrine with the Great Church of Christ in Constantinople and with every other Church of Christ of the same doctrine, observing unwaveringly, as they do, the holy apostolic and synodal canons and sacred traditions. It is autocephalous and is administered by the Holy Synod of serving Bishops and the Permanent Holy Synod originating thereof and assembled as specified by the Statutory Charter of the Church in compliance with the provisions of the Patriarchal Tome of June 29, 1850 and the Synodal Act of September 4, 1928.
The ecclesiastical regime existing in certain districts of the State shall not be deemed contrary to the provisions of the preceding paragraph.
The text of the Holy Scripture shall be maintained unaltered. Official translation of the text into any other form of language, without prior sanction by the Autocephalous Church of Greece and the Great Church of Christ in Constantinople, is prohibited.
PART TWO
Individual and Social Rights
Article 13
Freedom of religious conscience is inviolable. The enjoyment of civil rights and liberties does not depend on the individual's religious beliefs.
All known religions shall be free and their rites of worship shall be performed unhindered and under the protection of the law. The practice of rites of worship is not allowed to offend public order or the good usages. Proselytism is prohibited.
The ministers of all known religions shall be subject to the same supervision by the State and to the same obligations towards it as those of the prevailing religion.
No person shall be exempt from discharging his obligations to the State or may refuse to comply with the laws by reason of his religious convictions.
No oath shall be imposed or administered except as specified by law and in the form determined by law.
Text quoted from the official English translation of The Constitution of Greece
Source in Greek (with picture)