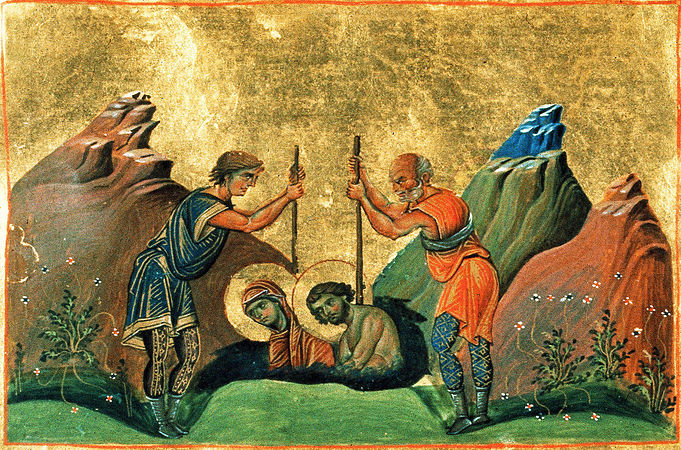 March 19
Great Lent
Martyrs Chrysanthus and Daria, and those with them at Rome: Claudius, Hilaria, Jason, Maurus, Diodorus the Presbyter, and Marianus the Deacon (283). St. Innocent of Komel', disciple of St. Nilus of Sora (Vologdá—1521). Martyr Pancharius, at Nicomedia (ca. 302).
SAINT CHRYSANTHUS AND HIS WIFE DARIA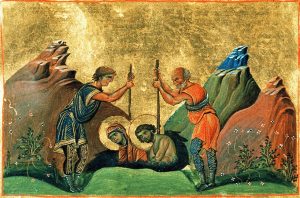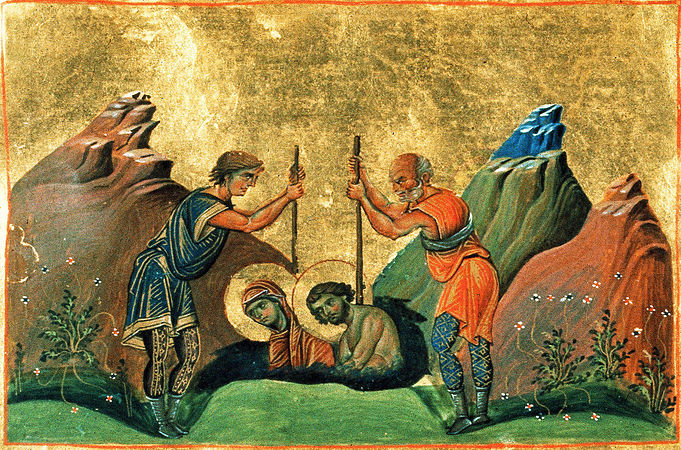 The Holy Martyrs Chrysanthus and Daria and with them the Martyrs Claudius the Tribune with his wife Hilaria and their sons Jason and Maurus, and Diodorus the Presbyter and Marianus the Deacon.
Saint Chrysanthus came from a pagan family who had moved to Rome from Alexandria. He received a fine education, and among the books he read were those in which pagans discussed Christianity. The young man, however, wanted to read books written by Christians themselves. He finally managed to find a copy of the New Testament, which enlightened his rational soul.
Seeking someone to instruct him in the Holy Scriptures, he found the presbyter Carpophoros hiding from persecution, and received holy Baptism from him. After this, he began to preach the Gospel. Chrysanthus' father tried to turn his son from Christianity, and finally married him to Daria, a priestess of Minerva.
Saint Chrysanthus managed to convert his wife to Christ, and the young couple mutually agreed to lead celibate lives. After the death of the father, they began to live in separate houses. Saint Chrysanthus converted several young men to Christ, and many pious women gathered around Saint Daria.
The people of Rome complained to the eparch Celerinus that Saints Chrysanthus and Daria were preaching celibacy and attracting too many young men and women to monasticism. Saint Chrysanthus was sent to the tribune Claudius for torture.
The torments, however, did not shake the bravery of the young martyr, since the power of God clearly aided him. Struck by this, the tribune Claudius himself came to believe in Christ and accepted holy Baptism together with his wife Hilaria, their sons Jason and Maurus, and all his household and soldiers. When news of this reached the emperor Numerian (283-284), he commanded them all to be executed. The Martyr Claudius was drowned in the sea, and his sons and soldiers were beheaded. Christians buried the bodies of the holy martyrs in a nearby cave, and Saint Hilaria constantly went there to pray. Once, they followed her and led her off for torture. The saint asked that they give her a few moments to pray, and as soon as she finished, she gave up her soul to God. A servant buried the saint in the cave beside her sons.
The torturers sent Saint Daria to a brothel, where she was protected by a lion sent by God. A certain man who tried to defile the saint was knocked to the ground and pinned down by the lion, but the lion did not kill him. The martyr preached to them about Christ and set them to the path of salvation.
They threw Saint Chrysanthus into a foul-smelling pit, into which all the filth of the city flowed. But a heavenly light shone on him, and the pit was filled with a sweet fragrance.
Then the emperor Numerian ordered Saints Chrysanthus and Daria to be turned over to the executioners. After many cruel tortures, the martyrs were buried alive in the ground.
In a cave near the place of execution, Christians began to gather to honor the anniversary of the saints' martyrdom. They celebrated Church services and partook of the Holy Mysteries. Learning of this, the pagan authorities sealed the entrance to the cave, and those within received the crown of martyrdom.
Two of these martyrs are known by name: the Presbyter Diodorus and the Deacon Marianus.
Troparion of the saints, tone 1
Let us honor the like-minded pair of martyrs / Chrysanthus, scion of purity, and supremely modest Daria. / United in holiness of faith, / they shone forth as communicants of God the Word. / They fought lawfully for Him and now save those who sing: / "Glory to Him who has strengthened you! / Glory to Him who has crowned you! / Glory to Him who through you grants healing to all!"
Kontakion of the saints, tone 1
In the sweet fragrance of holiness, O Chrysanthus, / you drew Daria to saving knowledge. / Together in contest you routed the serpent, / the author of all evil, / and were worthily taken up to the heavenly realms.
Isaiah 5:7-16 (6th Hour)
7

For the vineyard of the Lord of hosts is the house of Israel, and the men of Judah are His pleasant plant. He looked for justice, but behold, oppression; for righteousness, but behold, a cry for help.

8

Woe to those who join house to house; they add field to field, till there is no place where they may dwell alone in the midst of the land!

9

In my hearing the Lord of hosts said, "Truly, many houses shall be desolate, great and beautiful ones, without inhabitant.

10

For ten acres of vineyard shall yield one bath, and a homer of seed shall yield one ephah."

11

Woe to those who rise early in the morning, that they may follow intoxicating drink; who continue until night, till wine inflames them!

12

The harp and the strings, the tambourine and flute, and wine are in their feasts; but they do not regard the work of the Lord, nor consider the operation of His hands.

13

Therefore my people have gone into captivity, because they have no knowledge; their honorable men are famished, and their multitude dried up with thirst.

14

Therefore Sheol has enlarged itself and opened its mouth beyond measure; their glory and their multitude and their pomp, and he who is jubilant, shall descend into it.

15

People shall be brought down, each man shall be humbled, and the eyes of the lofty shall be humbled.

16

But the Lord of hosts shall be exalted in judgment, and God who is holy shall be hallowed in righteousness.
Genesis 4:8-15 (Vespers, 1st reading)
8

Now Cain talked with Abel his brother; and it came to pass, when they were in the field, that Cain rose up against Abel his brother and killed him.

9

Then the Lord said to Cain, "Where is Abel your brother?" He said, "I do not know. Am I my brother's keeper?"

10

And He said, "What have you done? The voice of your brother's blood cries out to Me from the ground.

11

So now you are cursed from the earth, which has opened its mouth to receive your brother's blood from your hand.

12

When you till the ground, it shall no longer yield its strength to you. A fugitive and a vagabond you shall be on the earth."

13

And Cain said to the Lord, "My punishment is greater than I can bear!

14

Surely You have driven me out this day from the face of the ground; I shall be hidden from Your face; I shall be a fugitive and a vagabond on the earth, and it will happen that anyone who finds me will kill me."

15

And the Lord said to him, "Therefore, whoever kills Cain, vengeance shall be taken on him sevenfold." And the Lord set a mark on Cain, lest anyone finding him should kill him.
Proverbs 5:1-15 (Vespers, 2nd reading)
1

My son, pay attention to my wisdom; lend your ear to my understanding,

2

that you may preserve discretion, and your lips may keep knowledge.

3

For the lips of an immoral woman drip honey, and her mouth is smoother than oil;

4

but in the end she is bitter as wormwood, sharp as a two-edged sword.

5

Her feet go down to death, her steps lay hold of hell.

6

Lest you ponder her path of life – her ways are unstable; you do not know them.

7

Therefore hear me now, my children, and do not depart from the words of my mouth.

8

Remove your way far from her, and do not go near the door of her house,

9

lest you give your honor to others, and your years to the cruel one;

10

lest aliens be filled with your wealth, and your labors go to the house of a foreigner;

11

and you mourn at last, when your flesh and your body are consumed,

12

and say: "How I have hated instruction, and my heart despised correction!"

13

I have not obeyed the voice of my teachers, nor inclined my ear to those who instructed me!

14

I was on the verge of total ruin, in the midst of the assembly and congregation."

15

Drink water from your own cistern, and running water from your own well.