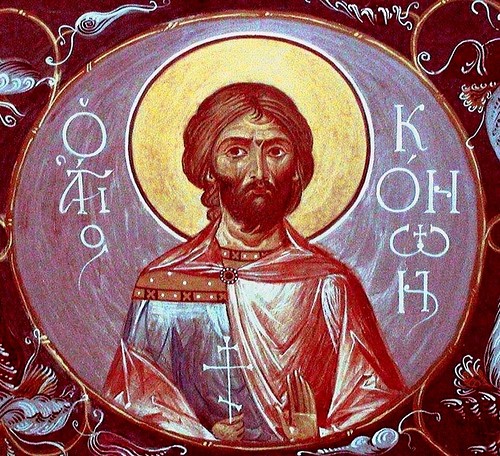 March 5 (old calendar) / March 18 (new)
Great Lent
Martyr Conon of Isauria (1st c.). Finding of the Relics of Rt. Blv. Theodore, Prince of Smolensk and Yaroslavl', and his children Ss. David and Constantine, Wonderworkers of Yaroslavl' (1463). Monk Martyr Adrian of Poshekhónsk (Yaroslavl'—1550). Martyr Onesimus of Isauria (1st c.). Martyr Conon the Gardener, of Pamphylia (3rd c.). Virgin martyr Irais (Raíssa) of Antinoë in Egypt (ca. 308). Martyr Eulogius, of Palestine. Martyr Eulampius, of Palestine. St. Mark the Faster, of Egypt (5th c.). St. Hesychius the Faster, of Bithynia (ca. 790).
SAINT CONON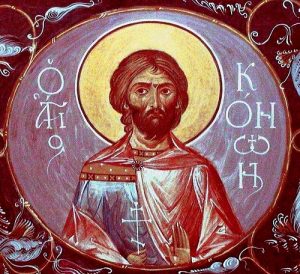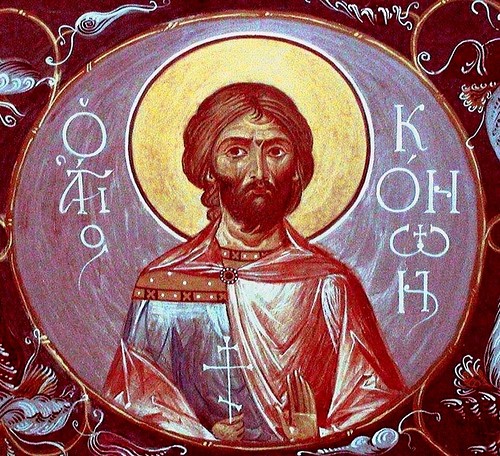 The Holy Martyr Conon of Isauria was born in Bethany, a village near the Asia Minor city of Isauria, whose inhabitants had accepted Christianity from the Apostle Paul. From his youth, Saint Conon was accorded the special protection of the "Archistrategos" ("Leader of the Heavenly Hosts") Michael, who appeared to him and assisted him in many difficult circumstances in life.
At the insistence of his parents, Conon was betrothed to a maiden named Anna. He persuaded her to live with him in virginity after the wedding. The young couple lived as brother and sister, devoting themselves entirely to God. Saint Conon brought also his parents to the Christian Faith. His father, Saint Nestor, received a martyr's death for denouncing idol-worshippers.
After burying both his mother and wife, Saint Conon continued his service to God, devoting himself entirely to monastic works, fasting and prayer. In his declining years the holy ascetic was glorified with the gift of wonderworking. By virtue of his preaching and miracles many pagans were converted to Christ. It is said that even the evil spirits were forced to serve him.
When a persecution against Christians broke out in Isauria, one of the first to suffer was Saint Conon. He was subjected to fierce torments for his refusal to offer sacrifice to idols. When the people of Isauria learned of the tortures to which the saint was being subjected, they came forth bearing arms to defend the martyr. Frightened by the people's wrath, the torturers fled, and the Isaurians found the martyr wounded and bloodied at the place of torture.
Saint Conon wished to endure martyrdom for the Lord, but he lived two more years. Saint Conon died in the second century and was buried beside his parents and wife.
Troparion of the saint, tone 4
Your holy martyrs Conan and Onesimus, O Lord, / Through their sufferings have received incorruptible crowns from You, our God. / For having Your strength, they laid low their adversaries, / And shattered the powerless boldness of demons. / Through their intercessions, save our souls!
Kontakion of the saint, tone 3
Having lived on earth in purity, like an angel, / You were counted worthy to converse with the bodiless hosts. / You brought your parents to the knowledge of Christ / And having confessed the one God in Trinity, / You suffered to the shedding of your blood! / Martyr Conon, ever entreat him for the sake of us all!
Isaiah 4:2-5:7 (6th Hour)
2

In that day the Branch of the Lord shall be beautiful and glorious; and the fruit of the earth shall be excellent and appealing for those of Israel who have escaped.

3

And it shall come to pass that he who is left in Zion and remains in Jerusalem will be called holy – everyone who is recorded among the living in Jerusalem.

4

When the Lord has washed away the filth of the daughters of Zion, and purged the blood of Jerusalem from her midst, by the spirit of judgment and by the spirit of burning,

5

then the Lord will create above every dwelling place of Mount Zion, and above her assemblies, a cloud and smoke by day and the shining of a flaming fire by night. For over all the glory there will be a covering.

6

And there will be a tabernacle for shade in the daytime from the heat, for a place of refuge, and for a shelter from storm and rain.

1

Now let me sing to my Well-beloved a song of my Beloved regarding His vineyard: My Well-beloved has a vineyard on a very fruitful hill.

2

He dug it up and cleared out its stones, and planted it with the choicest vine. He built a tower in its midst, and also made a winepress in it; so He expected it to bring forth good grapes, but it brought forth wild grapes.

3

"And now, O inhabitants of Jerusalem and men of Judah, Judge, please, between Me and My vineyard.

4

What more could have been done to My vineyard that I have not done in it? Why then, when I expected it to bring forth good grapes, did it bring forth wild grapes?

5

And now, please let Me tell you what I will do to My vineyard: I will take away its hedge, and it shall be burned; and break down its wall, and it shall be trampled down.

6

I will lay it waste; it shall not be pruned or dug, but there shall come up briers and thorns. I will also command the clouds that they rain no rain on it."

7

For the vineyard of the Lord of hosts is the house of Israel, and the men of Judah are His pleasant plant. He looked for justice, but behold, oppression; for righteousness, but behold, a cry for help.
Genesis 3:21-4:7 (Vespers, 1st reading)
21

Also for Adam and his wife the Lord God made tunics of skin, and clothed them.

22

Then the Lord God said, "Behold, the man has become like one of Us, to know good and evil. And now, lest he put out his hand and take also of the tree of life, and eat, and live forever" –

23

therefore the Lord God sent him out of the garden of Eden to till the ground from which he was taken.

24

So He drove out the man; and He placed cherubim at the east of the garden of Eden, and a flaming sword which turned every way, to guard the way to the tree of life.

1

Now Adam knew Eve his wife, and she conceived and bore Cain, and said, "I have acquired a man from the Lord."

2

Then she bore again, this time his brother Abel. Now Abel was a keeper of sheep, but Cain was a tiller of the ground.

3

And in the process of time it came to pass that Cain brought an offering of the fruit of the ground to the Lord.

4

Abel also brought of the firstborn of his flock and of their fat. And the Lord respected Abel and his offering,

5

but He did not respect Cain and his offering. And Cain was very angry, and his countenance fell.

6

So the Lord said to Cain, "Why are you angry? And why has your countenance fallen?

7

If you do well, will you not be accepted? And if you do not do well, sin lies at the door. And its desire is for you, but you should rule over it."
Proverbs 3:34-4:22 (Vespers, 2nd reading)
34

Surely He scorns the scornful, but gives grace to the humble.

35

The wise shall inherit glory, but shame shall be the legacy of fools.

1

Hear, my children, the instruction of a father, and give attention to know understanding;

2

For I give you good doctrine: do not forsake my law.

3

When I was my father's son, tender and the only one in the sight of my mother,

4

he also taught me, and said to me: "Let your heart retain my words; keep my commands, and live.

5

Get wisdom! Get understanding! Do not forget, nor turn away from the words of my mouth.

6

Do not forsake her, and she will preserve you; love her, and she will keep you.

7

Wisdom is the principal thing; therefore get wisdom. And in all your getting, get understanding.

8

Exalt her, and she will promote you; she will bring you honor, when you embrace her.

9

She will place on your head an ornament of grace; a crown of glory she will deliver to you."

10

Hear, my son, and receive my sayings, and the years of your life will be many.

11

I have taught you in the way of wisdom; I have led you in right paths.

12

When you walk, your steps will not be hindered, and when you run, you will not stumble.

13

Take firm hold of instruction, do not let go; keep her, for she is your life.

14

Do not enter the path of the wicked, and do not walk in the way of evil.

15

Avoid it, do not travel on it; turn away from it and pass on.

16

For they do not sleep unless they have done evil; and their sleep is taken away unless they make someone fall.

17

For they eat the bread of wickedness, and drink the wine of violence.

18

But the path of the just is like the shining sun, that shines ever brighter unto the perfect day.

19

The way of the wicked is like darkness; they do not know what makes them stumble.

20

My son, give attention to my words; incline your ear to my sayings.

21

Do not let them depart from your eyes; keep them in the midst of your heart;

22

For they are life to those who find them, and health to all their flesh.