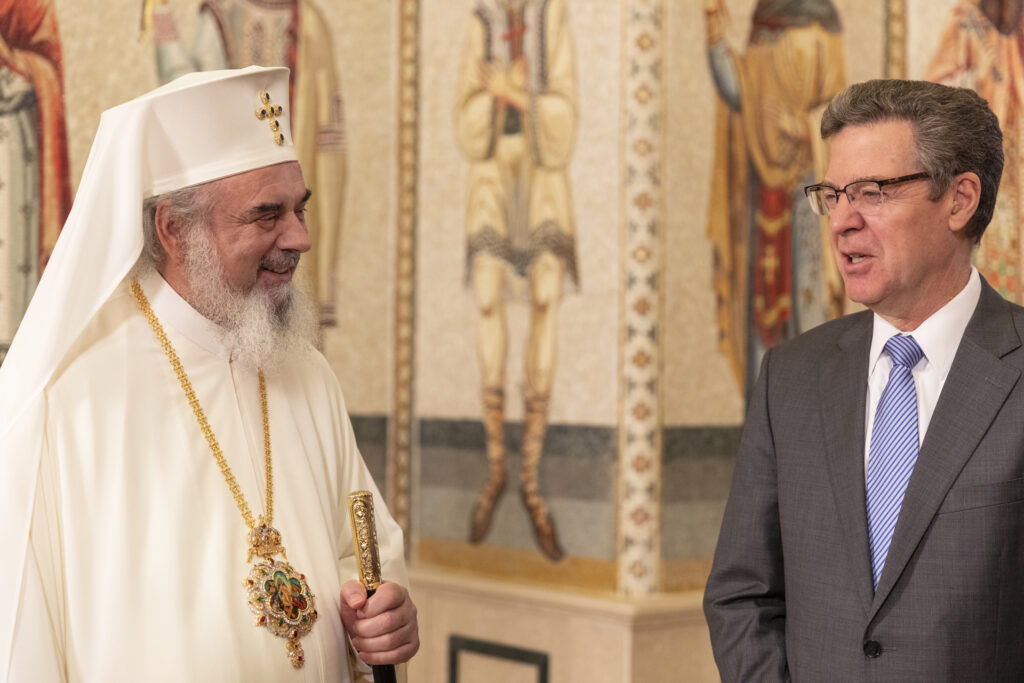 The American delegation first met at the Patriarchal Palace with a delegation of the Romanian Orthodox Church, led by Metropolitan Niphon of Târgovişte, Patriarch Daniel's delegate.
Samuel Brownback explained he was in Romania, as sent by the US State Department, with the wish to develop relationships with the Orthodox world. His Excellency added that he had already visited Mountain Athos, Greece, and Bulgaria. After his visit to Romania, he plans to go to the Republic of Moldova.
In all his political activity as a congressman, a senator, and a governor, he defended Christian values ​​and enacted pro-life legislation, including the need for Christian witness and a strong Christian community in society. In addition, he mentioned his intention as the ambassador for religious freedom, to expand collaboration with the Orthodox Churches in America and around the world.
Metropolitan Niphon expressed his joy for this openness, which can lead to a better knowledge of the realities in the Orthodox world, a world faithful to its traditional values, while at the same time being open to contemporary society. The Metropolitan spoke about the need for Christian witness and unity in the face of aggressive ideological tendencies of secularization and atheism.
As part of the meeting, they discussed the urgent problem of Christians in areas where persecutions happen on religious grounds.
The United States of America are also developing international projects for the reconstruction and development of religious communities in areas affected by military conflict. Along these lines, the ambassador has invited the Orthodox Churches to get involved in this activity, above all because this type of service corresponds to the vocation of the Church. Besides, the Orthodox Church has historic access to these areas.
Metropolitan Niphon recalled the fact that in the Middle East, Orthodox Christians are a religious minority with a high exposure to persecution. He expressed the need to help them materially and to encourage them.
At the end of the meeting, both delegations were received by Patriarch Daniel of Romania in the patriarchal residence, where they presented the conclusions of their meeting.

Source in Romanian