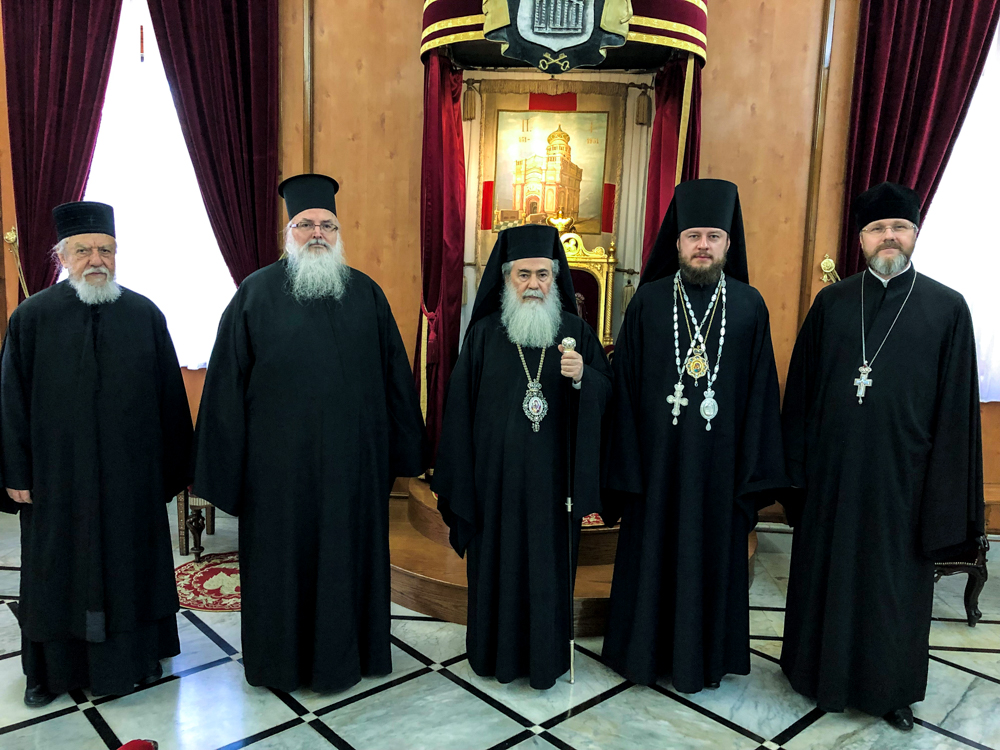 On March 4, 2019, Patriarch Theophilos of Jerusalem received Bishop Victor of Baryshevka (Ukrainian Orthodox Church – Moscow Patriarchate). Archbishop Theophylact of Jordan was also present.
Bishop Victor was accompanied by Archpriest Nikolai Danilevich, the Deputy Chairman of the Moscow Patriarchate's Department for External Church Relations (DECR). He delivered information on the current situation in the Church of Ukraine.
For his part, Patriarch Theophilos emphasized that the Church crisis in Ukraine is a challenge for all Orthodoxy. He also expressed hope that Orthodoxy finds the strength to overcome this crisis while preserving the unity of the Church. He conveyed his support for Metropolitan Onufriy of Kyiv.
Father Yannick Provost is himself currently in Jerusalem, where he is preparing for the October 2019 pilgrimage to the Holy Land (see information in French on previous pilgrimages). He just informed us of the current situation of pilgrims from all over the world visiting the holy sites.
All priests in regular canonical situations are invited to concelebrate at the daily services in Jerusalem, Bethlehem and Nazareth.
For example, on Friday, March 1, the Divine Liturgy was celebrated at the Golgotha ​​by Archbishop Theophanes (Jerusalem Patriarchate). Some twenty priests coming from Russia, Ukraine, Northern Greece, Romania, and France concelebrated, and more than 600 pilgrims from the above countries received communion.
On Sunday, March 3, the Liturgy at the Holy Tomb was presided by Metropolitan Panteleimon of Veria and Naousa (Greek Orthodox Church) and concelebrated by Archbishop Aristarchus (Jerusalem Patriarchate), by Bishop Sophrony of Oradea, Bihor and Salaj (Patriarchate of Romania), as well as by 48 priests coming from Crete, Thessaloniki, Russia, Romania, Serbia, etc. More than a thousand pilgrims, mostly Russian and Romanian, received communion.
Source in English