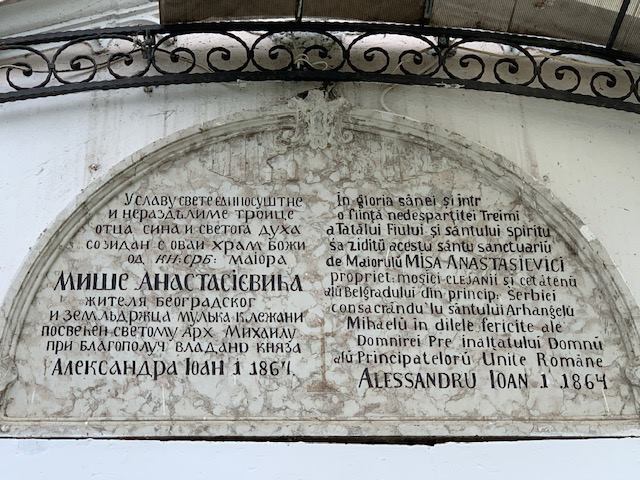 On April 10, 2019, Bishop Lukijan of Budapest, the Administrator of the Timişoara Serbian diocese, was invited by the Romanian Parliament to attend their session, dedicated to the proclamation of the feast day of Saint Sava as a holiday for the Serbian minority in Romania.
Speeches were delivered during the solemn session, by Slavoljub Adnađ, the Deputy of the Serbian minority in the Romanian Parliament and the initiator of the holiday in Romania; by Victor Opaschi, the Secretary of State for Cooperation with the Churches and Religious Communities; and by representatives of the government and parliament who supported the adoption of the law. It is worth mentioning that the representatives of all the parties in Parliament fully supported this law.
On the occasion of his working visit to Bucharest, Bishop Lukijan, accompanied by Slavoljub Adnađ and Archpriest Marinko Markov, the Bishop Vicar, visited the village of Clejani in the Bucharest region, where they were welcomed by local Romanian clergy.
The foundations of the great Serbian personality, Captain Mihailo "Miša" Anastasijević (+1885), are located in Clejani and its surrounding villages: Holy Archangels Michael and Gabriel Church, the business school, the largest in Europe at the time, the copy of the Belgrade building bearing the name "Captain Miša", unfortunately in ruins.
Note that in this village, beside Romanian, Serbian is still spoken today
The delegation visited the grave of this great personality and celebrated a panakhida.
Bishop Lukijan thanked the Romanian friends for their warm welcome, as well as the local bishop Amvrosi, in the hope that Clejani will become a friendship bond between the two Orthodox nations in the One, Holy, Catholic, and Apostolic Church.
Source in Serbian