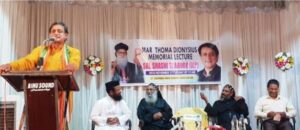 The annual Thoma Mar Dionysus Lecture was held at St. Stephen's College, Mount Tabor (Pathanapuram, India) on November 27, 2018.
On this occasion, Dr. Shashi Tharor, a Member of the Indian Parliament, as well as a writer and a former United Nations diplomat, highlighted the importance of the social services provided by the Malankara Orthodox Church in Kerala.
The article gives a brief presentation of the Malankara Orthodox Church in Kerala, a short biography of Metropolitan Thoma Mar Dionysus, and information about the Malankara Church Rehabilitation Programs for the Victims of Kerala Floods.
Source (with picture) in English
Notre lettre d'informations hebdomadaire gratuite
Chers lecteurs,
Vous êtes de plus en plus nombreux à lire Orthodoxie.com, et nous nous en réjouissons. Nous souhaitons qu'une grande partie des articles de notre site soit accessible à tous, gratuitement, mais l'information de qualité a un coût. Et pour cette raison, votre soutien nous est plus que nécessaire. Nous vous invitons à vous y abonner, ou bien à faire un don de soutien !