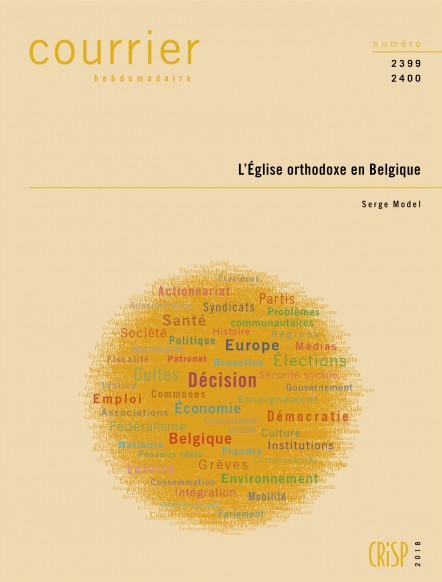 The Center for Research and Socio-Political Information has just published L'Église orthodoxe en Belgique [The Orthodox Church in Belgium], by Father Serge Model (Courrier hebdomadaire #2399-2400, 60 p., 12.40 euros).
Here is a presentation of the study:
"Orthodoxy is one of the six religious denominations officially recognized by the Belgian State (with Roman Catholicism, Protestantism, Anglicanism, Judaism, and Islam), alongside organized secularism.
By this legal status, which dates from 1985, three rights are granted to the Orthodox of Belgium: the recognition (initially by the Belgian State, and today by the three Regions and the German-speaking Community) of specific parishes, with wages for their service providers and opportunities for subsidies; the possibility of being present in the media (radio and television), as well as in hospitals and prisons; and the organization of courses on Christian Orthodoxy in public educational institutions.
Today, the number of Orthodox Christians living in Belgium is about 100,000 people all together (Greeks, Russians, Romanians, etc.). The Belgian territory has more than sixty places of Orthodox worship: parishes, chapels, missions, and small monasteries. They are served by three bishops residing in the country, by about fifty priests, and fifteen deacons. These members of the clergy belong to various communities (belonging either to the Ecumenical Patriarchate of Constantinople, or to the patriarchates of Moscow, Romania, Bulgaria, Serbia, or Georgia). Indeed, if the Orthodox Church in Belgium is united by a common faith and identity, it is also characterized by a relatively complex organizational diversity.
This issue of Courrier hebdomadaire recounts the history of the Orthodox presence in Belgium since its beginnings in the 19th century. It also presents the current situation of this Church on Belgian territory, especially its internal organization and its external relations. It deals with the recognition of Orthodox worship by the Belgian State and its consequences, and finally, it analyzes the relationship between the Orthodox Churches and the European institutions. Besides, it mentions some open questions, discussed both within and outside the Orthodox community."
Source in French