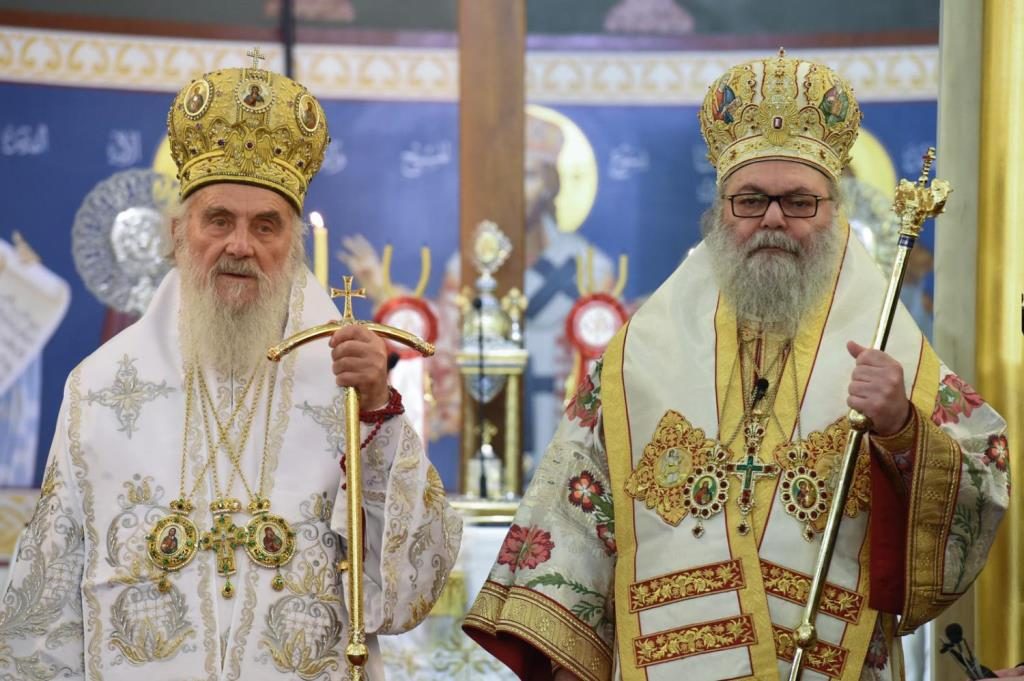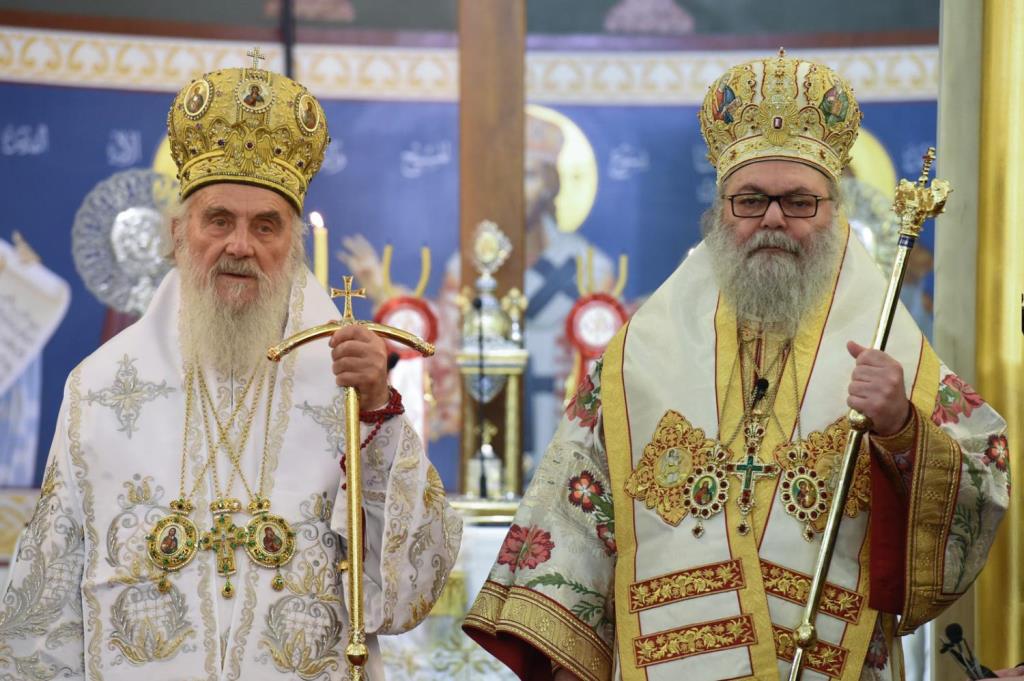 Just as the day before, several hundred people were waiting for Patriarch Irinej in front of the church, and the children were shouting words of welcome.
This is part of Patriarch Irinej of Serbia's official visit to the Antioch Patriarchate.
At the end of the Divine Liturgy, Patriarch John gave the following speech:
"Your Holiness, brother in Christ, Bishop Irinej,
Your Eminences the hierarchs and venerable delegation,
We welcome you on our own behalf, on behalf of the Holy Assembly of Hierarchs of our Church, and on behalf of our people.
This is for us a great day, a joyful day, to have you with us today. We are happy we celebrated together the holy Eucharist and the bloodless sacrifice. You have brought joy, not only to us, but also to all those present, and to all the Patriarchate of Antioch. As you see, Your Holiness, all the people here are waiting for your holy blessing.
Our love for you comes from one faith, one heart. As you know, the Church of Antioch is the ancient Church which, among the first ones, received the teaching of our Lord Jesus Christ from the Apostle. We also know that the Serbian Church is a martyred Church, the Church that has given birth to many martyrs and saints.
Our common liturgy today is a great message of peace and love, a message of peace to the whole world. This message is Christ. Orthodoxy is a big reality. We carry it in our heart.
Welcome among us with your delegation. We receive you in our hearts. On our behalf, on behalf of our assembly, of our people, on behalf of the whole Church of Antioch, we express our joy for your presence today among us. We wish you good health and many years. Please convey our love to your people and to the whole Serbian Church.
You saw it yesterday, and you see it today, our people are firm in their faith, and they continue to keep it in their hearts.
Please remember us in your prayers, so that the Lord may grant peace to our land of Syria and to the whole world. Welcome and many years!"
Then Patriarch Irinej of Serbia thanked Patriarch John of Antioch for his words, and expressed his joy at coming to the holy places of Damascus:
"We perceive it as a great gift and God's blessing… Our two churches have always been close to each other… And our friendship is not new: it has been existing since the time when Saint Sava, the founder of our Church, visited this city, where he was perceived as a spiritual man, and the founder of our spiritual community.
We will never forget yesterday's day, as well as today's service. Many people were waiting for us and expressed a great love for us. In their hearts, we saw that we were united in the same love that makes us the same people of God. The love and hospitality we have experienced these days is characteristic of the Christian East… Our people have suffered a great deal at the time you yourself have suffered, but these sufferings have only strengthened our faith, like that of your people…
I thank you for this fraternal hospitality, it will remain a lasting link between our Churches and our peoples… Let us persevere as we carry the cross of Christ, let us persevere in our holy Orthodox faith, so that this suffering may become a blessing for us all, forever. Amen."
Immediately after the Divine Liturgy, Patriarch Irinej spent several hours in the premises of the Antioch Patriarchate to bless the faithful who were waiting in line to kiss his hand. The delegation then visited with Patriarch Youssef Absi (Melkite Greek Catholic Church), and with Mar Ignatius Ephrem Joseph III, (the Syriac Catholic patriarch).
You can watch a video here with Patriarch Irinej, and excerpts from the Divine Liturgy.
Source (with picture) in Serbian