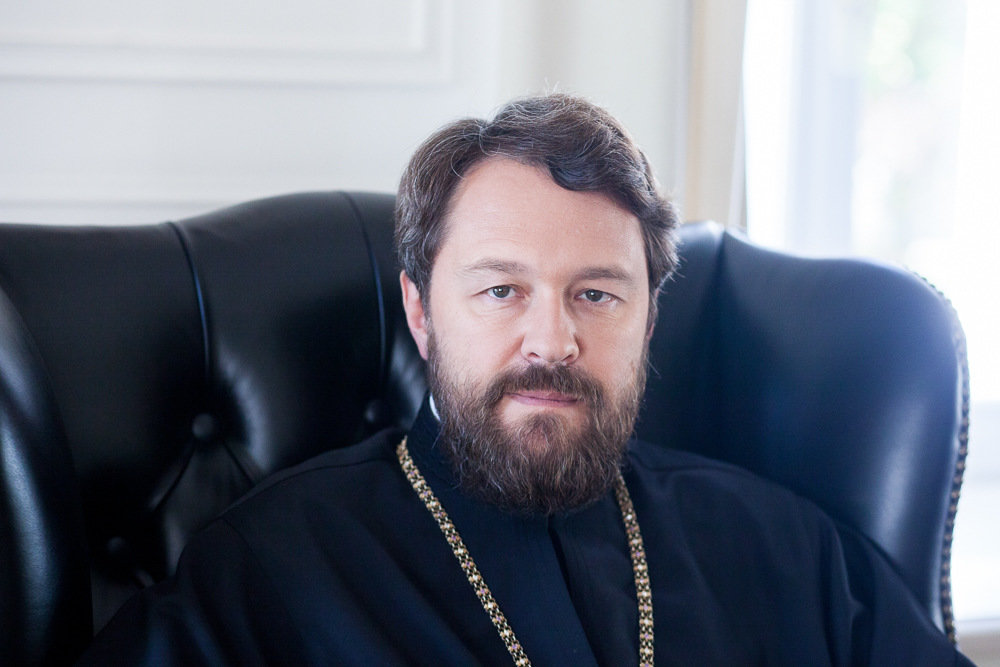 "If we think about the causes of the conflict that has existed in Ukraine for a few years, one of them is that over a long period, the rights of the Russian-speakers have been ignored," said Metropolitan Hilarion, the chairman of the Russian Orthodox Church Department for External Church Relations during the program "The Church and the World" on TV channel Russia 24.
The Metropolitan pointed out that there are millions of people with the Russian language as their mother tongue in Ukraine. "You cannot even call them a minority": in the streets of Kyiv, you mainly hear Russian, and in Eastern Ukraine, they speak only Russian.
Metropolitan Hilarion gave the example of Switzerland, with its inhabitants who speak Italian, German, and French. "It would not occur to anyone to unify this country, to introduce a mandatory language, while the speakers of other languages ​​would be declared "second-class" citizens. This was precisely the case under President Poroshenko in Ukraine. I very much hope that things will be different with Zelensky," the Metropolitan continued.
He also expressed the hope that the new Ukrainian leadership will stop persecuting the faithful of the canonical Church. "I do not believe Zelensky will continue these acts of violence, to which Poroshenko gave the go-ahead. I think Zelensky will fix the mistakes made by the previous government".
According to him, in the current situation, while the Ukrainian people are divided on the religious level, "it is even a very good thing that the Ukrainian president does not belong to any religious tradition".
"On the contrary, Poroshenko used to attend the church of the Moscow Patriarchate, then he received communion with the Uniates, and started to go to the schismatic church, and finally he took upon himself to obtain the tomos of the Patriarch of Constantinople. He made a lot of effort for that and lobbied the patriarch of Constantinople, we now know it. There was a time when the patriarch was ready to take a break, he was ready to give up, but Poroshenko called him and literally demanded that the tomos be granted despite all the obstacles," said the Metropolitan.
The representative of the Russian Orthodox Church expressed the hope that "all this will now stop and that everyone will mind their own business: that the president will lead the country, while the Church will take care of spiritually feeding the faithful".
Note that a few years ago, the Ukrainian authorities banned Metropolitan Hilarion from entering the country. The archpastor had also been entered in the database of the  Myrotvorets website (which fights against the "enemies" of Ukraine, TN). Asked if he would visit Ukraine soon, the Metropolitan said, "As soon as it's possible of course!"
Source in Russian