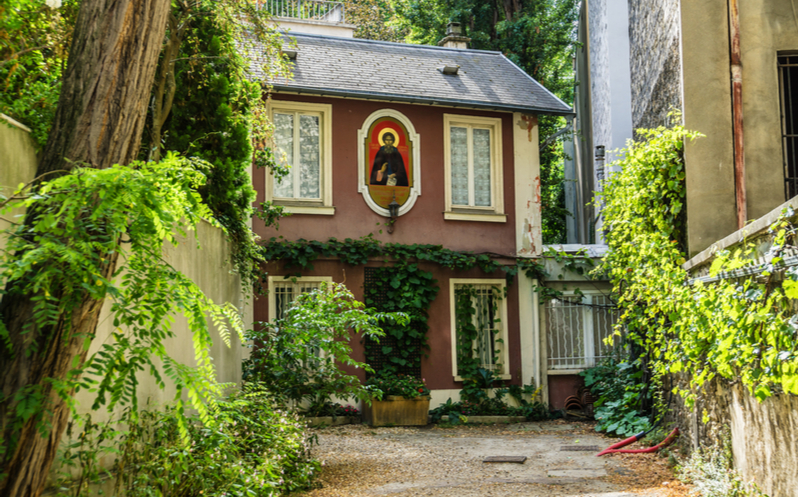 Located on the heights of the 19th arrondissement, the Saint Sergius of Radonezh parish is undoubtedly the best hidden church of the capital. To find it, don't hesitate to push the green gate at 93, rue de Crimée, and follow the narrow passage between two apartment buildings!
At the end of a small courtyard, you will first discover a pretty house with a brick red facade, embellished with an icon of Sergius of Radonezh, one of the most popular saints of the Russian Orthodox Church.
Keep walking, and you will suddenly face the building we are focusing on today: if you don't know what it is, you could easily imagine it to be a Lapland chalet! But actually, it is a Russian Orthodox church! 
With its carved wooden porch, painted in multiple colors, decorated with typical motifs of Russian isbas, and hidden in the surrounding greenery, Saint Sergius of Radonezh church is unlike any other in Paris. The effect is all the more striking as you are in a neighborhood with recent buildings, and you are literally surrounded by them.
If you want to go inside the church, and discover its amazingly warm colors and many icons on red beech wood, you will have to participate in one of the prayer services, scheduled every day of the week at 8am and 6pm, or make an appointment with the cantor of the parish if you are in a group of at least 10 people. For a few euros per person (4 euros or more if you wish), you can then learn more about the history of the parish, the Orthodox traditions, and the Russian community in Paris.
Website in French and Russian
Address: 93, rue de Crimée, 75019 Paris
Source in French. With our featured picture, and others.