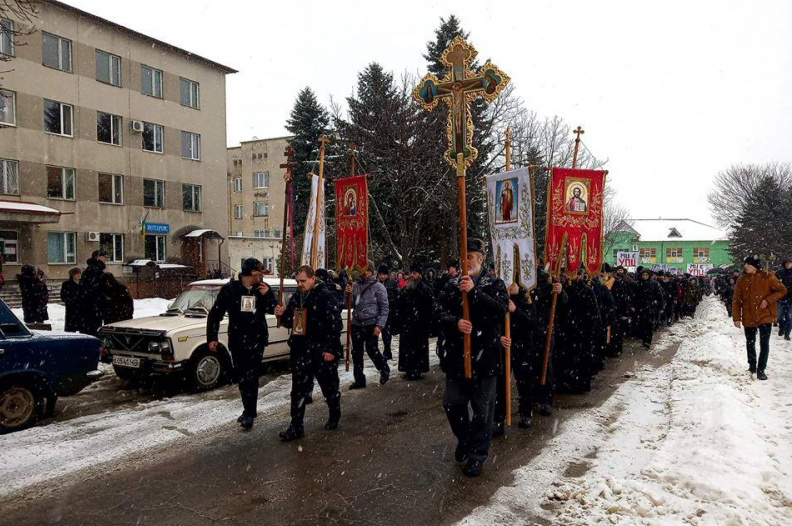 The faithful of the diocese of Chernivtsi-Bukovina (canonical Ukrainian Orthodox Church) organized a procession to protest against churches belonging to them being seized. They were carrying crosses and banners with these words, "We are the Ukrainian Orthodox Church", "Stop seizing our churches". They passed through the streets of Zastavna (Chernivtsi region) on January 30th. The procession was led by Metropolitan Meletius of Chernivtsi and Bukovina.
When they passed in front of the offices of the local administration, where a "round table" was being held regarding the passage of religious communities to the new "autocephalous Church of Ukraine", the clergy and the faithful demonstrated in prayer.
Then the demonstrators met with the president of the local administration. On behalf of the faithful, Metropolitan Meletius protested against the illegal transfer of churches belonging to the canonical Church in the Zastavna district.
"We have come to remind you that an open and cynical iniquity is at work in your district. As we all know, churches belonging to the Ukrainian Orthodox Church were illegally seized in the villages of Boyanchuk and Gorochovtsiy. What is happening in the villages of Zadubrivka and Vaslovovtsiy is beyond understanding," said Bishop Meletius. He added that "the authorities just callously watches ".
You can watch here a video of the procession. The faithful sing the Akathist to the Mother of God.
Source (with picture and video) in Russian