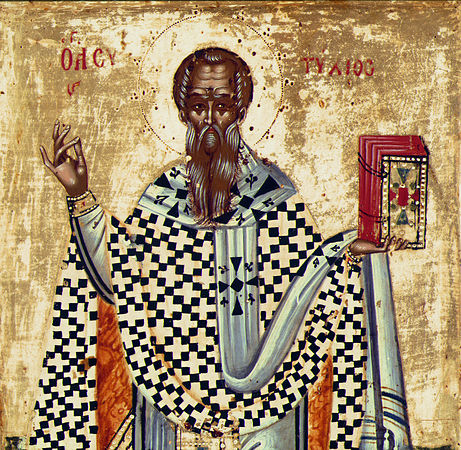 April 6 (old calendar) / April 19 (new)
Great Lent
St. Eutychius, Patriarch of Constantinople (582). St. Methodius, Equal-to-the-Apostles, Archbishop of Moravia and Enlightener of the Slavs (885). St. Platonida (Platonis) of Nisibis (Syria—308). 120 Martyrs of Persia (344-347). Martyrs Jeremiah and Archilias the Presbyter (3rd c.). Ven. Gregory the Byzantine (1308). Monk Martyr Gennadius of Dionysiou (Mt. Athos—1818).
Saint Eutychius, Patriarch of Constantinople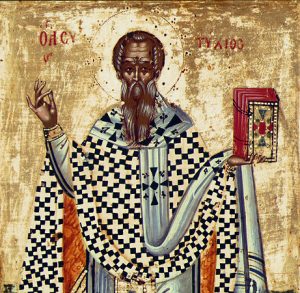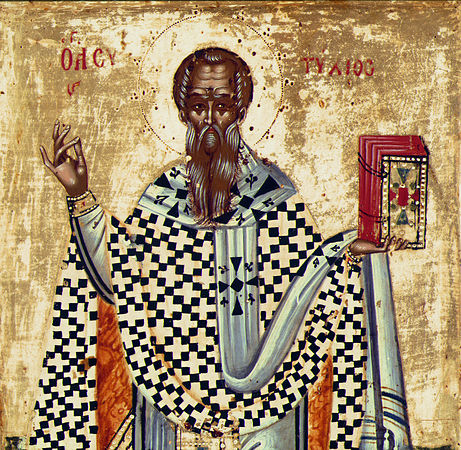 Saint Eutychius, Archbishop of Constantinople, was born in a village called "Divine" in the province of Phrygia. His father Alexander was a soldier, and his mother Synesia was the daughter of the priest Hesychius of Augustopolis. Saint Eutychius received the first rudiments of his education and a Christian upbringing from his grandfather the priest.
Once, while playing a childhood game, the boy wrote his own name with the title of Patriarch. By this he seemed to predict his future service. He was sent to Constantinople at age twelve for further education. The youth persevered in his study of science and realized that human wisdom is nothing in comparison to the study of divine Revelation. Therefore, he decided to dedicate himself to monastic life. Saint Eutychius withdrew into one of the Amasean monasteries and received the angelic schema. For his strict life he was made archimandrite of all the Amasean monasteries, and in 552 was appointed to the Patriarchal throne.
When the Fifth Ecumenical Council prepared to assemble during the reign of the holy emperor Justinian (527-565), the Metropolitan of Amasea was ill and he sent Saint Eutychius in his place. At Constantinople the aged Patriarch Saint Menas (August 25) saw Saint Eutychius and predicted that he would be the next Patriarch. After the death of the holy Patriarch Menas, the Apostle Peter appeared in a vision to the emperor Justinian and, pointing his hand at Eutychius, said, "Let him be made your bishop."
At the very beginning of his patriarchal service, Saint Eutychius convened the Fifth Ecumenical Council (553), at which the Fathers condemned the heresies cropping up and anathematized them. However, after several years a new heresy arose in the Church: Aphthartodocetism [asartodoketai] or "imperishability" which taught that the flesh of Christ, before His death on the Cross and Resurrection, was imperishable and not capable of suffering.
Saint Eutychius vigorously denounced this heresy, but the emperor Justinian himself inclined toward it, and turned his wrath upon the saint. By order of the emperor, soldiers seized the saint in the church, removed his patriarchal vestments, and sent him into exile to an Amasean monastery (565).
The saint bore his banishment with meekness, and lived at the monastery in fasting and prayer, and he worked many miracles and healings.
Thus, through his prayer the wife of a devout man, Androgenes, who had given birth only to dead infants, now gave birth to two sons who lived to maturity. Two deaf-mutes received the gift of speech; and two grievously ill children were restored to health. The saint healed a cancerous ulcer on the hand of an artist. The saint also healed another artist, anointing his diseased hand with oil and making over it the Sign of the Cross.
The saint healed not only bodily, but also spiritual afflictions: he banished the devil out of a girl that had kept her from Holy Communion; he expelled a demon from a youth who had fled from a monastery (after which the youth returned to his monastery); he healed a drunken leper, who stopped drinking after being cleansed of his leprosy.
During the Persian invasion of Amasea and its widespread devastation, they distributed grain to the hungry from the monastery granaries on the saint's orders, and by his prayers, the stores of grain at the monastery were not depleted.
Saint Eutychius received from God the gift of prophecy. He revealed the names of two of Emperor Justinian's successors: Justin (565-578) and Tiberias (578-582).
After the death of the holy Patriarch John Scholastikos, Saint Eutychius returned to the cathedra in 577 after his twelve year exile, and he again wisely ruled his flock.
Four and a half years after his return to the Patriarchal throne, in 582, Saint Eutychius gathered together all his clergy on Thomas Sunday, blessed them, and peacefully fell asleep in the Lord.
Troparion of the saint, tone 4
In truth you were revealed to your flock as a rule of faith, / an image of humility and a teacher of abstinence; / your humility exalted you; / your poverty enriched you. / Hierarch Father Eutychius, / entreat Christ our God / that our souls may be saved.
Kontakion of the saint, tone 8
Let us all chant with faith and love, O people, / blessing the godly Eutychius as a great pastor and minister, / an all-wise teacher and expeller of heresies, / for he entreats the Lord on behalf of us all!
Isaiah 66:10-24 (6th Hour)
10

"Rejoice with Jerusalem, and be glad with her, all you who love her; rejoice for joy with her, all you who mourn for her;

11

That you may feed and be satisfied with the consolation of her bosom, that you may drink deeply and be delighted with the abundance of her glory."

12

For thus says the Lord: "Behold, I will extend peace to her like a river, and the glory of the Gentiles like a flowing stream. Then you shall feed; on her sides shall you be carried, and be dandled on her knees.

13

As one whom his mother comforts, so I will comfort you; and you shall be comforted in Jerusalem."

14

When you see this, your heart shall rejoice, and your bones shall flourish like grass; the hand of the Lord shall be known to His servants, and His indignation to His enemies.

15

For behold, the Lord will come with fire and with His chariots, like a whirlwind, to render His anger with fury, and His rebuke with flames of fire.

16

For by fire and by His sword the Lord will judge all flesh; and the slain of the Lord shall be many.

17

"Those who sanctify themselves and purify themselves, to go to the gardens after an idol in the midst, eating swine's flesh and the abomination and the mouse, shall be consumed together," says the Lord.

18

"For I know their works and their thoughts. It shall be that I will gather all nations and tongues; and they shall come and see My glory.

19

"I will set a sign among them; and those among them who escape I will send to the nations: to Tarshish and Pul and Lud, who draw the bow, and Tubal and Javan, to the coastlands afar off who have not heard My fame nor seen My glory. And they shall declare My glory among the Gentiles.

20

"Then they shall bring all your brethren for an offering to the Lord out of all nations, on horses and in chariots and in litters, on mules and on camels, to My holy mountain Jerusalem," says the Lord, "as the children of Israel bring an offering in a clean vessel into the house of the Lord.

21

"And I will also take some of them for priests and Levites," says the Lord.

22

"For as the new heavens and the new earth which I will make shall remain before Me," says the Lord, "so shall your descendants and your name remain.

23

And it shall come to pass that from one New Moon to another, and from one Sabbath to another, all flesh shall come to worship before Me," says the Lord.

24

"And they shall go forth and look upon the corpses of the men Who have transgressed against Me. For their worm does not die, and their fire is not quenched. They shall be an abhorrence to all flesh."
Genesis 49:33-50:26 (Vespers, 1st reading)
33

And when Jacob had finished commanding his sons, he drew his feet up into the bed and breathed his last, and was gathered to his people.

1

Then Joseph fell on his father's face, and wept over him, and kissed him.

2

And Joseph commanded his servants the physicians to embalm his father. So the physicians embalmed Israel.

3

Forty days were required for him, for such are the days required for those who are embalmed; and the Egyptians mourned for him seventy days.

4

Now when the days of his mourning were past, Joseph spoke to the household of Pharaoh, saying, "If now I have found favor in your eyes, please speak in the hearing of Pharaoh, saying,

5

'My father made me swear, saying, "Behold, I am dying; in my grave which I dug for myself in the land of Canaan, there you shall bury me." Now therefore, please let me go up and bury my father, and I will come back.'"

6

And Pharaoh said, "Go up and bury your father, as he made you swear."

7

So Joseph went up to bury his father; and with him went up all the servants of Pharaoh, the elders of his house, and all the elders of the land of Egypt,

8

as well as all the house of Joseph, his brothers, and his father's house. Only their little ones, their flocks, and their herds they left in the land of Goshen.

9

And there went up with him both chariots and horsemen, and it was a very great gathering.

10

Then they came to the threshing floor of Atad, which is beyond the Jordan, and they mourned there with a great and very solemn lamentation. He observed seven days of mourning for his father.

11

And when the inhabitants of the land, the Canaanites, saw the mourning at the threshing floor of Atad, they said, "This is a deep mourning of the Egyptians." Therefore its name was called Abel Mizraim, which is beyond the Jordan.

12

So his sons did for him just as he had commanded them.

13

For his sons carried him to the land of Canaan, and buried him in the cave of the field of Machpelah, before Mamre, which Abraham bought with the field from Ephron the Hittite as property for a burial place.

14

And after he had buried his father, Joseph returned to Egypt, he and his brothers and all who went up with him to bury his father.

15

When Joseph's brothers saw that their father was dead, they said, "Perhaps Joseph will hate us, and may actually repay us for all the evil which we did to him."

16

So they sent messengers to Joseph, saying, "Before your father died he commanded, saying,

17

'Thus you shall say to Joseph: "I beg you, please forgive the trespass of your brothers and their sin; for they did evil to you."' Now, please, forgive the trespass of the servants of the God of your father." And Joseph wept when they spoke to him.

18

Then his brothers also went and fell down before his face, and they said, "Behold, we are your servants."

19

Joseph said to them, "Do not be afraid, for am I in the place of God?

20

"But as for you, you meant evil against me; but God meant it for good, in order to bring it about as it is this day, to save many people alive.

21

"Now therefore, do not be afraid; I will provide for you and your little ones." And he comforted them and spoke kindly to them.

22

So Joseph dwelt in Egypt, he and his father's household. And Joseph lived one hundred and ten years.

23

Joseph saw Ephraim's children to the third generation. The children of Machir, the son of Manasseh, were also brought up on Joseph's knees.

24

And Joseph said to his brethren, "I am dying; but God will surely visit you, and bring you out of this land to the land of which He swore to Abraham, to Isaac, and to Jacob."

25

Then Joseph took an oath from the children of Israel, saying, "God will surely visit you, and you shall carry up my bones from here."

26

So Joseph died, being one hundred and ten years old; and they embalmed him, and he was put in a coffin in Egypt.
Proverbs 31:8-31 (Vespers, 2nd reading)
8

Open your mouth for the speechless, in the cause of all who are appointed to die.

9

Open your mouth, judge righteously, and plead the cause of the poor and needy.

10

Who can find a virtuous wife? For her worth is far above rubies.

11

The heart of her husband safely trusts her; so he will have no lack of gain.

12

She does him good and not evil all the days of her life.

13

She seeks wool and flax, And willingly works with her hands.

14

She is like the merchant ships, she brings her food from afar.

15

She also rises while it is yet night, and provides food for her household, and a portion for her maidservants.

16

She considers a field and buys it; from her profits she plants a vineyard.

17

She girds herself with strength, and strengthens her arms.

18

She perceives that her merchandise is good, and her lamp does not go out by night.

19

She stretches out her hands to the distaff, and her hand holds the spindle.

20

She extends her hand to the poor, yes, she reaches out her hands to the needy.

21

She is not afraid of snow for her household, for all her household is clothed with scarlet.

22

She makes tapestry for herself; her clothing is fine linen and purple.

23

Her husband is known in the gates, when he sits among the elders of the land.

24

She makes linen garments and sells them, and supplies sashes for the merchants.

25

Strength and honor are her clothing; she shall rejoice in time to come.

26

She opens her mouth with wisdom, and on her tongue is the law of kindness.

27

She watches over the ways of her household, and does not eat the bread of idleness.

28

Her children rise up and call her blessed; her husband also, and he praises her:

29

"Many daughters have done well, but you excel them all."

30

Charm is deceitful and beauty is passing, but a woman who fears the Lord, she shall be praised.

31

Give her of the fruit of her hands, and let her own works praise her in the gates.