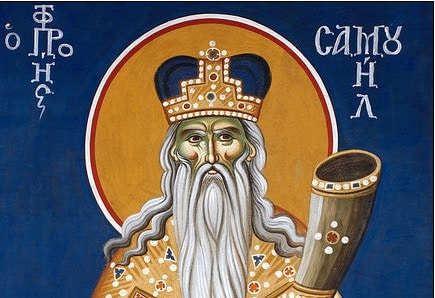 August 20 
Afterfeast of the Dormition.
Prophet Samuel (11th c. B.C.). Hieromartyr Philip, Bishop of Heraclius, and with him Martyrs Severus, Memnon, and 37 soldiers in Thrace (3rd c.). Martyr Heliodorus (380). Holy New Martyr Theocharis (Neapolis). 
SAINT PROPHET SAMUEL

The Prophet Samuel was the fifteenth and last of the Judges of Israel, living more than 1146 years before the Birth of Christ. He was descended from the Tribe of Levi, and was the son of Elkanah from Ramathaim-Zophim of Mount Ephraim. He was born, having been besought from the Lord through the prayers of his mother Hannah (therefore he received the name Samuel, which means "besought from God"). Even before birth, he was dedicated to God. Her song, "My heart exults in the Lord," is the Third Ode of the Old Testament (1 Sam/1 Kings 2:1-10).
When the boy reached the age of three, his mother went with him to Shiloh and in accord with her vow dedicated him to the worship of God. She gave him into the care of the High Priest Eli, who at this time was a judge over Israel. The prophet grew in the fear of God, and at twelve years of age he had a revelation that God would punish the house of the High Priest Eli, because he did not restrain the impiety of his sons. Eli's whole family was wiped out in a single day.
The prophecy was fulfilled when the Philistines, having slain in battle 30,000 Israelites (among them were also the sons of the High Priest, Hophni and Phinees), gaining victory and capturing the Ark of the Covenant. Hearing this, the High Priest Eli fell backwards from his seat at the gate, and breaking his back, he died. The wife of Phinees, upon hearing what had happened in this very hour, gave birth to a son (Ichabod) and died with the words: "The glory has departed from Israel, for the Ark of God is taken away" (1 Sam/1 Kgs 4: 22).
Upon the death of Eli, Samuel became the judge of the nation of Israel. The Ark of God was returned by the Philistines on their own initiative. After returning to God, the Israelites returned to all the cities that the Philistines had taken. In his old age, the Prophet Samuel made his sons Joel and Abiah judges over Israel, but they did not follow the integrity and righteous judgment of their father, since they were motivated by greed.
Then the elders of Israel, wanting the nation of God to be "like other nations" (1 Sam/1 Kgs 8: 20), demanded of the Prophet Samuel that they have a king. The Prophet Samuel anointed Saul as king, but saw in this a downfall of the people, whom God Himself had governed until this time, announcing His will through His chosen saints. Resigning the position of judge, the Prophet Samuel asked the people if they consented to his continued governance, but no one stepped forward for him.
After denouncing the first king, Saul, for his disobedience to God, the Prophet Samuel anointed David as king. He had offered David asylum, saving him from the pursuit of King Saul. The Prophet Samuel died in extreme old age. His life is recorded in the Bible (1 Sam/1 Kgs; Sirach 46:13-20).
In the year 406 A.D. the relics of the Prophet Samuel were transferred from Judea to Constantinople.
TROPARION AND KONTAKION
Troparion of the Dormition, tone 1
In giving birth you preserved your virginity, In falling asleep you did not forsake the world, O Theotokos. You were translated to life, O Mother of Life, And by your prayers, you deliver our souls from death.
Troparion of the saint, tone 2
You were given as a precious gift to a barren womb, And offered as a fragrant sacrifice to your Lord. You served Him in truth and righteousness; Wherefore we honor you, O Samuel prophet of God, As an intercessor for our souls.
Kontakion of the saint, tone 8
You were a precious gift given to God before your conception. You served Him like an angel from your infancy, O blessed one. You were granted the charism to announce beforehand future things. Therefore, we cry to you: "Rejoice, Samuel, Prophet of God and great high priest."
Kontakion of the Dormition, tone 2
Neither the tomb, nor death could hold the Theotokos, Who is constant in prayer and our firm hope in her intercessions. For being the Mother of Life, She was translated to life by the One who dwelt in her virginal womb.
EPISTLE
2 Corinthians 8:7-15
7

But as you abound in everything – in faith, in speech, in knowledge, in all diligence, and in your love for us – see that you abound in this grace also.

8

I speak not by commandment, but I am testing the sincerity of your love by the diligence of others.

9

For you know the grace of our Lord Jesus Christ, that though He was rich, yet for your sakes He became poor, that you through His poverty might become rich.

10

And in this I give advice: It is to your advantage not only to be doing what you began and were desiring to do a year ago;

11

but now you also must complete the doing of it; that as there was a readiness to desire it, so there also may be a completion out of what you have.

12

For if there is first a willing mind, it is accepted according to what one has, and not according to what he does not have.

13

For I do not mean that others should be eased and you burdened;

14

but by an equality, that now at this time your abundance may supply their lack, that their abundance also may supply your lack – that there may be equality.

15

As it is written, "He who gathered much had nothing left over, and he who gathered little had no lack."
GOSPEL
Mark 3:6-12
6

Then the Pharisees went out and immediately plotted with the Herodians against Him, how they might destroy Him.

7

But Jesus withdrew with His disciples to the sea. And a great multitude from Galilee followed Him, and from Judea

8

and Jerusalem and Idumea and beyond the Jordan; and those from Tyre and Sidon, a great multitude, when they heard how many things He was doing, came to Him.

9

So He told His disciples that a small boat should be kept ready for Him because of the multitude, lest they should crush Him.

10

For He healed many, so that as many as had afflictions pressed about Him to touch Him.

11

And the unclean spirits, whenever they saw Him, fell down before Him and cried out, saying, "You are the Son of God."

12

But He sternly warned them that they should not make Him known.