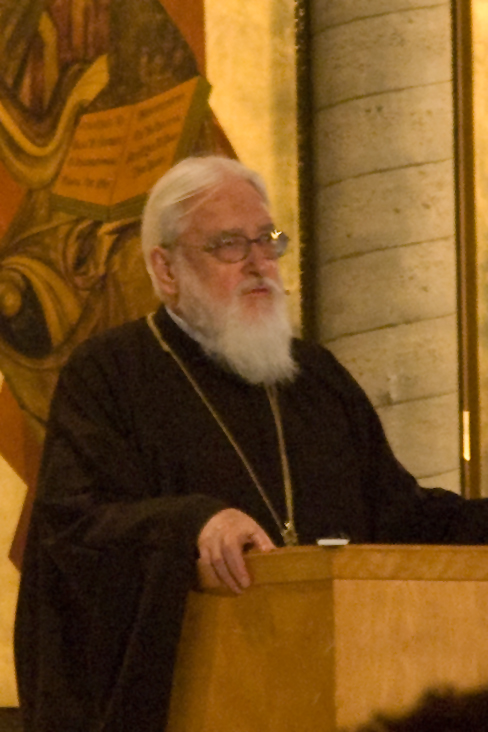 Father Ivan Karageorgiev recently interviewed Bishop Kallistos (Ware) on his speritual journey.
The interview was published in French in the periodical Unité des chrétiens (n°190, avril 2018).
Please find here an English translation of that interview.
Part 1:
Having taught the Fathers of the Church for thirty-five years at the University of Oxford, and having actively worked on the committees of the Anglican-Orthodox and Roman Catholic-Orthodox bilateral dialogue, Metropolitan Kallistos, presents here his spiritual journey, as rich as it is surprising.
I was born in 1934 in Bath, a town in Somerset County, South West England. I was raised in the Church of England where I received a good deal of my education. I was also a student at Westminster School near the abbey. We would often attend the religious services there.
When I was seventeen, one Saturday afternoon, I entered the Russian Orthodox Church in London. At the time, it was located near Victoria station. When I entered the chapel, it seemed entirely empty. I did not see any benches, just big pieces of waxed boards. Little by little, my eyes grew accustomed to the darkness and I started to distinguish people near the walls, where icons were hanged. There was an iconostasis, lit by night lights, and even a little choir, singing in an unknown language; later I learned that it was Slavonic.
So my first impression was replaced by a strong conviction: that the church was not empty, but filled with invisible celebrants, praying with us. I had the feeling that apart from the small Russian community, there were also several angels and saints, the Mother of God and Christ Himself. Orthodox believers love to describe the Church and in particular the community of the faithful in prayer as "heaven on earth". That's exactly what I felt right then.
Thus began my journey to the Orthodox Church. I became a member of it six years later, in 1958. It was not a simple decision, because I had very good memories of Anglicanism. The Orthodox themselves did not proselytize me! On the contrary, they advised me to be very attentive and to take the necessary distance to think. "We are a Church of emigrants," they told me, and even though their situation has changed a lot in England, at the time it was really the case. During those years, I continued my studies at Oxford University. I became acquainted with Russians, thanks to the "Saint Albain-Saint Serge" fraternity, made up of Anglicans and Russians. Its purpose was to promote better understanding between the two churches. At these meetings, I also attended orthodox liturgies in English. I could not say that by becoming Orthodox, I really changed my faith. In fact,  the faith of the High Church of England in which I grew up is very close to Orthodoxy.  But in Orthodoxy, I found the firm foundation of my faith.
Three main reasons led me to take this step. First of all, in the Orthodox Church I discovered the living continuity with the Christianity of the first millennium and the fullness of faith and of liturgical celebration, as found nowhere else.
Secondly, its teaching on inner prayer and in particular on the short invocation known as "The Jesus prayer" appealed to me a great deal.
Thirdly: the martyrs of this Church. I was shocked, especially by the persecution of the Russian Orthodox Church, especially in the 1920s and 1930s. During this dark period of history, a large number of bishops, priests, monks, nuns and faithful were persecuted for their faith in Christ. In most cases, they died as martyrs. Of course, other Christians also suffered persecution in the twentieth century, but fortunately not on the impressive and horrible scale of what Russian Christians suffered between the two world wars.
I spent most of my life in Oxford, initially studying classical subjects and later theology. I started my studies not only with ancient languages, Greek and Latin, but also with ancient and modern philosophy. These fields helped me well for the main work of my life: the study of the Fathers of the Church.
Several years before that, when I was fifteen, I discovered a book by Helen Waddell entitled The Desert Fathers. Their short sayings or apoththegms made me think. So for my doctoral thesis in philosophy and theology at Oxford, I chose the field of early monasticism and more particularly Mark the Monk, also known as Mark the Hermit or the Ascetic, who lived at the beginning of the fifth century. He left us very interesting writings, especially on baptism. In his eyes, the entire meaning of ascetic and mystical life is contained in the sacrament of baptism. He presents it not with negative terms such as purification of sins (present and / or original), but as the divine indwelling or, more precisely, as the entrance of Christ and of the Holy Spirit into the sanctuary of our heart. I am happy I was able to work on his works and then to teach the Fathers of the Church, mostly to Oxford undergraduate and graduate students for thirty-five years.
My first vocation is teaching, but I am also delighted to be able to serve the Church as a priest, thus linking my academic work to my mission as a pastor. I was ordained a deacon in 1965 and a priest in 1966, and I pronounced my monastic vows in the monastery of St. John the Theologian on the island of Patmos in Greece. Since then, I have been a brother of this monastery, even if I do not live there. Indeed, according to the superior and to the other brothers, my vocation was to return to Oxford and to teach there. For years, I also served the Greek Orthodox parish of the Holy Trinity. In 1982, I was appointed bishop for the Greek Orthodox Archdiocese of Great Britain, while continuing my vocation as a teacher. I was subsequently elevated to the rank of Metropolitan in 2007. I am retired now.
Source de la photographie : Wikipedia
This post is also available in: Français (French)
Notre lettre d'informations hebdomadaire gratuite
Chers lecteurs,
Vous êtes de plus en plus nombreux à lire Orthodoxie.com, et nous nous en réjouissons. Nous souhaitons qu'une grande partie des articles de notre site soit accessible à tous, gratuitement, mais l'information de qualité a un coût. Et pour cette raison, votre soutien nous est plus que nécessaire. Nous vous invitons à vous y abonner, ou bien à faire un don de soutien !