January 29 (old calendar) / February 11 (new)
Translation of the Relics of Hieromartyr Ignatius the Godbearer, Bishop of Antioch (107). St. Lavrentii (Lawrence), Recluse, of the Kiev Caves, Bishop of Turov (Near Caves—12th c.). Ss. Gerásim (1441-1467), Pitirím (1445) and Jonah (1470), Bishops of Perm. Martyrs Romanus, Jacob (James), Philotheus, Hyperechius, Abibus, Julian, and Paregonius, at Samosata (297).
Translation of the Relics of Saint Ignatius the Godbearer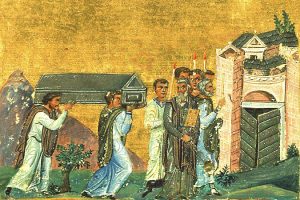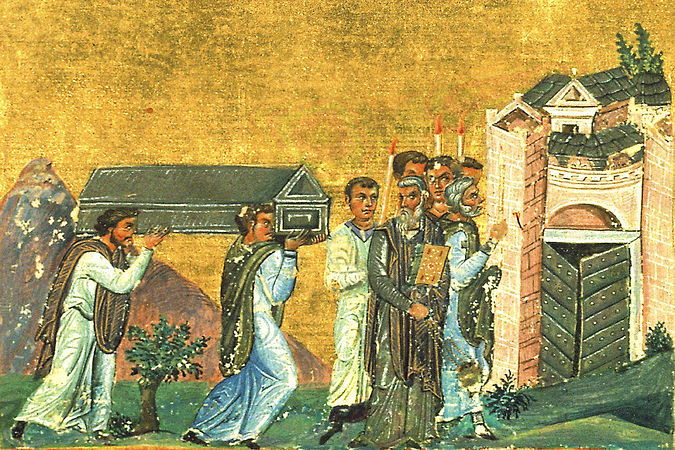 The Transfer of the Relics of the Hieromartyr Ignatius the God-Bearer: (See December 20). After the holy hieromartyr Ignatius was thrown to the lions in the year 107 on the orders of the emperor Trajan, Christians gathered up his bones and preserved them at Rome.
Later, in the year 108, the saint's relics were collected and buried outside the gate of Daphne at Antioch. A second transfer, to the city of Antioch itself, took place in the year 438. After the capture of Antioch by the Persians, the relics of the Hieromartyr Ignatius were returned to Rome and placed into the church of the holy Hieromartyr Clement in the year 540 (in 637, according to other sources).
Saint Ignatius introduced antiphonal singing into Church services. He has left us seven archpastoral epistles in which he provided instructions on faith, love and good works. He also urged his flock to preserve the unity of the faith and to beware of heretics. He encouraged people to honor and obey their bishops, "We should regard the bishop as we would the Lord Himself." (To the Ephesians 6)
In his Letter to Polycarp, Saint Ignatius writes: "Listen to the bishop, if you want God to listen to you… let your baptism be your shield, your faith a helmet, your charity a spear, your patience, like full armor." (Compare Eph. 6:14-17 and the Wisdom of Solomon 5:17-20. Also THE LADDER 4:2)
Après qu'il fut devenu, selon son désir, un « pur froment de Dieu », broyé sous la dent des fauves dans l'amphithéâtre de Rome, il ne resta plus de saint Ignace que les ossements les plus importants. Des fidèles recueillirent avec dévotion ces précieuses reliques et les transférèrent à Antioche, où elles furent accueillies par les chrétiens en liesse et devinrent une source de miracles et de consolation spirituelle.
Troparion of the saint, tone 4
By sharing in the ways of the Apostles, / you became a successor to their throne. / Through the practice of virtue, you found the way to divine contemplation, O inspired one of God; / by teaching the word of truth without error, you defended the Faith, / even to the shedding of your blood. / Hieromartyr Ignatius, entreat Christ God to save our souls.
Kontakion  of the saint, tone 4
Today you rose from the east, / enlightening all of creation with your teachings, / and you are crowned with martyrdom, God-bearing Ignatius.
1 Peter 2:21-3:9 (Epistle)
| | |
| --- | --- |
| 21 | For to this you were called, because Christ also suffered for us, leaving us an example, that you should follow His steps: |
| 22 | Who committed no sin, Nor was deceit found in His mouth"; |
| 23 | who, when He was reviled, did not revile in return; when He suffered, He did not threaten, but committed Himself to Him who judges righteously; |
| 24 | who Himself bore our sins in His own body on the tree, that we, having died to sins, might live for righteousness-by whose stripes you were healed. |
| 25 | For you were like sheep going astray, but have now returned to the Shepherd and Overseer of your souls. |
| 1 | Wives, likewise, be submissive to your own husbands, that even if some do not obey the word, they, without a word, may be won by the conduct of their wives, |
| 2 | when they observe your chaste conduct accompanied by fear. |
| 3 | Do not let your adornment be merely outward-arranging the hair, wearing gold, or putting on fine apparel- |
| 4 | rather let it be the hidden person of the heart, with the incorruptible beauty of a gentle and quiet spirit, which is very precious in the sight of God. |
| 5 | For in this manner, in former times, the holy women who trusted in God also adorned themselves, being submissive to their own husbands, |
| 6 | as Sarah obeyed Abraham, calling him lord, whose daughters you are if you do good and are not afraid with any terror. |
| 7 | Husbands, likewise, dwell with them with understanding, giving honor to the wife, as to the weaker vessel, and as being heirs together of the grace of life, that your prayers may not be hindered. |
| 8 | Finally, all of you be of one mind, having compassion for one another; love as brothers, be tenderhearted, be courteous; |
| 9 | not returning evil for evil or reviling for reviling, but on the contrary blessing, knowing that you were called to this, that you may inherit a blessing. |
Mark 12:13-17 (Gospel)
| | |
| --- | --- |
| 13 | Then they sent to Him some of the Pharisees and the Herodians, to catch Him in His words. |
| 14 | When they had come, they said to Him, "Teacher, we know that You are true, and care about no one; for You do not regard the person of men, but teach the way of God in truth. Is it lawful to pay taxes to Caesar, or not? |
| 15 | Shall we pay, or shall we not pay? But He, knowing their hypocrisy, said to them, "Why do you test Me? Bring Me a denarius that I may see it." |
| 16 | So they brought it. And He said to them, "Whose image and inscription is this?" They said to Him, "Caesar's." |
| 17 | And Jesus answered and said to them, "Render to Caesar the things that are Caesar's, and to God the things that are God's." And they marveled at Him. |
This post is also available in: Français (French)
Notre lettre d'informations hebdomadaire gratuite
Chers lecteurs,
Vous êtes de plus en plus nombreux à lire Orthodoxie.com, et nous nous en réjouissons. Nous souhaitons qu'une grande partie des articles de notre site soit accessible à tous, gratuitement, mais l'information de qualité a un coût. Et pour cette raison, votre soutien nous est plus que nécessaire. Nous vous invitons à vous y abonner, ou bien à faire un don de soutien !