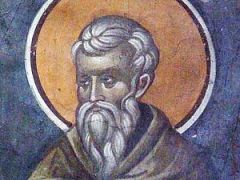 May 16
Ven. Theodore the Sanctified, disciple of Ven. Pachomius the Great (368). Translation of the Relics of Ven. Ephraim, Abbot of Perekop (Novgorod, 1545), Ven. Cassian (1537) and Lavrentii (Laurence) (1548), Abbots of Konel' (Vologda). St. Alexander, Archbishop of Jerusalem (213-250). Martyrs Vitus, Modestus, and Crescentia, at Lucania (ca. 303). Bl. Child Musa of Rome (5th c.). St. George, Bishop of Mitylene (9th c.).
Saint Theodore the Sanctified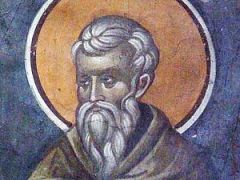 Saint Theodore was called "Sanctified" because he was the first in his monastery ordained to the priesthood.
Saint Theodore came from Egypt and was the son of rich and illustrious Christian parents. The yearning for monastic life appeared early in him. Once there was a large party at the house of his parents during the feast of Theophany. The boy did not want to take part in the festivities, grieving that because of earthly joys he might be deprived of joys in the life to come. He secretly left home when he was fourteen and entered one of the monasteries.
Hearing about Pachomius the Great, he burned with the desire to see the ascetic. Saint Pachomius received the young man with love, having been informed by God beforehand about his coming. Remaining at the monastery, Saint Theodore quickly succeeded in all his monastic tasks, particularly in the full obedience to his guide, and in his compassion towards the other brethren. Theodore's mother, learning that he was at the Tabennisi monastery, came to Saint Pachomius with a letter from the bishop, asking to see her son. Saint Theodore did not wish to break his vow to renounce the world, so he refused to meet with his mother.
Seeing Saint Theodore's strength of mind and ability, Saint Pachomius once told him to instruct the brethren on Holy Scripture. Saint Theodore was then only twenty years old. He obeyed and began to speak, but some of the older brethren took offense that a new monk should teach them, and they departed. Saint Pachomius said to them, "You have given in to the devil and because of your conceit, your efforts will come to naught. You have not rejected Theodore, but rather the Word of God, and have deprived yourselves of the Holy Spirit."
Saint Pachomius appointed Saint Theodore as overseer of the Tabennisi monastery, and withdrew to a more solitary monastery. Saint Theodore with filial love continued to concern himself over his instructor, and he looked after Saint Pachomius in his final illness, and when the great abba reposed in the Lord, he closed his eyes. After the death of Saint Pachomius, Saint Theodore directed the Tabennisi monastery, and later on he was at the head of all the Thebaid monasteries. Saint Theodore the Sanctified was famed for his holiness of life and a great gift of wonderworking, and he was well known to Saint Athanasius, Patriarch of Alexandria. Saint Theodore reposed in his old age in the year 368.
Troparion of the saint, tone 1
Dweller of the desert and angel in the body, / you were shown to be a wonder-worker, our God-bearing Father Theodore. / You received heavenly gifts through fasting, vigil, and prayer: / healing the sick and the souls of those drawn to you by faith. / Glory to Him who gave you strength! / Glory to Him who granted you a crown! / Glory to Him who through you grants healing to all!
Kontakion of the saint, tone 2
You flourished like a palm tree in the house of God, / bringing forth the fruit of virtues for the Lord through your ascetic efforts. / Therefore, you are called blest, venerable Father Theodore, / for you are equal to the bodiless ones!
Acts 8:26-39 (Epistle)
26

Now an angel of the Lord spoke to Philip, saying, "Arise and go toward the south along the road which goes down from Jerusalem to Gaza." This is desert.

27

So he arose and went. And behold, a man of Ethiopia, a eunuch of great authority under Candace the queen of the Ethiopians, who had charge of all her treasury, and had come to Jerusalem to worship,

28

was returning. And sitting in his chariot, he was reading Isaiah the prophet.

29

Then the Spirit said to Philip, "Go near and overtake this chariot."

30

So Philip ran to him, and heard him reading the prophet Isaiah, and said, "Do you understand what you are reading?"

31

And he said, "How can I, unless someone guides me?" And he asked Philip to come up and sit with him.

32

The place in the Scripture which he read was this: "He was led as a sheep to the slaughter; and as a lamb before its shearer is silent, so He opened not His mouth.

33

In His humiliation His justice was taken away, and who will declare His generation? For His life is taken from the earth."

34

So the eunuch answered Philip and said, "I ask you, of whom does the prophet say this, of himself or of some other man?"

35

Then Philip opened his mouth, and beginning at this Scripture, preached Jesus to him.

36

Now as they went down the road, they came to some water. And the eunuch said, "See, here is water. What hinders me from being baptized?"

37

Then Philip said, "If you believe with all your heart, you may." And he answered and said, "I believe that Jesus Christ is the Son of God."

38

So he commanded the chariot to stand still. And both Philip and the eunuch went down into the water, and he baptized him.

39

Now when they came up out of the water, the Spirit of the Lord caught Philip away, so that the eunuch saw him no more; and he went on his way rejoicing.
John 6:40-44 (Gospel)
40

And this is the will of Him who sent Me, that everyone who sees the Son and believes in Him may have everlasting life; and I will raise him up at the last day."

41

The Jews then complained about Him, because He said, "I am the bread which came down from heaven."

42

And they said, "Is not this Jesus, the son of Joseph, whose father and mother we know? How is it then that He says, 'I have come down from heaven'?"

43

Jesus therefore answered and said to them, "Do not murmur among yourselves.

44

No one can come to Me unless the Father who sent Me draws him; and I will raise him up at the last day.