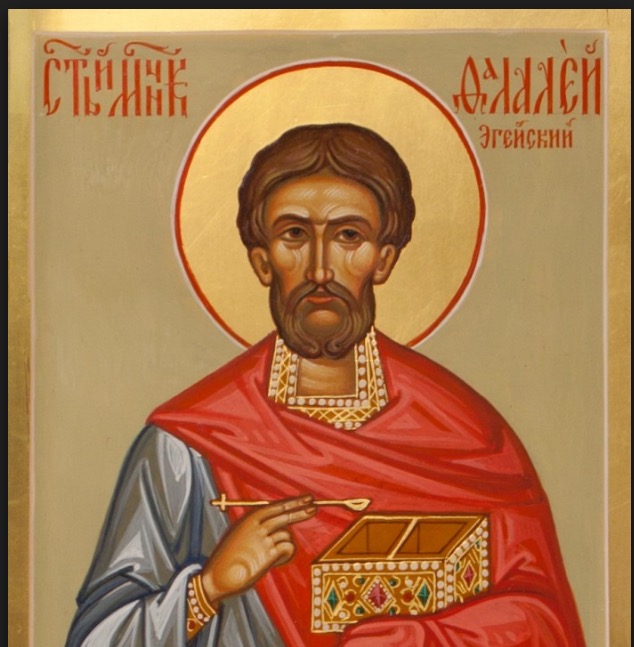 May 20
Martyr Thalelæus at Aegæ in Cilicia, and his companions, Martyrs Alexander and Asterius (ca. 284). Uncovering of the Relics of St. Aleksy, Metropolitan of Moscow and Wonderworker of All Russia (1431). Rt. Blv. Prince St. Dovmont (Timothy), Prince of Pskov (1299). Martyr Asclas of Egypt (ca. 287). Ven. Zabulon (Zebulon) and Sosanna (Susanna), parents of St. Nino, Enlightener of Georgia (1996).
Saint Thalelæus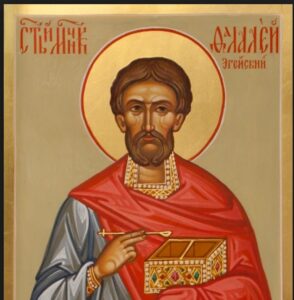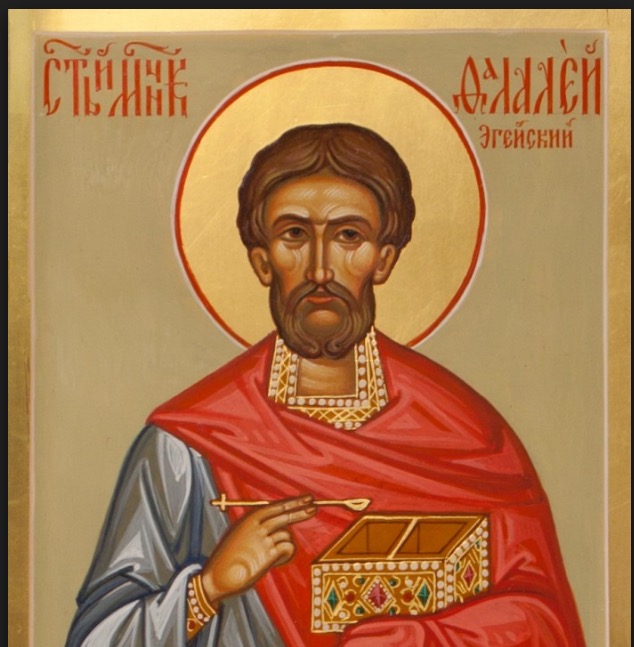 The Martyrs Thallelaeus, Alexander and Asterius lived during the reign of Numerian (283-284). The prefect of the city of Aegea sent soldiers to seek out Christians. They brought to him Thallelaeus, an eighteen-year-old blond-haired youth. To the prefect's questions Saint Thallelaeus replied, "I am a Christian, a native of Lebanon. My father, Beruchius, was a military commander, and my mother was named Romylia. My brother is a subdeacon. I, however, am studying medicine under the physician Macarius. During a former persecution against Christians in Lebanon, I was brought before the prefect Tiberius, and barely escaped execution. But now that I stand before this court, do with me as you will. I wish to die for Christ my Savior and my God, and hope to endure all torments with His help."
The enraged prefect ordered the two torturers Alexander and Asterius to bore through the knees of the martyr, pass a rope through the bone, and suspend him head downwards. But the executioners, by God's design, bored into a block of wood, which they hung up in place of the martyr. When the prefect saw that they had deceived him, he then ordered that Alexander and Asterius be whipped. They also confessed themselves Christians and glorified God. The prefect immediately gave orders to cut off their heads. Twice he attempted to carry out the execution, and to bore through the saint's knees, but the grace of God prevented him. Then he commanded that Saint Thallelaeus be drowned.
The returning servants reported to the prefect that they had carried out the execution, but just as they finished their report, Saint Thallelaeus appeared in white raiment. For a long time everyone was numbed with terror, but finally the prefect said, "Behold, this sorcerer has bewitched even the sea."
Then one of his advisers, the magician Urbician, told the prefect to have the martyr thrown to the wild beasts. But neither the vicious bear, not the hungry lion and lioness, would touch the saint, all meekly lay down at his feet. Seeing this happen, the people began to shout, "Great is the God of the Christians. O God of Thallelaeus, have mercy on us!"
The crowd seized Urbician and threw him to the beasts, which did not hesitate to tear the magician apart. Finally, the prefect gave orders to kill the holy martyr with a sword. They led Christ's martyr to the place of execution, called Aegea, where he prayed to God and bent his neck beneath the sword. This occurred in the year 284.
The relics of the holy martyr Thallelaeus are in the church of Saint Agathonicus of Constantinople and have performed many miracles. Saint Thallelaeus treated the sick without payment. For this reason, the Church calls him an Unmercenary Physician. He is invoked in prayers for the sick in the Mystery of Holy Unction, and during the Blessing of Waters.
Troparion of the saint, tone 4
Your holy martyr Thallelaeus and his companions, O Lord, / through their sufferings have received incorruptible crowns from You, our God. / For having Your strength, they laid low their adversaries, / and shattered the powerless boldness of demons. / Through their intercessions, save our souls!
Kontakion of the saint, tone 4
Revealed as a fellow struggler with the martyrs, / you were a perfect soldier of the King of Glory. / Through your trials and torments / you humbled the arrogance of the idolators. / Therefore, we praise your honorable memory, O wise Thallelaeus.
Acts 10:1-16 (Epistle)
1

There was a certain man in Caesarea called Cornelius, a centurion of what was called the Italian Regiment,

2

a devout man and one who feared God with all his household, who gave alms generously to the people, and prayed to God always.

3

About the ninth hour of the day he saw clearly in a vision an angel of God coming in and saying to him, "Cornelius!"

4

And when he observed him, he was afraid, and said, "What is it, lord?" So he said to him, "Your prayers and your alms have come up for a memorial before God.

5

Now send men to Joppa, and send for Simon whose surname is Peter.

6

He is lodging with Simon, a tanner, whose house is by the sea. He will tell you what you must do."

7

And when the angel who spoke to him had departed, Cornelius called two of his household servants and a devout soldier from among those who waited on him continually.

8

So when he had explained all these things to them, he sent them to Joppa.

9

The next day, as they went on their journey and drew near the city, Peter went up on the housetop to pray, about the sixth hour.

10

Then he became very hungry and wanted to eat; but while they made ready, he fell into a trance

11

and saw heaven opened and an object like a great sheet bound at the four corners, descending to him and let down to the earth.

12

In it were all kinds of four-footed animals of the earth, wild beasts, creeping things, and birds of the air.

13

And a voice came to him, "Rise, Peter; kill and eat."

14

But Peter said, "Not so, Lord! For I have never eaten anything common or unclean."

15

And a voice spoke to him again the second time, "What God has cleansed you must not call common."

16

This was done three times. And the object was taken up into heaven again.
John 6:56-69 (Gospel)
56

He who eats My flesh and drinks My blood abides in Me, and I in him.

57

As the living Father sent Me, and I live because of the Father, so he who feeds on Me will live because of Me.

58

This is the bread which came down from heaven – not as your fathers ate the manna, and are dead. He who eats this bread will live forever."

59

These things He said in the synagogue as He taught in Capernaum.

60

Therefore many of His disciples, when they heard this, said, "This is a hard saying; who can understand it?"

61

When Jesus knew in Himself that His disciples complained about this, He said to them, "Does this offend you?

62

What then if you should see the Son of Man ascend where He was before?

63

It is the Spirit who gives life; the flesh profits nothing. The words that I speak to you are spirit, and they are life.

64

But there are some of you who do not believe." For Jesus knew from the beginning who they were who did not believe, and who would betray Him.

65

And He said, "Therefore I have said to you that no one can come to Me unless it has been granted to him by My Father."

66

From that time many of His disciples went back and walked with Him no more.

67

Then Jesus said to the twelve, "Do you also want to go away?"

68

But Simon Peter answered Him, "Lord, to whom shall we go? You have the words of eternal life.

69

Also we have come to believe and know that You are the Christ, the Son of the living God."