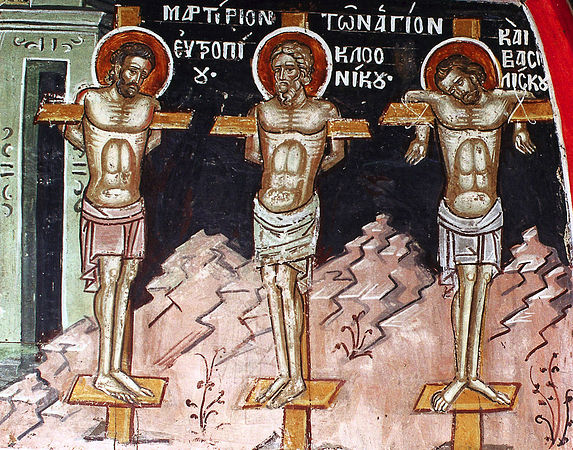 May 22
Fast
Midfeast of Pentecost
Martyr Basiliscus, Bishop of Comana (ca. 308). Commemoration of the Second Ecumenical Council (381). St. John (Vladimir), Ruler of Serbia (1015). Monk Martyr Paul of the Lavra (Mt. Athos—1818).
SAINT BASILISCUS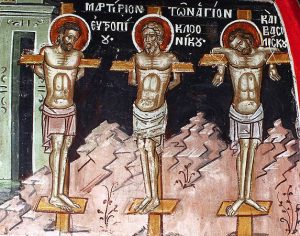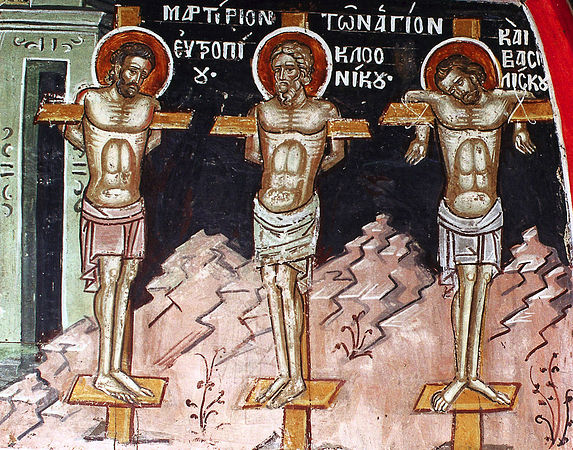 The Holy Martyr Basiliscus was a nephew of the Great Martyr Theodore the Recruit (February 17), and he suffered together with his brothers Eutropius and Kleonikos during the persecution of the emperor Maximian Galerius (305-311). The holy martyrs Kleonikos and Eutropius (March 3) were crucified, but the martyr Basiliscus was sent to Comana where he was detained in prison.
The governor Agrippa arrived in the city of Amasea, and started a persecution against Christians. Saint Basiliscus in prison prepared himself for his impending ordeal. The Lord appeared to him in a dream, promising the martyr His help, and foretold his martyric death at Comana. Saint Basiliscus asked the prison guards to let him go to his native village to bid his relatives farewell. They let him go, since they respected him for his holy life and working of miracles. Arriving home, Saint Basiliscus saw his family one last time, and urged them to stand firmly in the Faith.
When Agrippa learned that Saint Basiliscus had gone to see his relatives, he went into a rage. He chastized the prison guards, and he sent a detachment of soldiers after the martyr, headed by a cruel magistrianum (adjutant of the governor). Meeting Saint Basiliscus, who was actually on his way back, the magistrianum placed heavy chains on him, and shod him with metal sandals with nails driven into the soles, and set off to Comana.
Arriving at a certain village during the hot afternoon, the travellers stayed at the house of a woman named Troana. The soldiers went into the house to relax and refresh themselves with food, and they tied the martyr Basiliscus to a dry tree. Standing in the heavy chains beneath the scorching sun, the saint prayed to God. Suddenly a Voice was heard from above, "Fear not, for I am with you."
The earth shook, and a spring of water came forth from the fissure. The magistrianum, the soldiers and Troana, rushed out of the house, frightened by the earthquake. Shaken by the miracle which had taken place, they set the martyr free. Sick people from the village came to the holy martyr and received healing through his prayers.
When the saint finally stood before Agrippa, he was commanded to offer sacrifice to the pagan gods. He replied, "I offer to God a sacrifice of praise and thanksgiving every hour." They led him into a pagan temple. In an instant fire came down from Heaven, which burned the temple, and reduced the idols to dust. Then in a blind rage Agrippa gave orders to behead Saint Basiliscus and throw his body into the river. The death of the martyr occurred in the year 308.
Christians quickly gathered the remains of the holy martyr, and buried them by night in a ploughed field. Upon this spot a church was built in honor of Saint Basiliscus, into which they transferred his relics. Through the prayers of the holy martyr healings began to occur. The saint appeared in a dream to Saint John Chrysostom (November 13) before his death at Comana and said to him, "Tomorrow we shall be together." Saint Eusignius (August 5) was an eyewitness to his sufferings and told the world about the struggles of Saint Basiliscus.
Troparion for Midfeast of Pentecost, tone 8
In the middle of the Feast, O Savior, / Fill my thirsting soul with the waters of godliness, as You did cry to all: / If anyone thirst let him come to me and drink! / O Christ God, Fountain of our life, glory to You!
Kontakion for Midfeast of Pentecost, tone 4
Christ God, the Creator and Master of all / Cried to all in the midst of the Feast of the law: / Come and draw the water of immortality! / We fall before You and faithfully cry: / Grant us Your bounties, for You are the Fountain of our life!
Acts 14:6-18 (Epistle)
6

they became aware of it and fled to Lystra and Derbe, cities of Lycaonia, and to the surrounding region.

7

And they were preaching the gospel there.

8

And in Lystra a certain man without strength in his feet was sitting, a cripple from his mother's womb, who had never walked.

9

This man heard Paul speaking. Paul, observing him intently and seeing that he had faith to be healed,

10

said with a loud voice, "Stand up straight on your feet!" And he leaped and walked.

11

Now when the people saw what Paul had done, they raised their voices, saying in the Lycaonian language, "The gods have come down to us in the likeness of men!"

12

And Barnabas they called Zeus, and Paul, Hermes, because he was the chief speaker.

13

Then the priest of Zeus, whose temple was in front of their city, brought oxen and garlands to the gates, intending to sacrifice with the multitudes.

14

But when the apostles Barnabas and Paul heard this, they tore their clothes and ran in among the multitude, crying out

15

and saying, "Men, why are you doing these things? We also are men with the same nature as you, and preach to you that you should turn from these useless things to the living God, who made the heaven, the earth, the sea, and all things that are in them,

16

who in bygone generations allowed all nations to walk in their own ways.

17

Nevertheless He did not leave Himself without witness, in that He did good, gave us rain from heaven and fruitful seasons, filling our hearts with food and gladness."

18

And with these sayings they could scarcely restrain the multitudes from sacrificing to them.
John 7:14-30 (Gospel)
14

Now about the middle of the feast Jesus went up into the temple and taught.

15

And the Jews marveled, saying, "How does this Man know letters, having never studied?"

16

Jesus answered them and said, "My doctrine is not Mine, but His who sent Me.

17

If anyone wills to do His will, he shall know concerning the doctrine, whether it is from God or whether I speak on My own authority.

18

He who speaks from himself seeks his own glory; but He who seeks the glory of the One who sent Him is true, and no unrighteousness is in Him.

19

Did not Moses give you the law, yet none of you keeps the law? Why do you seek to kill Me?"

20

The people answered and said, "You have a demon. Who is seeking to kill You?"

21

Jesus answered and said to them, "I did one work, and you all marvel.

22

Moses therefore gave you circumcision (not that it is from Moses, but from the fathers), and you circumcise a man on the Sabbath.

23

If a man receives circumcision on the Sabbath, so that the law of Moses should not be broken, are you angry with Me because I made a man completely well on the Sabbath?

24

Do not judge according to appearance, but judge with righteous judgment."

25

Now some of them from Jerusalem said, "Is this not He whom they seek to kill?

26

But look! He speaks boldly, and they say nothing to Him. Do the rulers know indeed that this is truly the Christ?

27

However, we know where this Man is from; but when the Christ comes, no one knows where He is from."

28

Then Jesus cried out, as He taught in the temple, saying, "You both know Me, and you know where I am from; and I have not come of Myself, but He who sent Me is true, whom you do not know.

29

But I know Him, for I am from Him, and He sent Me."

30

Therefore they sought to take Him; but no one laid a hand on Him, because His hour had not yet come.