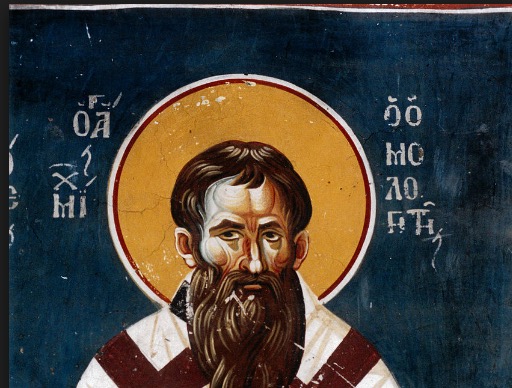 May 23
St. Michael the Confessor, Bishop of Synnada (831). Uncovering of the Relics of St. Leontius, Bishop and Wonderworker of Rostov (1164). Synaxis of the Saints of Rostov—Yaroslavl'. Ven. Euphrosyne, Abbess of Polótsk (1173). Ven. Paísii, Abbot of Galich (1460). Martyr Michael "the Black-robed" of St. Sabbas' Monastery (9th c.).
St. Michael the Confessor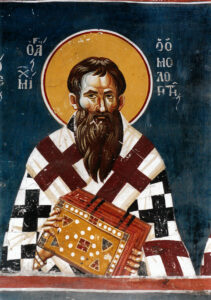 Saint Michael the Confessor From his youth he longed for the monastic life and was sent by Patriarch Tarasius (784-806) to a monastery on the coast of the Black Sea. Saint Theophylactus (March 8), the future Bishop of Nicomedia also entered the monastery together with him.
At the monastery both monks engaged in spiritual struggles and were soon glorified by gifts from the Lord. Once, during a harvest, when the people were weakened by thirst, an empty metal vessel was filled with water by the prayer of the monks.
Patriarch Tarasius consecrated Saint Michael as bishop of the city of Synnada. Through his holy life and wisdom, Saint Michael won the love of believers, and the notice of the emperors Nicephorus I (802-811) and Michael I Rangabe (811-813). Saint Michael was present at the Seventh Ecumenical Council at Nicea in 787.
When the Iconoclast heretic Leo the Armenian (813-820) assumed the throne, he began to expel Orthodox hierarchs from their Sees, appointing heretics in their place.
Saint Michael defended Orthodoxy, bravely opposing the heretics and denouncing their error. Leo the Armenian brought Saint Michael to trial, but not fearing torture he answered resolutely, "I venerate the holy icons of my Savior Jesus Christ and the All-Pure Virgin, His Mother, and all the saints, and it is to them I bow down. I shall not obey your decrees to remove icons from churches."
Leo then banished Saint Michael to the city of Eudokiada, where the confessor died about the year 821. The head of Saint Michael is preserved in the Great Lavra of Saint Athanasius on Mount Athos, and part of the relics are at the Iveron monastery.
Troparion for Midfeast of Pentecost, tone 8
In the middle of the Feast, O Savior, / Fill my thirsting soul with the waters of godliness, as You did cry to all: / If anyone thirst let him come to me and drink! / O Christ God, Fountain of our life, glory to You!
Troparion of the saint, tone 4
From your youth you dedicated your life to God, / and you were proclaimed shepherd and hierarch of Christ, holy Michael. / You endured afflictions and exile / because you honored the icon of Christ; / now you pour forth healings for us all.
Kоntakion of the saint, tone 8
As a most honorable hierarch and champion of true piety, / undaunted by fear of the notorious tyrant, / you conquered his heretical opposition, freely proclaiming in a loud voice: / "I venerate the icon of Christ and of His all-pure Mother!" / Therefore, we honor you, O Michael!
Kontakion for Midfeast of Pentecost, tone 4
Christ God, the Creator and Master of all / Cried to all in the midst of the Feast of the law: / Come and draw the water of immortality! / We fall before You and faithfully cry: / Grant us Your bounties, for You are the Fountain of our life!
Acts 10:34-43 (Epistle)
34

Then Peter opened his mouth and said: "In truth I perceive that God shows no partiality.

35

But in every nation whoever fears Him and works righteousness is accepted by Him.

36

The word which God sent to the children of Israel, preaching peace through Jesus Christ – He is Lord of all –

37

that word you know, which was proclaimed throughout all Judea, and began from Galilee after the baptism which John preached:

38

how God anointed Jesus of Nazareth with the Holy Spirit and with power, who went about doing good and healing all who were oppressed by the devil, for God was with Him.

39

And we are witnesses of all things which He did both in the land of the Jews and in Jerusalem, whom they killed by hanging on a tree.

40

Him God raised up on the third day, and showed Him openly,

41

not to all the people, but to witnesses chosen before by God, even to us who ate and drank with Him after He arose from the dead.

42

And He commanded us to preach to the people, and to testify that it is He who was ordained by God to be Judge of the living and the dead.

43

To Him all the prophets witness that, through His name, whoever believes in Him will receive remission of sins."
John 8:12-20 (Gospel)
12

Then Jesus spoke to them again, saying, "I am the light of the world. He who follows Me shall not walk in darkness, but have the light of life."

13

The Pharisees therefore said to Him, "You bear witness of Yourself; Your witness is not true."

14

Jesus answered and said to them, "Even if I bear witness of Myself, My witness is true, for I know where I came from and where I am going; but you do not know where I come from and where I am going.

15

You judge according to the flesh; I judge no one.

16

And yet if I do judge, My judgment is true; for I am not alone, but I am with the Father who sent Me.

17

It is also written in your law that the testimony of two men is true.

18

I am One who bears witness of Myself, and the Father who sent Me bears witness of Me."

19

Then they said to Him, "Where is Your Father?" Jesus answered, "You know neither Me nor My Father. If you had known Me, you would have known My Father also."

20

These words Jesus spoke in the treasury, as He taught in the temple; and no one laid hands on Him, for His hour had not yet come.