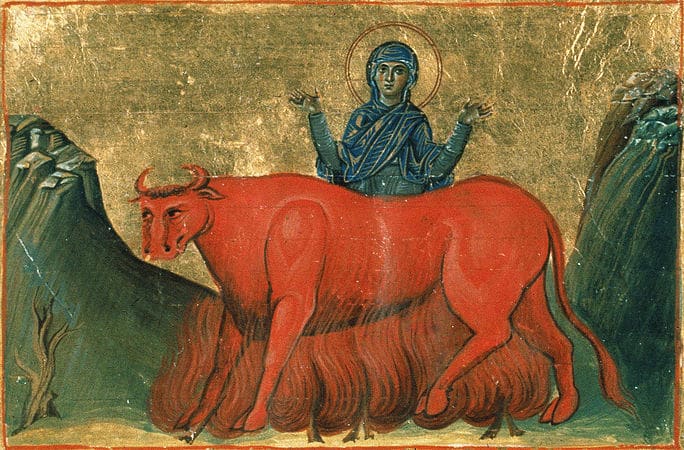 May 4 (old calendar) / May 17 (new)
Fast
Virgin Martyr Pelagía of Tarsus in Asia Minor (ca. 290). The Alfanov (Sokol'nitsky) brethren: Ss. Nikita, Kirill, Nikifor, Clement, and Isaac, of Novgorod (14th-15th c.). Hieromartyr Erasmus, Bishop of Formia in Campania (303). Hieromartyr Silvanus, Bishop of Gaza, and with him 40 Martyrs (311). Ven. Nicephorus of Mt. Athos (ca. 130).
Saint Pelagia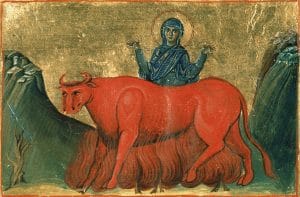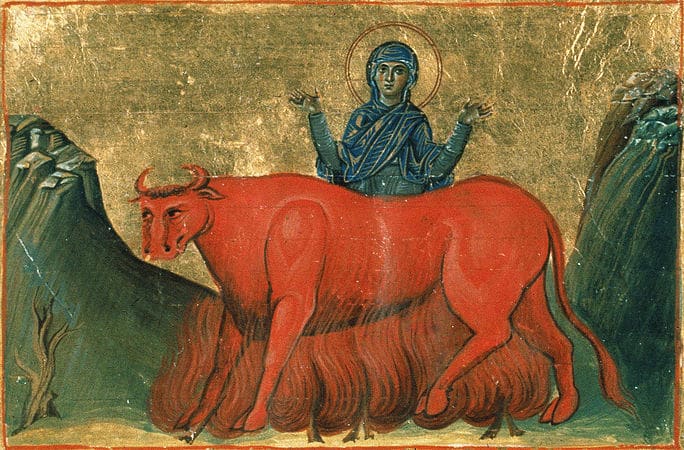 Saint Pelagia of Tarsus in Cilicia (southeastern Asia Minor) lived in the third century, during the reign of Diocletian (284-305), and was the daughter of illustrious pagans. When she heard about Jesus Christ from her Christian friends, she believed in Him and desired to preserve her virginity, dedicating her whole life to the Lord.
Emperor Diocletian's heir (a boy he adopted), saw the maiden Pelagia, was captivated by her beauty and wanted her to be his wife. The holy virgin told the youth that she was betrothed to Christ the Immortal Bridegroom, and had renounced earthly marriage.
Pelagia's reply greatly angered the young man, but he decided to leave her in peace for awhile, hoping that she would change her mind. At the same time, Pelagia convinced her mother to let her visit the nurse who had raised her in childhood. She secretly hoped to find Bishop Linus of Tarsus, who had fled to a mountain during a persecution against Christians, and to be baptized by him. She had seen the face of Bishop Linus in a dream, which made a profound impression upon her. The holy bishop told her to be baptized. Saint Pelagia traveled in a chariot to visit her nurse, dressed in rich clothes and accompanied by a whole retinue of servants, as her mother wished.
Along the way Saint Pelagia, by the grace of God, met Bishop Linus. Pelagia immediately recognized the bishop who had appeared to her in the dream. She fell at his feet, requesting Baptism. At the bishop's prayer a spring of water flowed from the ground.
Bishop Linus made the Sign of the Cross over Saint Pelagia, and during the Mystery of Baptism, angels appeared and covered the chosen one of God with a bright mantle. After giving the pious virgin Holy Communion, Bishop Linus offered a prayer of thanksgiving to the Lord with her, and then sent her to continue her journey. She then exchanged her expensive clothing for a simple white garment, and distributed her possessions to the poor. Returning to her servants, Saint Pelagia told them about Christ, and many of them were converted and believed.
She tried to convert her own mother to Christ, but the obdurate woman sent a message to Diocletian's son that Pelagia was a Christian and did not wish to be his wife. The youth realized that Pelagia was lost to him, and he fell upon his sword in his despair. Pelagia's mother feared the emperor's wrath, so she tied her daughter up and led her to Diocletian's court as a Christian who was also responsible for the death of the heir to the throne. The emperor was captivated by the unusual beauty of the virgin and tried to turn her from her faith in Christ, promising her every earthly blessing if she would become his wife.
The holy virgin refused the emperor's offer with contempt and said, "You are insane, Emperor, saying such things to me. I will not do your bidding, and I loathe your vile marriage, since I have Christ, the King of Heaven, as my Bridegroom. I do not desire your worldly crowns which last only a short while. The Lord in His heavenly Kingdom has prepared three imperishable crowns for me. The first is for faith, since I have believed in the true God with all my heart; the second is for purity, because I have dedicated my virginity to Him; the third is for martyrdom, since I want to accept every suffering for Him and offer up my soul because of my love for Him."
Diocletian sentenced Pelagia to be burned in a red-hot bronze bull. Not permitting the executioners to touch her body, the holy martyr signed herself with the Sign of the Cross, and went into the brazen bull and her flesh melted like myrrh, filling the whole city with fragrance. Saint Pelagia's bones remained unharmed and were removed by the pagans to a place outside the city. Four lions then came out of the wilderness and sat around the bones letting neither bird nor wild beast get at them. The lions protected the relics of the saint until Bishop Linus came to that place. He gathered them up and buried them with honor. Later, a church was built over her holy relics.
The Service to the holy Virgin Martyr Pelagia of Tarsus says that she was "deemed worthy of most strange and divine visions." She is also commemorated on October 7.
During the reign of Emperor Constantine (306-337), when the persecutions against Christians had stopped, a church was built at Saint Pelagia's burial place.
Troparion of the saint, tone 3
Through your knowledge of the Faith you abandoned the darkness of ignorance, / fairest virgin of Christ. / You were refreshed by dew and finished your contest by fire. / Glorious martyr Pelagia, / entreat Christ our God to grant us His great mercy!
Kontakion of the saint, tone 2
Abandoning your mortal betrothed in order to wed the Immortal One, / as your dowry you offered chastity and your contest. / Therefore, we acclaim you, Pelagia.
Acts 8:40-9:19 (Epistle)
40

But Philip was found at Azotus. And passing through, he preached in all the cities till he came to Caesarea.

1

Then Saul, still breathing threats and murder against the disciples of the Lord, went to the high priest

2

and asked letters from him to the synagogues of Damascus, so that if he found any who were of the Way, whether men or women, he might bring them bound to Jerusalem.

3

As he journeyed he came near Damascus, and suddenly a light shone around him from heaven.

4

Then he fell to the ground, and heard a voice saying to him, "Saul, Saul, why are you persecuting Me?"

5

And he said, "Who are You, Lord?" Then the Lord said, "I am Jesus, whom you are persecuting. It is hard for you to kick against the goads."

6

So he, trembling and astonished, said, "Lord, what do You want me to do?" Then the Lord said to him, "Arise and go into the city, and you will be told what you must do."

7

And the men who journeyed with him stood speechless, hearing a voice but seeing no one.

8

Then Saul arose from the ground, and when his eyes were opened he saw no one. But they led him by the hand and brought him into Damascus.

9

And he was three days without sight, and neither ate nor drank.

10

Now there was a certain disciple at Damascus named Ananias; and to him the Lord said in a vision, "Ananias." And he said, "Here I am, Lord."

11

So the Lord said to him, "Arise and go to the street called Straight, and inquire at the house of Judas for one called Saul of Tarsus, for behold, he is praying.

12

And in a vision he has seen a man named Ananias coming in and putting his hand on him, so that he might receive his sight."

13

Then Ananias answered, "Lord, I have heard from many about this man, how much harm he has done to Your saints in Jerusalem.

14

And here he has authority from the chief priests to bind all who call on Your name."

15

But the Lord said to him, "Go, for he is a chosen vessel of Mine to bear My name before Gentiles, kings, and the children of Israel.

16

For I will show him how many things he must suffer for My name's sake."

17

And Ananias went his way and entered the house; and laying his hands on him he said, "Brother Saul, the Lord Jesus, who appeared to you on the road as you came, has sent me that you may receive your sight and be filled with the Holy Spirit."

18

Immediately there fell from his eyes something like scales, and he received his sight at once; and he arose and was baptized.

19

So when he had received food, he was strengthened. Then Saul spent some days with the disciples at Damascus.
John 6:48-54 (Gospel)
48

I am the bread of life.

49

Your fathers ate the manna in the wilderness, and are dead.

50

This is the bread which comes down from heaven, that one may eat of it and not die.

51

I am the living bread which came down from heaven. If anyone eats of this bread, he will live forever; and the bread that I shall give is My flesh, which I shall give for the life of the world."

52

The Jews therefore quarreled among themselves, saying, "How can this Man give us His flesh to eat?"

53

Then Jesus said to them, "Most assuredly, I say to you, unless you eat the flesh of the Son of Man and drink His blood, you have no life in you.

54

Whoever eats My flesh and drinks My blood has eternal life, and I will raise him up at the last day.