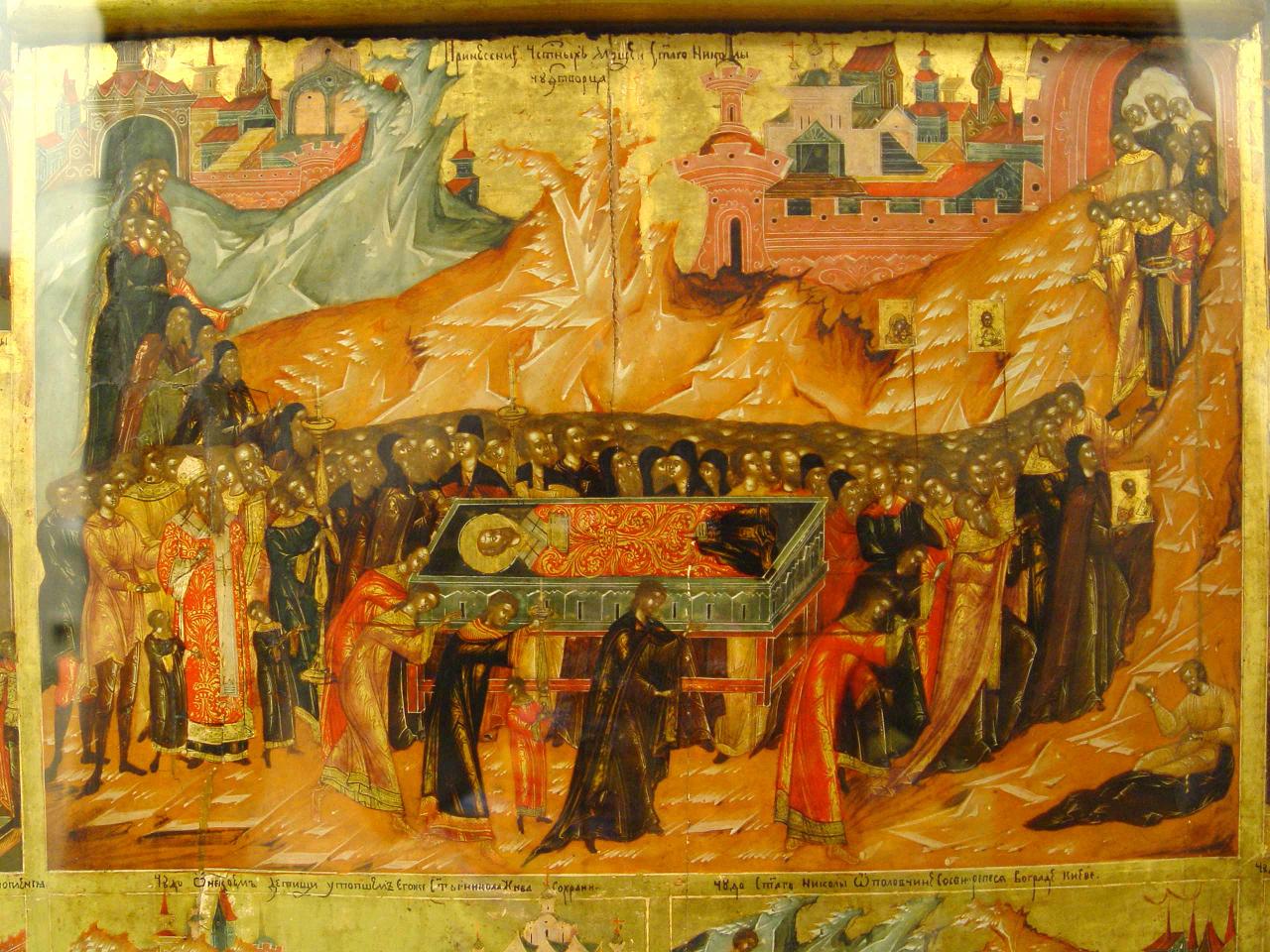 May 9 (old calendar) / May 22 (new)
Fast
Midfeast of Pentecost
Prophet Isaiah (8th c. B.C.). Martyr Christopher of Lycia, and with him Martyrs Callinika and Aquilina (ca. 250). Translation of the Relics of St. Nicholas the Wonderworker from Myra to Bari (1087). Ven. Shio of Georgia (6th c.).
Translation of the Relics of St. Nicholas the Wonderworker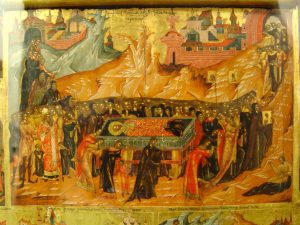 The Transfer of the Relics of Saint Nicholas to Bari in Italy. His Life is found under December 6.
In the eleventh century the Byzantine Empire was going through some terrible times. The Turks put an end to its influence in Asia Minor, they destroyed cities and villages, they murdered the inhabitants, and they accompanied their cruel outrage with the desecration of churches, holy relics, icons and books. The Mussulmen also attempted to destroy the relics of Saint Nicholas, deeply venerated by the whole Christian world.
In the year 792 the caliph Aaron Al'-Rashid sent Khumeid at the head of a fleet to pillage the island of Rhodes. Having lain waste this island, Khumeid set off to Myra in Lycia with the intent to rob the tomb of Saint Nicholas. But instead he robbed another tomb standing alongside the crypt of the saint. Just as they succeeded in committing this sacrilege, a terrible storm lifted upon the sea and almost all the ships were shattered into pieces.
The desecration of holy things shocked not only Eastern, but also Western Christians. Christians in Italy were particularly apprehensive for the relics of Saint Nicholas, and among them were many Greeks. The inhabitants of the city of Bari, located on the shores of the Adriatic Sea, decided to save the relics of Saint Nicholas.
In the year 1087 merchants from Bari and Venice went to Antioch to trade. Both these and others also proposed to take up the relics of Saint Nicholas and transport them to Italy on the return trip. In this plan the men of Bari commissioned the Venetians to land them at Myra. At first two men were sent in, who in returning reported that in the city all was quiet. In the church where the glorified relics rested, they encountered only four monks. Immediately forty-seven men, having armed themselves, set out for the church of Saint Nicholas. The guards, suspecting nothing, showed them the raised platform, beneath which the tomb of the saint was concealed, and where they anointed foreigners with myrrh from the relics of the saint.
At this time the monks told them about an appearance of Saint Nicholas that evening to a certain Elder. In this vision Saint Nicholas ordered the careful preservation of his relics. This account encouraged the barons, they saw an avowal for them in this vision and, as it were, a decree from the saint. In order to facilitate their activity, they revealed their intent to the monks and offered them money, 300 gold coins. The guards refused the money and wanted to warn the inhabitants about the misfortune threatening them. But the newcomers bound them and put their own guards at the doorway.
They took apart the church platform above the tomb with the relics. In this effort the youth Matthew was excessive in his zeal, wanting to find the relics of Saint Nicholas as quickly as possible. In his impatience he broke the cover and the barons saw that the sarcophagus was filled with fragrant holy myrrh. The compatriots of the barons, the priests Luppus and Drogus, offered a litany, after which the break made by Matthew began to flow with myrrh from the saint's sarcophagus. This occurred on April 20, 1087.
Seeing the absence of a container chest, the priest Drogus wrapped the relics in the cloth, and in the company of the barons he carried them to the ship. The monks, having been set free, alerted the city with the sad news about the abduction of the relics of the Wonderworker Nicholas by foreigners. A crowd of people gathered at the shore, but it was too late.
On May 8 the ships arrived in Bari, and soon the joyous news made the rounds of all the city. On the following day, May 9, 1087, they solemnly transported the relics of Saint Nicholas into the church of Saint Stephen, not far from the sea. The solemn bearing of the relics was accompanied by numerous healings of the sick, which inspired still greater reverence for God's saint. A year afterwards, a church was built in the name of Saint Nicholas and consecrated by Pope Urban II.
This event, connected with the transfer of the relics of Saint Nicholas, evoked a particular veneration for the Wonderworker Nicholas and was marked by the establishment of a special Feast day on May 9. At first the Feast day of the Transfer of the Relics of Saint Nicholas was observed only by the people of the city of Bari. It was not adopted in the other lands of the Christian East and West, despite the fact that the transfer of the relics was widely known. This circumstance is explained by the custom in the Middle Ages of venerating primarily the relics of local saints. Moreover, the Greek Church did not establish the celebration of this remembrance, since they regarded the loss of the relics of Saint Nicholas as a sad event.
The Russian Orthodox Church celebration of the memory of the Transfer of the Relics of Saint Nicholas from Myra in Lycia to Bari in Italy on May 9 was established soon after the year 1087, on the basis of an already established veneration by the Russian people of the great saint of God, brought from Greece simultaneously with the acceptance of Christianity. The glorious accounts ot the miracles performed by the saint on both land and sea, were widely known to the Russian people. Their boundless power and abundance testify to the help of the great saint of God for suffering mankind. The image of Saint Nicholas, a mighty wonderworker and benefactor, became especially dear to the heart of the Russian people, since it inspired deep faith and hope for his intercession. The faith of the Russian people in the abundant aid of God's saint was marked by numerous miracles.
A significant body of literature was compiled about him very early in Russian writings. Accounts of the miracles of Saint Nicholas done in the Russian land were recorded at an early date. Soon after the Transfer of the Relics of Saint Nicholas from Myra to Bari, a Russian version of his Life and an account of the Transfer of his holy relics were written by a contemporary to this event. Earlier still, an encomium to the Wonderworker was written. Each week on Thursday, the Russian Orthodox Church honors his memory in particular.
Numerous churches and monasteries were built in honor of Saint Nicholas, and Russian people are wont to name their children after him at Baptism. In Russia are preserved numerous wonderworking icons of the saint. Most renowned among them are the icons of Mozhaisk, Zaraisk, Volokolamsk, Ugreshsk and Ratny. There was no house or temple in the Russian land in which there was not an icon of Saint Nicholas the Wonderworker.
The significance of the intercession of the great saint of God is expressed by the ancient compiler of the Life, in the words of whom Saint Nicholas "did work many glorious miracles both on land and on sea, aiding those downtrodden in misfortune and rescuing the drowning, carrying to dry land from the depths of the sea, raising up others from corruption and bringing them home, liberating from chains and imprisonment, averting felling by the sword and freeing from death, and granting healing to many; sight to the blind, walking to the lame, hearing to the deaf, and speech to the mute. He brought riches to many suffering in abject poverty and want, he provided the hungry food, and for each in their need he appeared a ready helper, an avid defender and speedy intercessor and protector, and such as appeal to him he doth help and deliver from adversity. Both the East and the West know of this great Wonderworker, and all the ends of the earth know his miracle-working."
Troparion for Midfeast of Pentecost, tone 8
In the middle of the Feast, O Savior, / Fill my thirsting soul with the waters of godliness, as You did cry to all: / If anyone thirst let him come to me and drink! / O Christ God, Fountain of our life, glory to You!
Troparion of the feast of the translation, tone 4
The day of splendid solemnity is come; the city of Bari rejoiceth, and with it the whole world doth exult with hymns and spiritual songs. For today is the sacred feast of the translation of the precious and much-healing relics of the hierarch Nicholas the wonder­worker. For like the never-setting Sun, he shineth with brilliant beams of light, driving away the darkness of temptations and misfor­tunes from them that cry out with faith: Save us, O Nicholas, for thou art our intercessor!
Kоntakion of the feast of the translation, tone 3
Thy relics have moved like a star, from the East unto the West, O holy hierarch Nicho­las; and the sea hath been sanctified by thy passage. The city of Bari receiveth grace through thee, for thou hast been shown forth for us as a wonder-worker: illustrious, most wondrous and merciful.
Kontakion for Midfeast of Pentecost, tone 4
Christ God, the Creator and Master of all / Cried to all in the midst of the Feast of the law: / Come and draw the water of immortality! / We fall before You and faithfully cry: / Grant us Your bounties, for You are the Fountain of our life!
Acts 14:6-18 (Epistle)
6

they became aware of it and fled to Lystra and Derbe, cities of Lycaonia, and to the surrounding region.

7

And they were preaching the gospel there.

8

And in Lystra a certain man without strength in his feet was sitting, a cripple from his mother's womb, who had never walked.

9

This man heard Paul speaking. Paul, observing him intently and seeing that he had faith to be healed,

10

said with a loud voice, "Stand up straight on your feet!" And he leaped and walked.

11

Now when the people saw what Paul had done, they raised their voices, saying in the Lycaonian language, "The gods have come down to us in the likeness of men!"

12

And Barnabas they called Zeus, and Paul, Hermes, because he was the chief speaker.

13

Then the priest of Zeus, whose temple was in front of their city, brought oxen and garlands to the gates, intending to sacrifice with the multitudes.

14

But when the apostles Barnabas and Paul heard this, they tore their clothes and ran in among the multitude, crying out

15

and saying, "Men, why are you doing these things? We also are men with the same nature as you, and preach to you that you should turn from these useless things to the living God, who made the heaven, the earth, the sea, and all things that are in them,

16

who in bygone generations allowed all nations to walk in their own ways.

17

Nevertheless He did not leave Himself without witness, in that He did good, gave us rain from heaven and fruitful seasons, filling our hearts with food and gladness."

18

And with these sayings they could scarcely restrain the multitudes from sacrificing to them.
John 7:14-30 (Gospel)
14

Now about the middle of the feast Jesus went up into the temple and taught.

15

And the Jews marveled, saying, "How does this Man know letters, having never studied?"

16

Jesus answered them and said, "My doctrine is not Mine, but His who sent Me.

17

If anyone wills to do His will, he shall know concerning the doctrine, whether it is from God or whether I speak on My own authority.

18

He who speaks from himself seeks his own glory; but He who seeks the glory of the One who sent Him is true, and no unrighteousness is in Him.

19

Did not Moses give you the law, yet none of you keeps the law? Why do you seek to kill Me?"

20

The people answered and said, "You have a demon. Who is seeking to kill You?"

21

Jesus answered and said to them, "I did one work, and you all marvel.

22

Moses therefore gave you circumcision (not that it is from Moses, but from the fathers), and you circumcise a man on the Sabbath.

23

If a man receives circumcision on the Sabbath, so that the law of Moses should not be broken, are you angry with Me because I made a man completely well on the Sabbath?

24

Do not judge according to appearance, but judge with righteous judgment."

25

Now some of them from Jerusalem said, "Is this not He whom they seek to kill?

26

But look! He speaks boldly, and they say nothing to Him. Do the rulers know indeed that this is truly the Christ?

27

However, we know where this Man is from; but when the Christ comes, no one knows where He is from."

28

Then Jesus cried out, as He taught in the temple, saying, "You both know Me, and you know where I am from; and I have not come of Myself, but He who sent Me is true, whom you do not know.

29

But I know Him, for I am from Him, and He sent Me."

30

Therefore they sought to take Him; but no one laid a hand on Him, because His hour had not yet come.
Tropaire de la Mi-Pentecôte, ton 8
Au milieu de la fête, abreuve mon âme assoiffée des eaux de la piété,  car, ô Sauveur, Tu as clamé à tous : Celui qui a soif, qu'il vienne à moi et qu'il boive.  Source de notre vie, ô Christ Dieu, gloire à toi.
Tropaire du transfert des reliques de saint Nicolas, ton 4
Le jour de la solennité lumineuse a commencé, la cité de Bari se réjouit et avec elle tout l'univers est en liesse avec des hymnes et des cantiques spirituels ; car c'est le jour de la sainte solennité du transfert des reliques précieuses et miraculeuses du hiérarque et thaumaturge Nicolas, comme le soleil sans couchant brillant par des rayons lumineux et dissipant les ténèbres des épreuves et des malheurs chez ceux qui s'exclament avec foi : sauve-nous, comme notre grand intercesseur, ô Nicolas.
Kоndakion du transfert des reliques de saint Nicolas, ton 3
Tes reliques, ô saint hiérarque Nicolas, sont passées, telles une étoile, de l'orient jusqu'en occident; la mer a été sanctifiée par ton passage et la cité de Bari reçoit par toi la grâce ; car tu es apparu pour nous, ô thaumaturge admirable, merveilleux et miséricordieux.
Kondakion de la Mi-Pentecôte, ton 4
Au milieu de la fête prescrite par la loi,  Créateur et Maître de toutes choses,  Tu as dit à ceux qui se tenaient auprès de toi :  Venez puiser l'eau de l'immortalité.  Aussi nous prosternons-nous devant toi et disons-nous avec foi : Accorde-nous ta compassion, ô Christ Dieu, car Tu es la source de notre vie.
ÉPITRE DU JOUR
Actes XIV, 6-18
Paul et Barnabas, en ayant eu connaissance, se réfugièrent dans les villes de la Lycaonie, à Lystre et à Derbe, et dans la contrée d'alentour. Et ils y annoncèrent la bonne nouvelle. À Lystre, se tenait assis un homme impotent des pieds, boiteux de naissance, et qui n'avait jamais marché. Il écoutait parler Paul. Et Paul, fixant les regards sur lui et voyant qu'il avait la foi pour être guéri, dit d'une voix forte : Lève-toi droit sur tes pieds. Et il se leva d'un bond et marcha. À la vue de ce que Paul avait fait, la foule éleva la voix, et dit en langue lycaonienne : Les dieux sous une forme humaine sont descendus vers nous. Ils appelaient Barnabas Jupiter, et Paul Mercure, parce que c'était lui qui portait la parole. Le prêtre de Jupiter, dont le temple était à l'entrée de la ville, amena des taureaux avec des bandelettes vers les portes, et voulait, de même que la foule, offrir un sacrifice. Les apôtres Barnabas et Paul, ayant appris cela, déchirèrent leurs vêtements, et se précipitèrent au milieu de la foule, en s'écriant : Ô hommes, pourquoi agissez-vous de la sorte ? Nous aussi, nous sommes des hommes de la même nature que vous ; et, vous apportant une bonne nouvelle, nous vous exhortons à renoncer à ces choses vaines, pour vous tourner vers le Dieu vivant, qui a fait le ciel, la terre, la mer, et tout ce qui s'y trouve. Ce Dieu, dans les âges passés, a laissé toutes les nations suivre leurs propres voies, quoiqu'il n'ait cessé de rendre témoignage de ce qu'il est, en faisant du bien, en vous dispensant du ciel les pluies et les saisons fertiles, en vous donnant la nourriture avec abondance et en remplissant vos cœurs de joie. À peine purent-ils, par ces paroles, empêcher la foule de leur offrir un sacrifice.
ÉVANGILE DU JOUR
Jn VII, 14-30
Vers le milieu de la fête, Jésus monta au temple. Et il enseignait. Les Juifs s'étonnaient, disant: Comment connaît-il les Écritures, lui qui n'a point étudié? Jésus leur répondit: Ma doctrine n'est pas de moi, mais de celui qui m'a envoyé. Si quelqu'un veut faire sa volonté, il connaîtra si ma doctrine est de Dieu, ou si je parle de mon chef. Celui qui parle de son chef cherche sa propre gloire; mais celui qui cherche la gloire de celui qui l'a envoyé, celui-là est vrai, et il n'y a point d'injustice en lui. Moïse ne vous a-t-il pas donné la loi? Et nul de vous n'observe la loi. Pourquoi cherchez-vous à me faire mourir? La foule répondit: Tu as un démon. Qui est-ce qui cherche à te faire mourir? Jésus leur répondit: J'ai fait une œuvre, et vous en êtes tous étonnés. Moïse vous a donné la circoncision, -non qu'elle vienne de Moïse, car elle vient des patriarches, -et vous circoncisez un homme le jour du sabbat. Si un homme reçoit la circoncision le jour du sabbat, afin que la loi de Moïse ne soit pas violée, pourquoi vous irritez-vous contre moi de ce que j'ai guéri un homme tout entier le jour du sabbat? Ne jugez pas selon l'apparence, mais jugez selon la justice. Quelques habitants de Jérusalem disaient: N'est-ce pas là celui qu'ils cherchent à faire mourir? Et voici, il parle librement, et ils ne lui disent rien! Est-ce que vraiment les chefs auraient reconnu qu'il est le Christ? Cependant celui-ci, nous savons d'où il est; mais le Christ, quand il viendra, personne ne saura d'où il est. Et Jésus, enseignant dans le temple, s'écria: Vous me connaissez, et vous savez d'où je suis! Je ne suis pas venu de moi-même: mais celui qui m'a envoyé est vrai, et vous ne le connaissez pas. Moi, je le connais; car je viens de lui, et c'est lui qui m'a envoyé. Ils cherchaient donc à se saisir de lui, et personne ne mit la main sur lui, parce que son heure n'était pas encore venue.