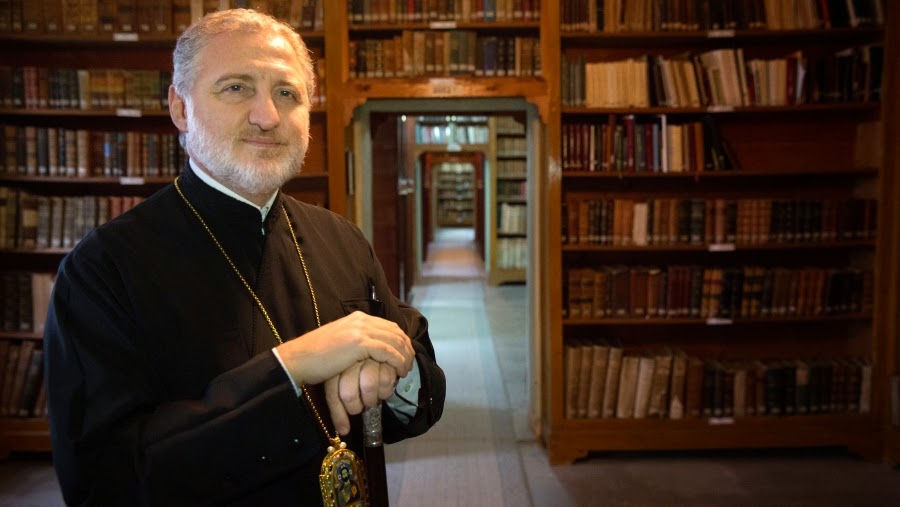 Today, following the resignation of Archbishop Demetrios (Trakatellis), Metropolitan Elpidophoros of Bursa, Hegumen of the Holy Trinity Monastery of Halki, was elected Archbishop of America (Ecumenical Patriarchate).
He was born in 1967 in Bakırköy (Makrohori), a district of Constantinople. He studied in the pastoral department of the Faculty of Theology of the Aristotelian University of Thessaloniki, where he graduated with excellent results in 1991. In 1993, he completed his postgraduate studies at the Faculty of Philosophy of the University of Bonn, with a thesis entitled "The brothers John and Nicholas Mesarites".
He was ordained a deacon in 1994 in the Patriarchal Church, and was appointed the codecographer of the Holy Synod. The following year, he was appointed the undersecretary of the Holy Synod.
In 1996-1997, he studied at the St. John Damascene Theological Faculty in Balamand, Lebanon, where he improved his knowledge of the Arabic language. In 2001, he submitted his doctoral thesis to the Aristotelian University under the title: "The position of Severus of Antioch on the subject of the Council of Chalcedon", and was promoted as Doctor of Theology with the mention "excellent".
In 2004, he taught for one semester as a visiting professor at the Holy Cross Faculty of Theology in Boston. In March 2005, at the proposal of Patriarch Bartholomew, he was promoted by the Holy Synod as the head of its secretariat, and was ordained a priest by the Patriarch, in the Patriarchal Church.
In 2009, the Faculty of Theology of Thessaloniki unanimously elected him as the Assistant Professor of Symbolics, and Inter-Orthodox and Inter-Christian Relations. He submitted two dissertations entitled "The Institution of the Synaxis of the Hierarchs of the Ecumenical Throne (1951-2004)" and "The 95 theses of Luther, a historical-theological evaluation, with text, translation, and comments".
In March 2011, he was elected Metropolitan of Bursa, and in August of that same year, he was named the Hegumen of the Patriarchal and Stavropegic Monastery of the Holy Trinity in Halki.
He was also the Orthodox General Secretary of the International Joint Commission for the Theological Dialogue of the Orthodox Church with the Lutheran World Federation, and a member of the Patriarchal Delegations at the General Assemblies of the Council of European Churches and the World Council of Churches.
In addition, he was the secretary of the Pan-Orthodox Synods held in Sofia in 1998 and in Constantinople in 2005, of the Expanded Synod of Geneva in 2006, and of the Synaxis of the Primates of the Orthodox Churches in Constantinople in 2008.
Finally, Archbishop Elpidophoros is a member of the Faith and Order Commission of the World Council of Churches.
Source in Greek