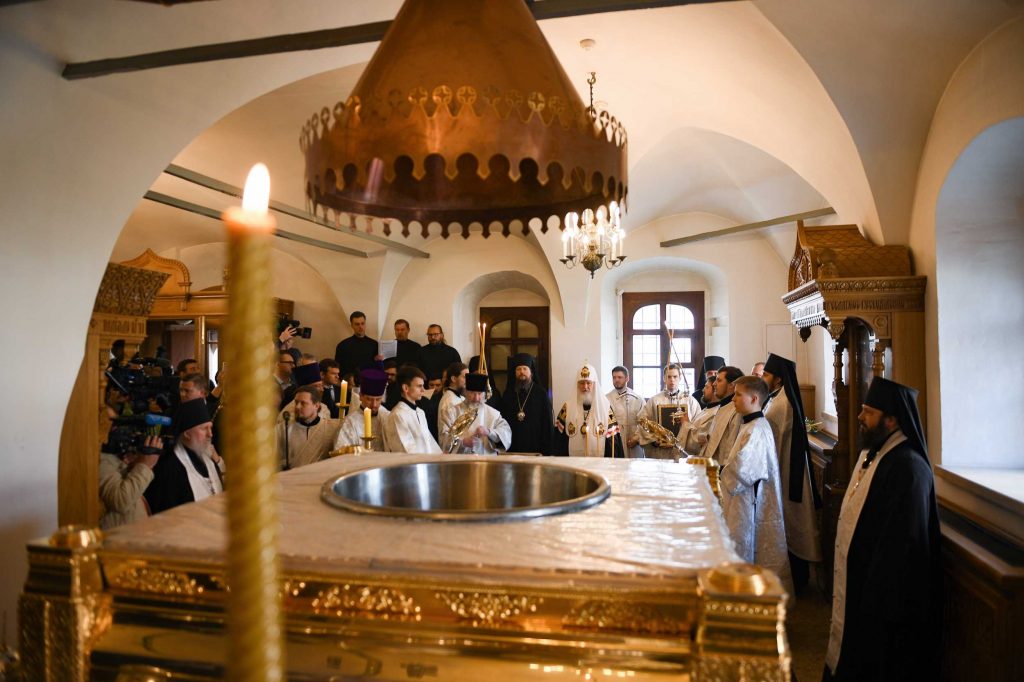 After the service of the Lesser Blessing of Waters, the Patriarch sprinkled the oven, the cauldron and cooking instruments, the containers with spices, and the wine and oil with holy water. Then he lit the oven fire after with the trikirion. Holy water, wine, oil and spices were poured into the 350-liter cauldron.
Then the patriarch read the beginning of the Gospel according to Saint Matthew. During the reading of the Gospel, two deacons standing on a platform near the boiler mixed the ingredients of the Holy Chrism with special oars. The Holy Chrism is brought to a boil, then kept boiling on a low heat, and constantly stirred.
The Holy Chrism is brewed for three days. All the while, priests take turn to read the four Gospels and the deacons stir the Holy Myrrhon with oars.
The rite for making the Holy Chrism will end on Great and Holy Thursday, with the consecration of the Holy Chrism in the Cathedral of Christ the Savior.
This rite is traditionally performed only by the primates of the autocephalous Churches, and not every year, but only when the Holy Chrism consecrated in previous years has been all used up.
The Holy Myrrhon (μύρον in Greek) or Chrism (from the Greek χρῖσμα , "ointment, perfume") is a special aromatic blend of vegetable oils, fragrant herbs, and fragrant resins (up to 57 different elements in total) used in Orthodoxy for certain sacred rites: baptism, consecration of churches and of antimims. Among the elements used to make the Holy Myrrh, some must first be cooked, while others are mixed to them without any special preparation.
In Moscow, the Patriarch of Moscow performs the rite of the consecration of the Holy Myrrh every other year. Then the Holy Myrhon is sent to the parishes.