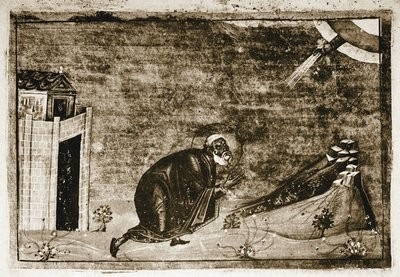 September 22 
Hieromartyr Phocas, Bishop of Sinopè (117). Prophet Jonah (8th c. B.C.). St. Jonah the Presbyter (9th c.), father of Ss. Theophanes the Hymnographer and Theodore Graptus. Ven. Jonah, Abbot of Yashezérsk (1589-92). Martyr Phocas the Gardener, of Sinopè (ca. 320). St. Peter the Tax-collector (6th c.).
SAINT PHOCAS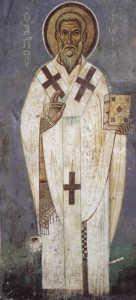 Hieromartyr Phocas was born in the city of Sinope. From youth he led a virtuous Christian life, and in his adult years he became Bishop of Sinope. Saint Phocas converted many pagans to faith in Christ. At the time of a persecution against Christians under the emperor Trajan (98-117), the governor demanded that the saint renounce Christ. After fierce torture they enclosed Saint Phocas in a hot bath, where he died a martyr's death in the year 117.
In the year 404, the relics of the saint were transferred to Constantinople (July 22).
The Hieromartyr Phocas is especially venerated as a defender against fires, and also as a helper of the drowning.
TROPARION AND KONTAKION
Troparion of the saint, tone 4
By sharing in the ways of the Apostles, you became a successor to their throne. Through the practice of virtue, you found the way to divine contemplation, O inspired one of God; by teaching the word of truth without error, you defended the Faith, even to the shedding of your blood. Hieromartyr Phocas, entreat Christ God to save our souls.
Kontakion of the saint, tone 2
The Master has established you as a resplendent sun Shining on all the faithful. He has accepted your life, faith and contest as myrrh, O glorious Martyr Phocas, For he is rich in mercy!
EPISTLE
1 Corinthians 14:20-25
20

Brethren, do not be children in understanding; however, in malice be babes, but in understanding be mature.

21

In the law it is written: "With men of other tongues and other lips I will speak to this people; and yet, for all that, they will not hear Me," says the Lord.

22

Therefore tongues are for a sign, not to those who believe but to unbelievers; but prophesying is not for unbelievers but for those who believe.

23

Therefore if the whole church comes together in one place, and all speak with tongues, and there come in those who are uninformed or unbelievers, will they not say that you are out of your mind?

24

But if all prophesy, and an unbeliever or an uninformed person comes in, he is convinced by all, he is convicted by all.

25

And thus the secrets of his heart are revealed; and so, falling down on his face, he will worship God and report that God is truly among you.
GOSPEL
Luke 4:31-36
31

Then He went down to Capernaum, a city of Galilee, and was teaching them on the Sabbaths.

32

And they were astonished at His teaching, for His word was with authority.

33

Now in the synagogue there was a man who had a spirit of an unclean demon. And he cried out with a loud voice,

34

saying, "Let us alone! What have we to do with You, Jesus of Nazareth? Did You come to destroy us? I know who You are – the Holy One of God!"

35

But Jesus rebuked him, saying, "Be quiet, and come out of him!" And when the demon had thrown him in their midst, it came out of him and did not hurt him.

36

Then they were all amazed and spoke among themselves, saying, "What a word this is! For with authority and power He commands the unclean spirits, and they come out."