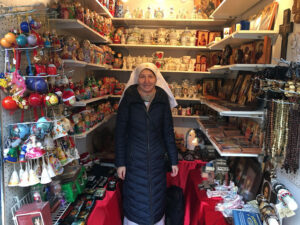 St Elisabeth Convent, located in Minsk (Belarus) has a largely developed ministry: several orphanages, hospitals, residential care facilities, and a TB clinic, as well as two rehabilitation centers for the homeless, and a Visiting Nurse Service for the poor and  the elderly.
They come from time to time to the US, to raise funds to help in their charitable activities.
They will be at the Christmas market until December 24, 2018 in New York on Columbus Circle at 59th Street and Central Park West, offering traditional handmade souvenirs and religious handicrafts created by the Sisters and the people they care for.
Source in English (with picture)
Notre lettre d'informations hebdomadaire gratuite
Chers lecteurs,
Vous êtes de plus en plus nombreux à lire Orthodoxie.com, et nous nous en réjouissons. Nous souhaitons qu'une grande partie des articles de notre site soit accessible à tous, gratuitement, mais l'information de qualité a un coût. Et pour cette raison, votre soutien nous est plus que nécessaire. Nous vous invitons à vous y abonner, ou bien à faire un don de soutien !