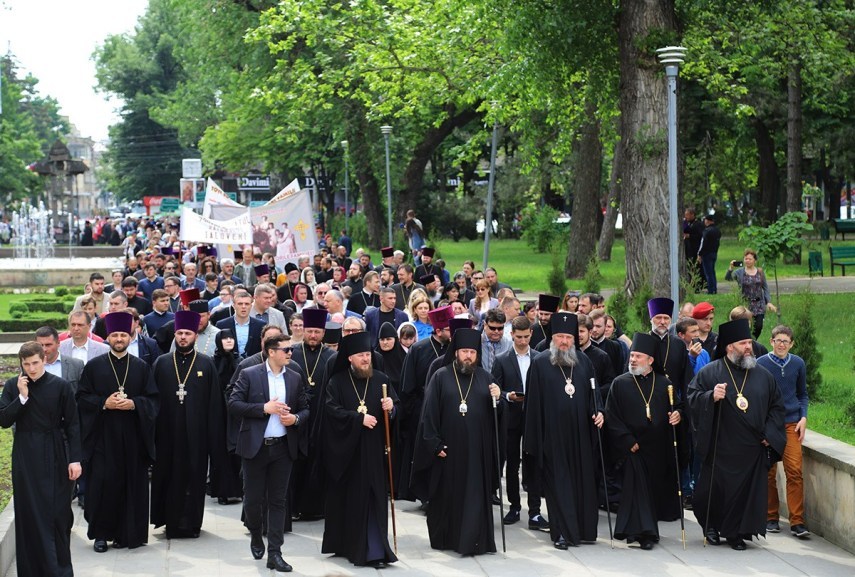 Bishops of the Orthodox Church of Moldova led the procession. Before the beginning of the march, as is now the tradition, the Divine Liturgy was concelebrated by several priests, and presided by Bishop Marchel of Bălţi and Făleşti, himself assisted by the associate bishops of Chişinău Diocese, Ioan of Soroca and Siluan of Orhei.
At the end of the Divine Liturgy, Metropolitan Vladimir of Chişinău celebrated an intercessory service for the beginning of all good works, then he immediately started the march.
Throughout the march, its participants, members of the clergy and laity of all ages, raised their prayers to the God of kindness and to the Most Holy Theotokos for the prosperity of the country. They were carrying placards and streamers in support of the traditional family and condemning same-sex relationships. Among the participants were the President of the Republic of Moldova Igor Dodon with his wife and children.
On the square of Nativity Cathedral, Metropolitan Vladimir addressed all the participants of the march, expressing words of gratitude to all for the support and unity in promoting and maintaining the traditional family, such a sacred value for all nations. During his address, the Archpastor called on Christians not to be ashamed to confess their faith in Christ the Savior, since the Christian family has always been an example for society.
Source in Russian