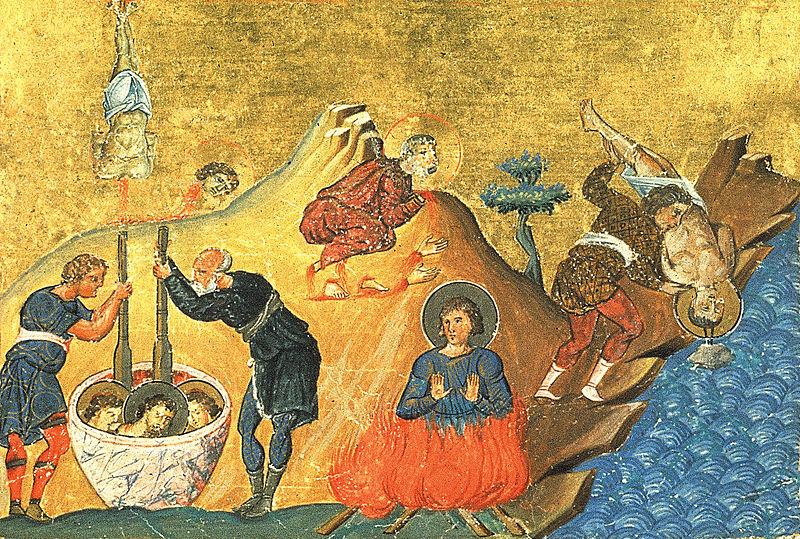 April 5 (old calendar) / April 18 (new)
Great Lent
Martyrs Agathopodes the Deacon, Theodulus the Reader, and those with them, at Thessalonica (ca. 303). Ven. Publius of Egypt (4th c.). Ss. Theonas, Simeon and Phorbinus, of Egypt (4th c.). Ven. Mark the Anchorite, of Athens (400). St. Plato the Confessor, of Studion (814). Ven. Theodora of Thessalonica (892). Translation of the Relics of St. Job, Patriarch of Moscow and All Russia (1652).
Saint Agathopodes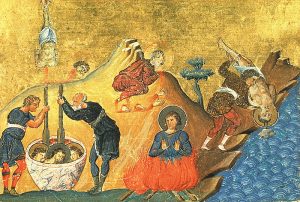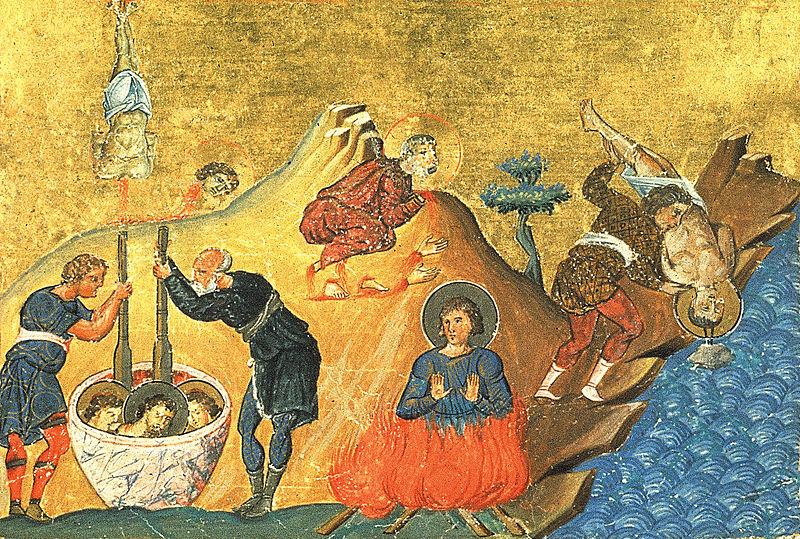 The Holy Martyrs Agathopodes the Deacon and Theodulus the Reader lived in Thessalonica during the reign of the emperor Diocletian (284-305) and Maximian (284-305) and were among the church clergy. The holy Deacon Agathopodes was very old, and Saint Theodulus very young.
Both distinguished themselves by righteous life and piety. Once, Saint Theodulus had a vision in his sleep, in which an unknown person in radiant garb placed some object in his hand. When he awoke, he saw in his hand a beautiful ring with the image of the Cross and he realized that this was a sign of his future martyrdom. By the power of the Cross depicted on the ring, the saint healed many of the sick and converted pagans to faith in Christ the Savior.
When the emperor Diocletian issued an edict of a persecution against Christians (303), many attempted to hide themselves from pursuit, but Saints Agathopodes and Theodulus fearlessly continued to proclaim the Gospel.
Governor Faustinus of Thessalonica heard of this, and gave orders to bring them to him for trial. Seeing the youth and excellence of Saint Theodulus, Faustinus attempted flattery to persuade him to renounce Christianity and to offer sacrifice. Saint Theodulus replied that he had long ago renounced error and that he pitied Faustinus, who by embracing paganism had condemned himself to eternal death. The governor offered the martyr a choice: the fortunes of life, or immediate death. The saint said that he would certainly choose life, but life eternal, and that he did not fear death.
When Faustinus saw that he would not persuade Theodulus, he began to talk with Saint Agathopodes. The governor attempted to deceive him and said that Saint Theodulus had already agreed to offer sacrifice to the gods. But Agathopodes did not believe this. He was convinced that Saint Theodulus was prepared to offer his life for the Lord Jesus Christ.
Not having any success, Faustinus commanded the martyrs to be taken to prison. The holy martyrs prayed fervently and boldly preached the Word of God to the imprisoned, so that many were converted to Christianity. Eutinios, the head of the prison, reported this to the governor.
Faustinus again summoned them to trial and again he urged them to renounce Christ. Before the eyes of Saint Theodulus they brought forth some who had been Christians, but betrayed the Faith. "You have conquered the weak, but you will never conquer the strong warriors of Christ, even if you invent greater torments," exclaimed Saint Theodulus. The governor commanded the martyr to produce the Christian books. "Here, is my body given for torture," he answered, "do with it what you wish; torture me fiercely, but I shall not hand over the sacred writings to be mocked by the impious!"
Faustinus gave orders to bring Saint Theodulus to the place of execution, where an executioner readied a sword in order to cut off his head. The martyr bravely and with joy cried out, "Glory to You, O God, the Father of my Lord Jesus Christ, Who deigned to suffer for us. Here, by His grace, I am coming to You, and with joy I die for You!"
Then Faustinus halted the execution and again locked up the martyrs in prison. There the holy martyrs prayed fervently and both had the same dream. They were sailing in a ship, which was in danger of being wrecked in a storm. The waves cast them up on shore, arrayed in radiant white clothing. The saints told each other about the vision, and they gave thanks to God for their impending martyrdom.
In the morning, when the martyrs were again brought to Faustinus, they declared to him: "We are Christians and we are prepared to undergo any suffering for Christ." Faustinus gave orders to cast them into the sea. The waves carried Saint Agathopodes to the rocks, and he loudly exclaimed, "This shall be for us a second Baptism, which will wash away our sins, and we shall come to Christ in purity." Saint Theodulus was also cast into the sea (+ 303).
The bodies of the saints were washed up on shore. They were dressed in radiant garb, but the ropes and stones used to weight them down were gone. Christians took their holy bodies and gave them reverent burial.
Troparion of the saints, tone 4
Your holy martyrs Agathopodes and Theodulus, and those with them, O Lord, / through their sufferings have received incorruptible crowns from You, our God. / For having Your strength, they laid low their adversaries, / and shattered the powerless boldness of demons. / Through their intercessions, save our souls!
Kontakion of the saints, tone 2
As courageous soldiers of Christ, / you scattered the enemy principalities, O blessed martyrs. / Rejoicing in one spirit, you proclaimed together: / "Christ is the crown of athletes."
Isaiah 65:8-16 (6th Hour)
8

Thus says the Lord: "As the new wine is found in the cluster, and one says, 'Do not destroy it, for a blessing is in it,' so will I do for My servants' sake, that I may not destroy them all.

9

I will bring forth descendants from Jacob, and from Judah an heir of My mountains; My elect shall inherit it, and My servants shall dwell there.

10

Sharon shall be a fold of flocks, and the Valley of Achor a place for herds to lie down, for My people who have sought Me.

11

"But you are those who forsake the Lord, who forget My holy mountain, who prepare a table for Gad, and who furnish a drink offering for Meni.

12

Therefore I will number you for the sword, and you shall all bow down to the slaughter; because, when I called, you did not answer; when I spoke, you did not hear, but did evil before My eyes, and chose that in which I do not delight."

13

Therefore thus says the Lord God: "Behold, My servants shall eat, but you shall be hungry; behold, My servants shall drink, but you shall be thirsty; Behold, My servants shall rejoice, but you shall be ashamed;

14

Behold, My servants shall sing for joy of heart, but you shall cry for sorrow of heart, and wail for grief of spirit.

15

You shall leave your name as a curse to My chosen; for the Lord God will slay you, and call His servants by another name;

16

so that he who blesses himself in the earth shall bless himself in the God of truth; and he who swears in the earth shall swear by the God of truth; because the former troubles are forgotten, and because they are hidden from My eyes.
Genesis 46:1-7 (Vespers, 1st reading)
1

So Israel took his journey with all that he had, and came to Beersheba, and offered sacrifices to the God of his father Isaac.

2

Then God spoke to Israel in the visions of the night, and said, "Jacob, Jacob!" And he said, "Here I am."

3

So He said, "I am God, the God of your father; do not fear to go down to Egypt, for I will make of you a great nation there.

4

"I will go down with you to Egypt, and I will also surely bring you up again; and Joseph will put his hand on your eyes."

5

Then Jacob arose from Beersheba; and the sons of Israel carried their father Jacob, their little ones, and their wives, in the carts which Pharaoh had sent to carry him.

6

So they took their livestock and their goods, which they had acquired in the land of Canaan, and went to Egypt, Jacob and all his descendants with him.

7

His sons and his sons' sons, his daughters and his sons' daughters, and all his descendants he brought with him to Egypt.
Proverbs 23:15-24:5 (Vespers, 2nd reading)
15

My son, if your heart is wise, my heart will rejoice – indeed, I myself;

16

yes, my inmost being will rejoice when your lips speak right things.

17

Do not let your heart envy sinners, but be zealous for the fear of the Lord all the day;

18

for surely there is a hereafter, and your hope will not be cut off.

19

Hear, my son, and be wise; and guide your heart in the way.

20

Do not mix with winebibbers, or with gluttonous eaters of meat;

21

for the drunkard and the glutton will come to poverty, and drowsiness will clothe a man with rags.

22

Listen to your father who begot you, and do not despise your mother when she is old.

23

Buy the truth, and do not sell it, also wisdom and instruction and understanding.

24

The father of the righteous will greatly rejoice, and he who begets a wise child will delight in him.

25

Let your father and your mother be glad, and let her who bore you rejoice.

26

My son, give me your heart, and let your eyes observe my ways.

27

For a harlot is a deep pit, and a seductress is a narrow well.

28

She also lies in wait as for a victim, and increases the unfaithful among men.

29

Who has woe? Who has sorrow? Who has contentions? Who has complaints? Who has wounds without cause? Who has redness of eyes?

30

Those who linger long at the wine, those who go in search of mixed wine.

31

Do not look on the wine when it is red, when it sparkles in the cup, when it swirls around smoothly;

32

at the last it bites like a serpent, and stings like a viper.

33

Your eyes will see strange things, and your heart will utter perverse things.

34

Yes, you will be like one who lies down in the midst of the sea, or like one who lies at the top of the mast, saying:

35

"They have struck me, but I was not hurt; they have beaten me, but I did not feel it. When shall I awake, that I may seek another drink?"

1

Do not be envious of evil men, nor desire to be with them;

2

For their heart devises violence, and their lips talk of troublemaking.

3

Through wisdom a house is built, and by understanding it is established;

4

By knowledge the rooms are filled with all precious and pleasant riches.

5

A wise man is strong, yes, a man of knowledge increases strength;