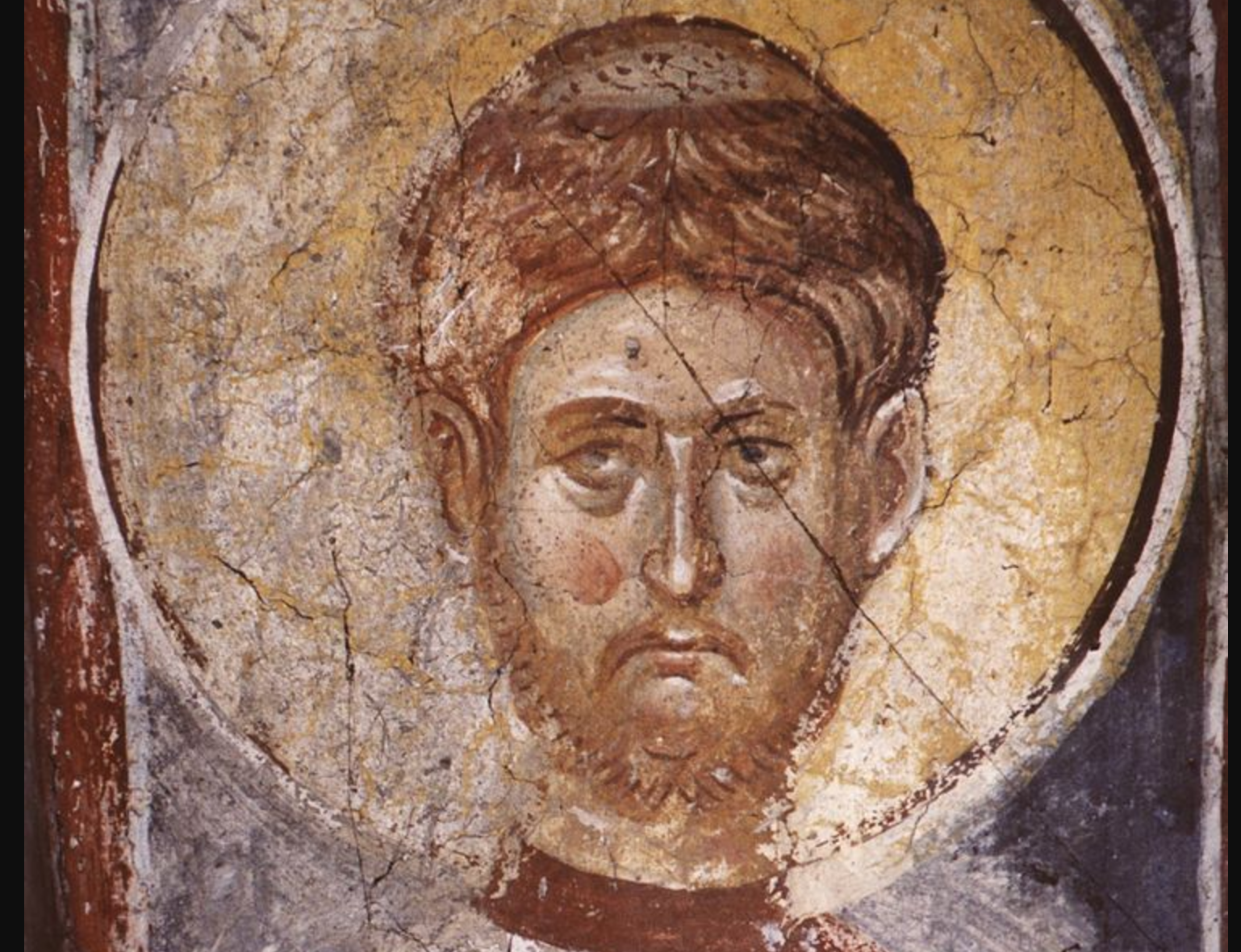 August 11 (old calendar) / August 24 (new)
Dormition Fast
Afterfeast of the Transfiguration
Holy Martyr and Archdeacon Euplus (Euplius) of Catania (304). Martyrs Basil and Theodore of the Kiev Caves (Near Caves—1098). St. Theodosius (Prince Theodore of Ostrog) of the Kiev Caves (Far Caves—1438). Virgin Martyr Susanna and those with her: Martyrs Gaius, Pope of Rome, Presbyter Gabinus, his brother and the father of Susanna, Maximus, Claudius, and his wife Praepedigna and their sons Alexander and Cutias (295-296). St. Niphon, Patriarch of Constantinople (Mt. Athos—1515).
 SAINT EUPLUS, ARCHDEACON
The Martyr Archdeacon Euplus suffered in the year 304 under the emperors Diocletian (284-305) and Maximian (305-311). He served in the Sicilian city of Catania. Always carrying the Gospel with him, Saint Euplus preached constantly to the pagans about Christ.
Once, while he read and explained the Gospel to the gathered crowd, they arrested him and took him to the governor of the city, Calvisianus. Saint Euplus confessed himself a Christian and denounced the impiety of idol-worship. For this they sentenced him to torture.
They threw the injured saint into prison, where he remained in prayer for seven days. The Lord made a spring of water flow into the prison for the martyr to quench his thirst. Brought to trial a second time, strengthened and rejoicing, he again confessed his faith in Christ and denounced the torturer for spilling the blood of innocent Christians.
The judge commanded that the saint's ears be torn off, and that he be beheaded. When they led the saint to execution, they hung the Gospel around his neck. Having asked time for prayer, the archdeacon began to read and explain the Gospel to the people, and many of the pagans believed in Christ. The soldiers beheaded the saint with a sword.
His holy relics are in the village of Vico della Batonia, near Naples. 
TROPARION AND KONTAKION
Troparion of the Transfiguration, Tone 7
You were transfigured on the mountain, O Christ God, revealing Your glory to Your disciples as far as they could bear it. Let Your everlasting Light also shine upon us sinners, through the prayers of the Theotokos. O Giver of Light, glory to You!
Troparion of the saint, tone 4
As a holy deacon and righteous minister of the Church of Christ, You contended superbly. You sailed over the sea of many torments and afflictions, O all-blessed Euplus. Guide us into the haven of heaven.
Kontakion of the saint, tone 1
When the love of Christ was your only defense, You stood in the midst of your fight and said:  I endure this struggle willingly and with confidence! You rejoiced, O Euplus, to offer your head to the sword and so complete your course!
Kontakion of the Transfiguration, Tone 7
On the Mountain You were Transfigured, O Christ God, And Your disciples beheld Your glory as far as they could see it; So that when they would behold You crucified, They would understand that Your suffering was voluntary, And would proclaim to the world, That You are truly the Radiance of the Father!
EPISTLE
2 Corinthians 11:5-21
5

For I consider that I am not at all inferior to the most eminent apostles.

6

Even though I am untrained in speech, yet I am not in knowledge. But we have been thoroughly manifested among you in all things.

7

Did I commit sin in humbling myself that you might be exalted, because I preached the gospel of God to you free of charge?

8

I robbed other churches, taking wages from them to minister to you.

9

And when I was present with you, and in need, I was a burden to no one, for what I lacked the brethren who came from Macedonia supplied. And in everything I kept myself from being burdensome to you, and so I will keep myself.

10

As the truth of Christ is in me, no one shall stop me from this boasting in the regions of Achaia.

11

Why? Because I do not love you? God knows!

12

But what I do, I will also continue to do, that I may cut off the opportunity from those who desire an opportunity to be regarded just as we are in the things of which they boast.

13

For such are false apostles, deceitful workers, transforming themselves into apostles of Christ.

14

And no wonder! For Satan himself transforms himself into an angel of light.

15

Therefore it is no great thing if his ministers also transform themselves into ministers of righteousness, whose end will be according to their works.

16

I say again, let no one think me a fool. If otherwise, at least receive me as a fool, that I also may boast a little.

17

What I speak, I speak not according to the Lord, but as it were, foolishly, in this confidence of boasting.

18

Seeing that many boast according to the flesh, I also will boast.

19

For you put up with fools gladly, since you yourselves are wise!

20

For you put up with it if one brings you into bondage, if one devours you, if one takes from you, if one exalts himself, if one strikes you on the face.

21

To our shame I say that we were too weak for that! But in whatever anyone is bold – I speak foolishly – I am bold also.
GOSPEL
Mark 4:1-9
1

And again He began to teach by the sea. And a great multitude was gathered to Him, so that He got into a boat and sat in it on the sea; and the whole multitude was on the land facing the sea.

2

Then He taught them many things by parables, and said to them in His teaching:

3

"Listen! Behold, a sower went out to sow.

4

And it happened, as he sowed, that some seed fell by the wayside; and the birds of the air came and devoured it.

5

Some fell on stony ground, where it did not have much earth; and immediately it sprang up because it had no depth of earth.

6

But when the sun was up it was scorched, and because it had no root it withered away.

7

And some seed fell among thorns; and the thorns grew up and choked it, and it yielded no crop.

8

But other seed fell on good ground and yielded a crop that sprang up, increased and produced: some thirtyfold, some sixty, and some a hundred."

9

And He said to them, "He who has ears to hear, let him hear!"