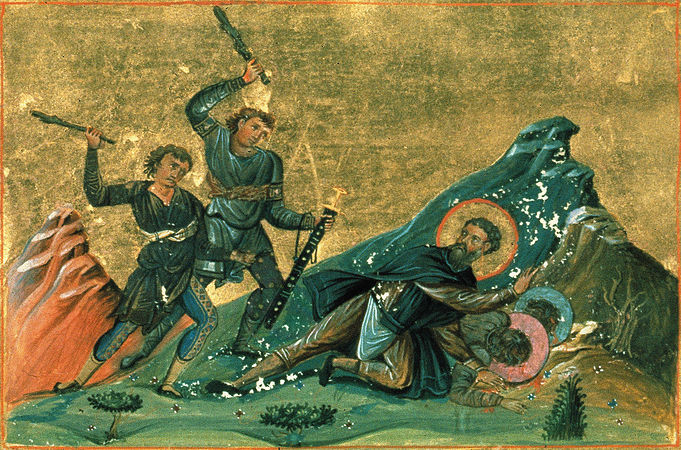 August 7 (old calendar) / August 20 (new)
Dormition Fast
Afterfeast of the Transfiguration.
Martyr Dometius of Persia and two disciples (363). Finding of the Relics of St. Mitrophanes, first Bishop of Voronezh (1832). Ven. Pimen (Pœmen) the Much-ailing, of the Kiev Caves (Near Caves—1110). Ven. Pimen, Faster, of the Kiev Caves (Far Caves— 13th-14th c.). St. Mercurius, Bishop of Smolensk (Kiev Caves—Near Caves—1239). Martyrs Marinus the soldier and Asterius the Senator, at Cæsarea in Palestine (260). Ven. Hor (Horus) of the Thebaïd (Egypt—ca. 390). Virgin Potamia the Wonderworker. Ven. Dometius of Philotheou on Mt. Athos (16th c.). The "VALAAM" Icon of the Most-holy Theotokos (1897).
 SAINT DOMETIUS
Saint Dometius lived in Persia during the fourth century. In his youth he was converted to the Faith by a Christian named Uaros. Forsaking Persia, he withdrew to the frontier city of Nisibis (in Mesopotamia), where he was baptized in one of the monasteries, and also received the monastic tonsure.
Fleeing the ill-will of some of the monks, Saint Dometius moved to the monastery of Saints Sergius and Bacchus in the city of Theodosiopolis. The monastery was under the guidance of an archimandrite named Urbelos, a strict ascetic, of whom it was said that for sixty years he did not taste cooked food, nor did he lay down for sleep, but rather took his rest standing up, supporting himself upon his staff.
In this monastery Saint Dometius was ordained a deacon, but when the archimandrite decided to have him made a presbyter, the saint, considering himself unworthy, hid himself on a desolate mountain in Syria, in the region of Cyrrhus.
Stories about him constantly spread among the local inhabitants. They began to come to him for healing and for help. Many pagans were brought to faith in Christ by Dometius. And one time, in the locality where Saint Dometius struggled with his disciples, the emperor Julian the Apostate (361-363) arrived, traveling on his campaign against the Persians. By order of the emperor, soldiers found Saint Dometius praying with his disciples in a cave, and walled them up alive inside.
TROPARION AND KONTAKION
Troparion of the Transfiguration, Tone 7
You were transfigured on the mountain, O Christ God, revealing Your glory to Your disciples as far as they could bear it. Let Your everlasting Light also shine upon us sinners, through the prayers of the Theotokos. O Giver of Light, glory to You!
Troparion of the saint, tone 4
Preparing yourself through prayer and fasting on the mountain, You destroyed the hosts of spiritual enemies with the weapon of the Cross. And then courageously preparing yourself for martyrdom, You were crowned by God for both your life and death, O ever-memorable venerable martyr Dometius.
Kontakion of the saint, tone 6
Despising corruption and degrading philosophies, O venerable martyr Dometius, You became a great guide of monks. You did not fear the wrath of the king, Who did not wish to honor Christ the true God. Therefore in death You did raise the hymn: God is with me, and no one will be against me.
Kontakion of the Transfiguration, Tone 7
On the Mountain You were Transfigured, O Christ God, And Your disciples beheld Your glory as far as they could see it; So that when they would behold You crucified, They would understand that Your suffering was voluntary, And would proclaim to the world, That You are truly the Radiance of the Father!
EPISTLE
2 Corinthians 8:7-15
7

But as you abound in everything – in faith, in speech, in knowledge, in all diligence, and in your love for us – see that you abound in this grace also.

8

I speak not by commandment, but I am testing the sincerity of your love by the diligence of others.

9

For you know the grace of our Lord Jesus Christ, that though He was rich, yet for your sakes He became poor, that you through His poverty might become rich.

10

And in this I give advice: It is to your advantage not only to be doing what you began and were desiring to do a year ago;

11

but now you also must complete the doing of it; that as there was a readiness to desire it, so there also may be a completion out of what you have.

12

For if there is first a willing mind, it is accepted according to what one has, and not according to what he does not have.

13

For I do not mean that others should be eased and you burdened;

14

but by an equality, that now at this time your abundance may supply their lack, that their abundance also may supply your lack – that there may be equality.

15

As it is written, "He who gathered much had nothing left over, and he who gathered little had no lack."
GOSPEL
Mark 3:6-12
6

Then the Pharisees went out and immediately plotted with the Herodians against Him, how they might destroy Him.

7

But Jesus withdrew with His disciples to the sea. And a great multitude from Galilee followed Him, and from Judea

8

and Jerusalem and Idumea and beyond the Jordan; and those from Tyre and Sidon, a great multitude, when they heard how many things He was doing, came to Him.

9

So He told His disciples that a small boat should be kept ready for Him because of the multitude, lest they should crush Him.

10

For He healed many, so that as many as had afflictions pressed about Him to touch Him.

11

And the unclean spirits, whenever they saw Him, fell down before Him and cried out, saying, "You are the Son of God."

12

But He sternly warned them that they should not make Him known.