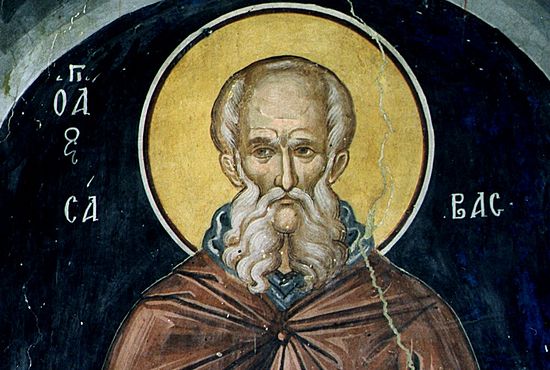 December 5
Nativity Fast
Ven. Sabbas the Sanctified (532). . St. Gurias, Archbishop of Kazan' (1563). Martyr Anastasius. Ven. Karion (Cyrion) and his son, Ven. Zachariah, of Egypt (4th c.). Ven. Nectarius of Mt. Athos (1406). Ven. Philotheus of Karyes (Mt. Athos—14th c.). Monk Martyrs of Karyes (Mt. Athos). St. Crispina (304).
SAINT SAVA THE SANCTIFIED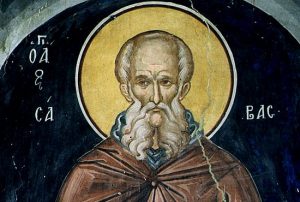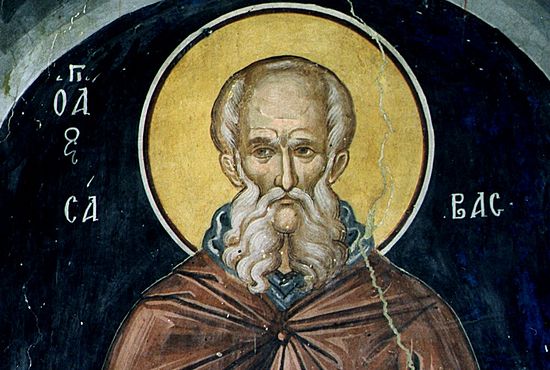 Saint Sava the Sanctified was born in the fifth century at Cappadocia of pious Christian parents, John and Sophia. His father was a military commander. Journeying to Alexandria on military matters, John and Sophia left their five-year-old son Sava in the care of an uncle. When the boy reached eight years of age, he entered the monastery of Saint Flavian located nearby. The gifted child quickly learned to read and became an expert on the Holy Scriptures. In vain did his parents urge Saint Sava to return to the world and enter into marriage.
When he was seventeen years old he received monastic tonsure, and attained such perfection in fasting and prayer that he was given the gift of wonderworking. After spending ten years at the monastery of Saint Flavian, he went to Jerusalem, and from there to the monastery of Saint Euthymius the Great (January 20). But Saint Euthymius sent Saint Sava to Abba Theoctistus, the head of a nearby monastery with a strict cenobitic rule. Saint Sava lived in obedience at this monastery until the age of thirty.
After the death of the Elder Theoctistus, his successor blessed Saint Sava to seclude himself in a cave. On Saturdays, however, he left his hermitage and came to the monastery, where he participated in divine services and ate with the brethren. After a certain time Saint Sava received permission not to leave his hermitage at all, and he struggled in the cave for five years.
Saint Euthymius attentively directed the life of the young monk, and seeing his spiritual maturity, he began to take him to the Rouba wilderness with him. They set out on January 14, and remained there until Palm Sunday. Saint Euthymius called Saint Sava a child-elder, and encouraged him to grow in the monastic virtues.
When Saint Euthymius fell asleep in the Lord (+ 473), Saint Sava withdrew from the Lavra and moved to a cave near the monastery of Saint Gerasimus of Jordan (March 4). After several years, disciples began to gather around Saint Sava, seeking the monastic life. As the number of monks increased, a lavra sprang up. When a pillar of fire appeared before Saint Sava as he was walking, he found a spacious cave in the form of a church.
Saint Sava founded several more monasteries. Many miracles took place through the prayers of Saint Sava: at the Lavra a spring of water welled up, during a time of drought there was abundant rain, and there were also healings of the sick and the demoniacs. Saint Sava composed the first monastic Rule of church services, the so-called "Jerusalem Typikon", accepted by all the Palestine monasteries. The saint surrendered his soul to God in the year 532.
Troparion of the saint, tone 8
With the streams of your tears you cultivated the barrenness of the desert; and by your deep sighs, you bore fruit a hundredfold in your labors. You became a luminary, shining upon the world with miracles. O our righteous Father Sava, intercede with Christ God that our souls be saved!.
Kontakion of the saint, tone 8
From your youth you offered yourself to God as a blameless sacrifice, having been dedicated to Him before your birth, blessed Sava. You were an adornment of the righteous and a praiseworthy citizen of the desert. Therefore, we cry to you: "Rejoice, ever glorious Father."
EPISTLE
2 Timothy 4:9-22
9

Be diligent to come to me quickly;

10

for Demas has forsaken me, having loved this present world, and has departed for Thessalonica – Crescens for Galatia, Titus for Dalmatia.

11

Only Luke is with me. Get Mark and bring him with you, for he is useful to me for ministry.

12

And Tychicus I have sent to Ephesus.

13

Bring the cloak that I left with Carpus at Troas when you come – and the books, especially the parchments.

14

Alexander the coppersmith did me much harm. May the Lord repay him according to his works.

15

You also must beware of him, for he has greatly resisted our words.

16

At my first defense no one stood with me, but all forsook me. May it not be charged against them.

17

But the Lord stood with me and strengthened me, so that the message might be preached fully through me, and that all the Gentiles might hear. Also I was delivered out of the mouth of the lion.

18

And the Lord will deliver me from every evil work and preserve me for His heavenly kingdom. To Him be glory forever and ever. Amen!

19

Greet Prisca and Aquila, and the household of Onesiphorus.

20

Erastus stayed in Corinth, but Trophimus I have left in Miletus sick.

21

Do your utmost to come before winter. Eubulus greets you, as well as Pudens, Linus, Claudia, and all the brethren.

22

The Lord Jesus Christ be with your spirit. Grace be with you. Amen.
GOSPEL
Luke 21:5-7, 10-11, 20-24
5

Then, as some spoke of the temple, how it was adorned with beautiful stones and donations, He said,

6

"These things which you see – the days will come in which not one stone shall be left upon another that shall not be thrown down."

7

So they asked Him, saying, "Teacher, but when will these things be? And what sign will there be when these things are about to take place?"

10

Then He said to them, "Nation will rise against nation, and kingdom against kingdom.

11

And there will be great earthquakes in various places, and famines and pestilences; and there will be fearful sights and great signs from heaven.

20

But when you see Jerusalem surrounded by armies, then know that its desolation is near.

21

Then let those who are in Judea flee to the mountains, let those who are in the midst of her depart, and let not those who are in the country enter her.

22

For these are the days of vengeance, that all things which are written may be fulfilled.

23

But woe to those who are pregnant and to those who are nursing babies in those days! For there will be great distress in the land and wrath upon this people.

24

And they will fall by the edge of the sword, and be led away captive into all nations. And Jerusalem will be trampled by Gentiles until the times of the Gentiles are fulfilled.