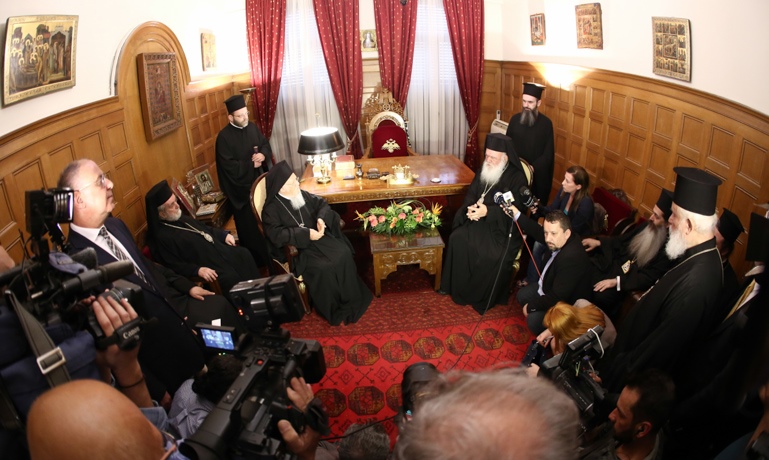 Archbishop Ieronymos emphasized that "we must put aside pettiness, overcome all possible difficulties, and accomplish our work as the Church wants it".
For his part, the Ecumenical Patriarch said, "In front of all present, I want to express how happy and touched I am to find myself again at your seat, in the city of Athens, on the occasion of such a joyful event. The center of gerontology that we are going to inaugurate tomorrow is a work glorified by the Church. I am also particularly touched by your thoughtfulness in sending me the invitation, not by mail, but through your vicar general, Bishop Symeon of Thespies. I appreciated it and as you know, I answered immediately."
After the meeting, the Ecumenical Patriarch emphasized that "we had a good and useful communication with our Blessed Brother Archbishop Ieronymos. This is our first meeting after some troubles that have arisen among us. This is human. We must have the strength to overcome them and continue for the good of the Church. His Beatitude [the Archbishop of Athens] has taken a very beautiful and fraternal initiative to invite me to the inauguration in Dilesi [near Athens]. This is an opportunity to rekindle our relationships, as I wrote in the letter of thanks I sent him when I received his invitation. It is human for unpleasant moments to arise in the lives of people and Churches, but as far as the Church of Greece and the Ecumenical Patriarchate are concerned, as the saying goes, "blood is thicker than water". We will thus journey by sharing the same faith, and as brothers. We are responsible to our Churches and to the people of God. We discussed all the issues. Among others, His Beatitude (the Archbishop of Athens) was kind enough to inform me of yesterday's in-depth conversation he had with the Archbishop of Cyprus [concerning the Ukrainian question, TN]. We also touched on the Ukrainian ecclesiastical issue and other issues that concern our Churches, while we informed each other about the current issues of the Patriarchate and the Church of Greece. We left very satisfied and loving each other even more".
For his part, Archbishop Ieronymos declared he agreed with everything the Patriarch had said, and expressed his thanks "for the opportunity to have our Patriarch near us".
Source (with picture) in Greek