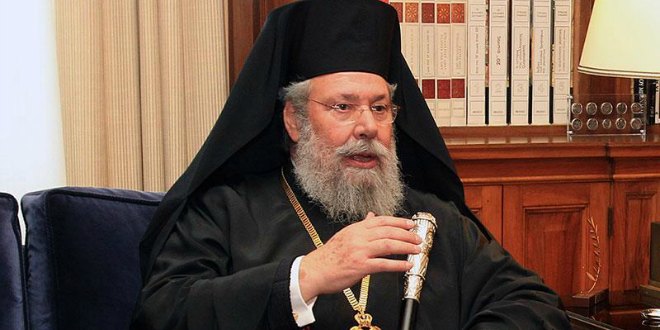 Archbishop Chrysostomos recently met with several primates of autocephalous Churches about the Ukrainian issue. He said he was optimistic, pointing out that his visits had been successful.

– Your Eminence, these past few days, you have visited the Patriarchate of Serbia, the Patriarchate of Bulgaria, and the Church of Greece, and you have met with their primates. Tell us why these discussions took place.

– Wanting to serve our Orthodoxy, I realized the only way to avoid an incident and, God forbid, to reach a schism, was for someone among all the brothers primates to take upon himself to approach all the primates as a kind of coordinator. Obviously with His All-Holiness [the Ecumenical Patriarch]'s agreement. So that we would all agree to overcome the problem that has come up, and that we may reach an agreement.
Because since the tomos of autocephaly was granted by the Ecumenical Patriarch, we have all been stuck and nobody has made any move. And for good reasons, because if some started to support the patriarch of Constantinople, and others the Patriarch of Moscow, then we can say with mathematical certainty that we would have a schism! And it is essential to avoid such a thing at all costs.
So after first speaking to dear Archbishop Anastasios of Albania, I judged it wise to approach his All-Holiness [the Ecumenical Patriarch], who had reservations about it. But we ultimately managed to agree that we would approach all the primates with care, respect, and love, and discuss this issue with them, and come to a happy conclusion. This is what I am trying to do!
From the start, I called the Archbishop of Albania and asked him to come with me, but because of his age, his problems of sight, and also the pressures he has experienced, he asked not to come. But he said to me, "Go, we'll keep in touch! I wish you success! We will talk about it, and when the time comes, I believe we will need a second tour with a very quick visit!"
During the meetings, I asked many questions, both to the primates and to their advisers, because I did not want to leave any of the primates perplexed. I believe my visits to the primate brothers have been successful! We have exchanged views on this issue, and I believe that the coordination we are striving to achieve will bear fruit.

– Your Eminence, do you believe the Moscow Patriarchate and the Ecumenical Patriarchate should start to dialogue on this issue?

– They cannot do it by themselves, that's why we are intervening! We will enter the dialogue when the time comes and we are all together.

– We hear that the Church of Greece will be the first one to recognize the autocephalous Church of Ukraine. Do you think so?

– I believe that if one Church agrees with one side, another Church will agree with the other, and it will be a great evil! We could then reach a schism! The best is for us all to agree, and to make a decision all together, because the decision of only one Church will not serve any purpose, and what I am afraid of would happen.
For myself, I could make a decision in favor of one side or the other, but I consider it wrong. That's why I didn't do it!
We know that next week, Metropolitan Hilarion of Volokolamsk, the chairman of the Department of External Church Relations of the Moscow Patriarchate, will visit Cyprus. I said I wanted to meet with him. I don't know what he wants to do, but know that I will answer him directly! I am neither for one side nor for the other, I consider it would be very bad! And it would be negative to side with one or the other, I will side with the whole Church, not with people. The compass and the guideline of our actions, as I have said before, must be the best interest of the Church. I repeat, do not consider the people, consider the Church. These are my views, my thoughts, that I will strive to make everyone accept, because we must all think of the interests of the Church, and not of personal interests. We must leave these aside.

– Your Eminence, do you think mistakes have been made in the Ukrainian case?

– It would be wrong for me to say that one thing is a mistake, and another is not. All this is past! What we need to see now is how to meet halfway, so that we can reduce the distance that separates us, and bridge the gap that is currently existing. We all have to collaborate, we must all be friends, there is nothing to split. The Church is one, and we must all contribute to its edification, and we must keep Orthodoxy as the apple of our eyes.

– Finally, your Eminence, I would like to ask you if you are optimistic about this issue.

– Dear sir, I am very optimistic, because right actions are blessed by God! I am sure we will have God's blessing, because we will work with all the strength of our soul, with faith, and with love for interest of the Church of Christ.

Source in Greek