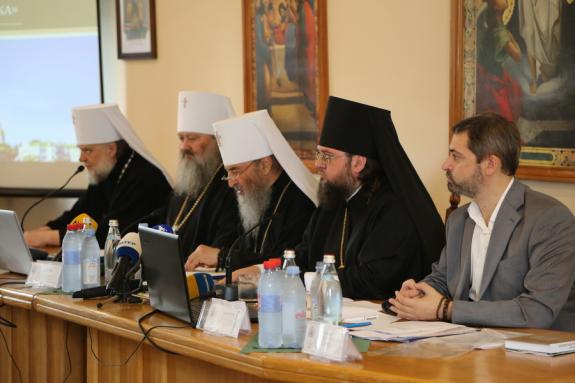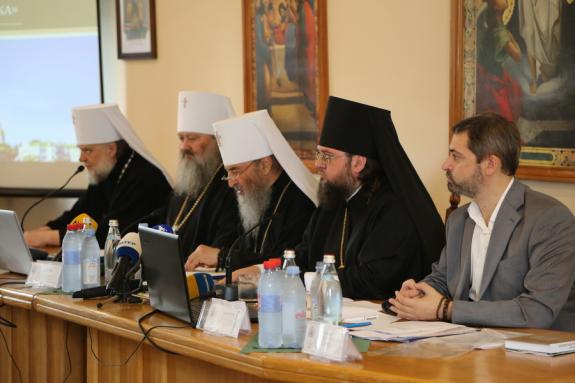 On July 20th in the Ukrainian capital was held an International conference, "The Kiev Lavra of the Caves, Athos, Jerusalem: a unity throughout the centuries". The conference marked the beginning of the solemnities to honor the 30th anniversary of the revival of monastic life at the Monastery of the Caves (Pechersk Lavra) and the 1,035th anniversary of the birth of saint Anthony of Kiev.
Eighty theologians and scholars coming from 15 countries participated. Among them were representatives of the Holy Mountain and of the Holy Sepulcher of Jerusalem, as well as speakers from Great Britain, USA, Russia, Belarus, Greece, Israel, Austria, Germany, Romania, Bulgaria, Moldova, Poland, Serbia, the Czech Republic, and Georgia.
The event was inaugurated by Metropolitan Onufriy, primate of the Ukrainian Orthodox Church. On this occasion, he stated the following:
"Besides the Holy Land and the Holy Mountain of Athos, there's no country in the world with more holy Orthodox relics than in our Lavra of the Kiev Caves. That's why the very city of Kiev used to be called "the second Jerusalem". As for the Lavra of the Kiev Caves, it was "the Russian Athos", and "the Mother of God's third special place" [after Mount Athos and Georgia]. In the Synaxis of all the holy fathers of the Lavra of the Caves, the central place is occupied by saint Anthony, its founder and "the father of Russian monasticism". This ascetic has long been revered as "the superior of all Russian monks", as the monastery of the Caves, founded by him on the hills of Kiev, was for centuries the great center of Russian monasticism and of spiritual enlightenment for all the Rus'. The Lavra has remained such a center up to now, for all the Ukraine and its Orthodox neighbors. It is precisely since Athos that St. Anthony brought the blessing of the Lord to Kiev. And it was on Mount Athos that the saint lived in asceticism during his youth, it was there that he became filled with the pious desire to light the living fire of faith in his homeland."
The plenary session of the conference was followed by messages sent by Patriarch Theophilos III, Primate of the Orthodox Church of Jerusalem, by Metropolitan Hilarion, Primate of the Russian Orthodox Church Outside Russia, by Metropolitan Pavel of Vyshgorod and Chernobyl, the Superior of the Kiev Lavra, by Metropolitan Anthony of Boryspil and Brovary, the Chancellor of the Orthodox Church of Ukraine, by Bishop Sylvester of Belgorod, the Rector of the Ecclesiastical Schools of Kiev, by Metropolitan Kallistos of Diokleia (Ware, Patriarchate of Constantinople), by representatives of the Holy Mountain of Athos as well as by other eminent guests from near and far.
After the official messages, the participants proceeded to discussions related to the history and the ascetics of the Kiev Lavra, to spiritual, historical and cultural links between the Lavra, the Holy Land and the Mount Athos, and monasteries in Europe.
The second day was also dedicated to this theme. On July 23rd, the day of the memory of St. Anthony of the Lavra of the Kiev Caves, a solemn liturgy took place in the main church of the Lavra. Vigils and the Divine Liturgy were presided by Metropolitan Onufriy, the Primate of the Orthodox Church of Ukraine
Source (with picture)