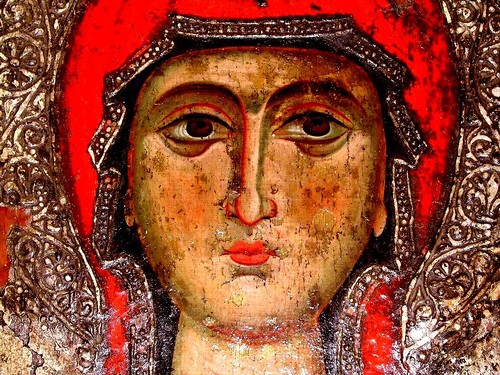 July 17 (old calendar) / July 30 (new)
Greatmartyr Marina (Margaret) of Antioch in Pisidia (4th c.). Ven. Irenarchus, Abbot of Solovkétsky Monastery (1628). Translation of the Relics of Ven. Lazarus of Mt. Galesius near Ephesus. Royal Passionbearers Tsar Nicholas (Nikolai), Tsaritsa Alexandra, Tsarevich Aleksy, Grand Duchesses Olga, Tatiana, Maria, Anastasia (1918—July 4th O.S.).
Saint Marina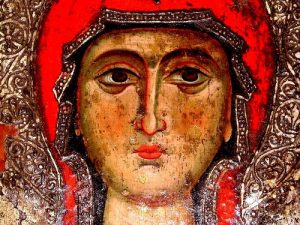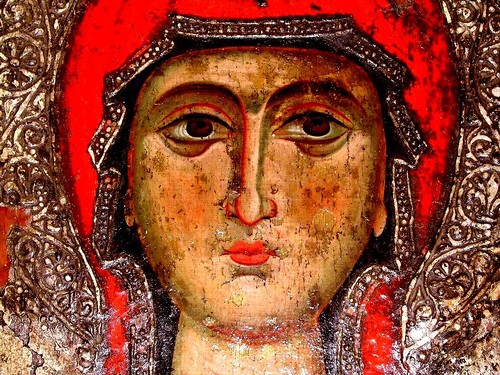 The Holy Great Martyr Marina was born in Asia Minor, in the city of Antioch of Pisidia (southern Asia Minor), into the family of a pagan priest. In infancy she lost her mother, and her father gave her into the care of a nursemaid, who raised Marina in the Orthodox Faith. Upon learning that his daughter had become a Christian, the father angrily disowned her. During the time of the persecution against Christians under the emperor Diocletian (284-305), when she was fifteen years old, Saint Marina was arrested and locked up in prison. With firm trust in the will of God and His help, the young prisoner prepared for her impending fate.
The governor Olymbrios, charmed with the beautiful girl, tried to persuade her to renounce the Christian Faith and become his wife. But the saint, unswayed, refused his offers. The vexed governor gave the holy martyr over to torture. Having beaten her fiercely, they fastened the saint with nails to a board and tore at her body with tridents. The governor himself, unable to bear the horror of these tortures, hid his face in his hands. But the holy martyr remained unyielding. Thrown for the night into prison, she was granted heavenly aid and healed of her wounds. They stripped her and tied her to a tree, then burned the martyr with fire. Barely alive, the martyr prayed: "Lord, You have granted me to go through fire for Your Name, grant me also to go through the water of holy Baptism."
Hearing the word "water", the governor gave orders to drown the saint in a large cauldron. The martyr besought the Lord that this manner of execution should become for her holy Baptism. When they plunged her into the water, there suddenly shone a light, and a snow-white dove came down from Heaven, bearing in its beak a golden crown. The fetters put upon Saint Marina came apart by themselves. The martyr stood up in the fount of Baptism glorifying the Holy Trinity, Father, Son, and Holy Spirit. Saint Marina emerged from the fount completely healed, without any trace of burns. Amazed at this miracle, the people glorified the True God, and many came to believe. This brought the governor into a rage, and he gave orders to kill anyone who might confess the Name of Christ. 15,000 Christians perished there, and the holy Martyr Marina was beheaded. The sufferings of the Great Martyr Marina were described by an eyewitness of the event, named Theotimos.
Up until the taking of Constantinople by Western crusaders in the year 1204, the relics of the Great Martyr Marina were in the Panteponteia monastery. According to other sources, they were located in Antioch until the year 908 and from there transferred to Italy. Now they are in Athens, in a church dedicated to the holy Virgin Martyr. Her venerable hand was transferred to Mount Athos, to the Batopedi monastery.
Troparion of the saint, tone 4
Your lamb Marina calls out to You, O Jesus, in a loud voice: / "I love You, my Bridegroom, and in seeking You I endure suffering. / In baptism I was crucified so that I might reign in You, / and I died so that I might live with You. / Accept me as a pure sacrifice, / for I have offered myself in love." / Through her prayers save our souls, since You are merciful.
Kontakion of the saint, tone 3
Adorned with the beauty of virginity, / you have been crowned with unfading crowns, O Marina. / Having shed your blood in holy martyrdom, / and radiant with the miracles of healing, / you have received from the hand of your Creator the prize of victory.
1 Corinthians 6:20-7:12 (Epistle)
20

For you were bought at a price; therefore glorify God in your body and in your spirit, which are God's.

1

Now concerning the things of which you wrote to me: It is good for a man not to touch a woman.

2

Nevertheless, because of sexual immorality, let each man have his own wife, and let each woman have her own husband.

3

Let the husband render to his wife the affection due her, and likewise also the wife to her husband.

4

The wife does not have authority over her own body, but the husband does. And likewise the husband does not have authority over his own body, but the wife does.

5

Do not deprive one another except with consent for a time, that you may give yourselves to fasting and prayer; and come together again so that Satan does not tempt you because of your lack of self-control.

6

But I say this as a concession, not as a commandment.

7

For I wish that all men were even as I myself. But each one has his own gift from God, one in this manner and another in that.

8

But I say to the unmarried and to the widows: It is good for them if they remain even as I am;

9

but if they cannot exercise self-control, let them marry. For it is better to marry than to burn with passion.

10

Now to the married I command, yet not I but the Lord: A wife is not to depart from her husband.

11

But even if she does depart, let her remain unmarried or be reconciled to her husband. And a husband is not to divorce his wife.

12

But to the rest I, not the Lord, say: If any brother has a wife who does not believe, and she is willing to live with him, let him not divorce her.
Matthew 14:1-13 (Gospel)
1

At that time Herod the tetrarch heard the report about Jesus

2

and said to his servants, "This is John the Baptist; he is risen from the dead, and therefore these powers are at work in him."

3

For Herod had laid hold of John and bound him, and put him in prison for the sake of Herodias, his brother Philip's wife.

4

Because John had said to him, "It is not lawful for you to have her."

5

And although he wanted to put him to death, he feared the multitude, because they counted him as a prophet.

6

But when Herod's birthday was celebrated, the daughter of Herodias danced before them and pleased Herod.

7

Therefore he promised with an oath to give her whatever she might ask.

8

So she, having been prompted by her mother, said, "Give me John the Baptist's head here on a platter."

9

And the king was sorry; nevertheless, because of the oaths and because of those who sat with him, he commanded it to be given to her.

10

So he sent and had John beheaded in prison.

11

And his head was brought on a platter and given to the girl, and she brought it to her mother.

12

Then his disciples came and took away the body and buried it, and went and told Jesus.

13

When Jesus heard it, He departed from there by boat to a deserted place by Himself. But when the multitudes heard it, they followed Him on foot from the cities.