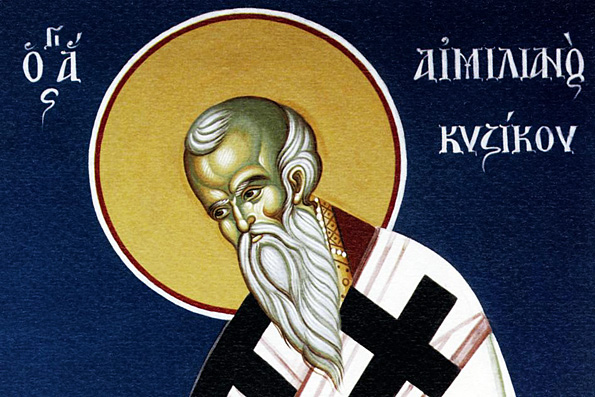 July 18
Martyr Emilian of Silistria in Bulgaria (363). Martyr Hyacinth of Amastridea (4th c.). Ven. John the Long-suffering of the Kiev Caves (Near Caves—1160). Ven. Pambo, Recluse, of the Kiev Caves (Far Caves—13th c.). Ven. Pambo, Hermit, of Egypt (4th c.). Nun Martyrs Grand Duchess Elizabeth and Barbara (1918—July 5th O.S.). The "TOLGA" Icon of the Most-holy Theotokos (1314).
Saint Emilian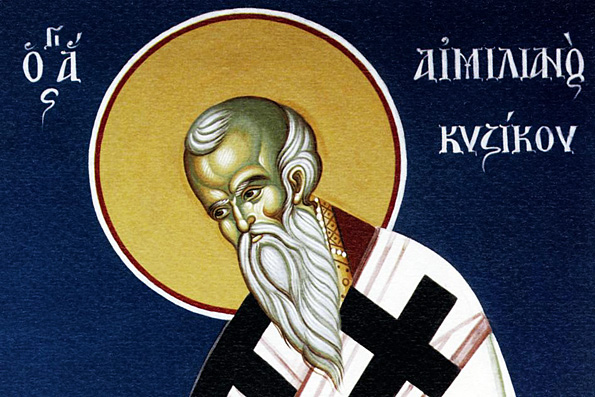 The Holy Martyr Emilian, who was a Slav, suffered for Christ during the reign of Emperor Julian the Apostate (361-363). Julian wanted to restore the cult of the pagan gods throughout the Roman Empire, and he issued an edict, according to which all Christians who failed to honor the pagan gods would be subject to death.
Saint Emilian lived in the Thracian city of Dorostolum on the banks of the River Dunaj (Danube).The imperial edict was read in the city square, but the people of Dorostolum declared that there were no Christians in the city.
Saint Emilian was a slave of a cruel and fanatical idolater, and was a secret Christian. Some sources state that he was the son of a local officer named Sabbatianus. When the father learned that Emilian believed in Christ, he was so enraged that he insulted him with vulgar words and had him whipped. He pointed out that he could expect even worse things to happen to him if he remained a Christian.
Instead of being intimidated by these threats, Saint Emilian's faith in Christ was strengthened. The next day he went into a pagan temple and smashed the statues with a hammer.
An angry crowd started to beat a certain Christian, who was passing by. Saint Emilian then shouted out loudly that they should not harm that innocent man, since he himself was the one who had damaged the pagan temple.
The saint was seized and brought to Capitolinus the governor for judgment. In spite of further threats, Saint Emilian would not deny Christ. "He is my Lord, and I will never deny Him," the martyr exclaimed. The governor ordered that Saint Emilian be beaten mercilessly, and then to be burned alive. He did not perish when he was thrown into the fire, but instead the flames consumed many of the pagans who were standing about. When the fire had gone out, Saint Emilian lay down upon the dying embers, and gave up his soul to the Lord. The wife of the pagan ruler was also a secret Christian, and she gathered up the saint's relics and buried them. Afterward, a church dedicated to the holy Martyr Emilian was built at Constantinople, where his relics were transferred.
Troparion of the saint, tone 4
Holy martyr Emilian, / you defended the Church against the idolatry of the pagans. / Because of your faith in Christ, / you were martyred by fire and through a glorious death received your crown. / Pray to Christ God that He may grant us great mercy.
Kontakion of the saint, tone 3
You did not fear the fire, your fellow-servant, / for you were enflamed with divine zeal. / You willingly entered the flames, unconsumed by the fury, / offering yourself in sacrifice to the Lord. / Glorious martyr Emilian, entreat Christ God to grant us His great mercy.
Romans 15:17-29 (Epistle)
17

Therefore I have reason to glory in Christ Jesus in the things which pertain to God.

18

For I will not dare to speak of any of those things which Christ has not accomplished through me, in word and deed, to make the Gentiles obedient –

19

in mighty signs and wonders, by the power of the Spirit of God, so that from Jerusalem and round about to Illyricum I have fully preached the gospel of Christ.

20

And so I have made it my aim to preach the gospel, not where Christ was named, lest I should build on another man's foundation,

21

but as it is written: "To whom He was not announced, they shall see; and those who have not heard shall understand."

22

For this reason I also have been much hindered from coming to you.

23

But now no longer having a place in these parts, and having a great desire these many years to come to you,

24

whenever I journey to Spain, I shall come to you. For I hope to see you on my journey, and to be helped on my way there by you, if first I may enjoy your company for a while.

25

But now I am going to Jerusalem to minister to the saints.

26

For it pleased those from Macedonia and Achaia to make a certain contribution for the poor among the saints who are in Jerusalem.

27

It pleased them indeed, and they are their debtors. For if the Gentiles have been partakers of their spiritual things, their duty is also to minister to them in material things.

28

Therefore, when I have performed this and have sealed to them this fruit, I shall go by way of you to Spain.

29

But I know that when I come to you, I shall come in the fullness of the blessing of the gospel of Christ.
Matthew 12:46-13:3 (Gospel)
46

While He was still talking to the multitudes, behold, His mother and brothers stood outside, seeking to speak with Him.

47

Then one said to Him, "Look, Your mother and Your brothers are standing outside, seeking to speak with You."

48

But He answered and said to the one who told Him, "Who is My mother and who are My brothers?"

49

And He stretched out His hand toward His disciples and said, "Here are My mother and My brothers!

50

For whoever does the will of My Father in heaven is My brother and sister and mother."

1

On the same day Jesus went out of the house and sat by the sea.

2

And great multitudes were gathered together to Him, so that He got into a boat and sat; and the whole multitude stood on the shore.

3

Then He spoke many things to them in parables, saying: "Behold, a sower went out to sow.