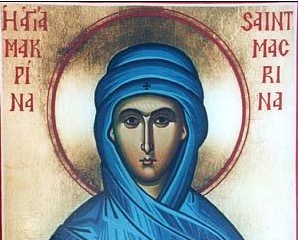 July 19
Fast
Uncovering of the Relics of Ven. Seraphim of Sarov (1903). Ven. Macrina, sister of St. Basil the Great (380). Ven. Dius, Abbot, of Antioch (ca. 430). Rt. Blv. Román, Prince of Riazan' (1270). Ven. Paísii of the Kiev Caves (Far Caves—14th c.). Bl. Stephen (1427), King of Serbia, and his mother, St. Militsa (1405).
SAINT MACRINA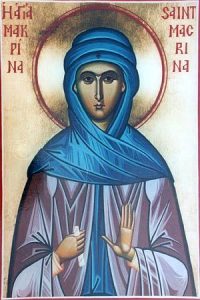 Saint Macrina was the sister of the holy hierarchs Basil the Great and Gregory of Nyssa, and was born in Cappadocia at the beginning of the fourth century. Her mother, Emilia, saw an angel in a dream, naming her unborn child Thekla, in honor of the holy Protomartyr Thekla. Saint Emilia (January 1) fulfilled the will of God and named her daughter Thekla. Another daughter was named Macrina, in honor of a grandmother, who suffered during the time of persecution under the emperor Maximian Galerius.
Besides Macrina, there were nine other children. Saint Emila herself guided the upbringing and education of her elder daughter. She taught her reading and writing in the Scriptural books and Psalms of David, selecting examples from the sacred books which spoke of a pious and God-pleasing life. Saint Emilia taught her daughter to pray and to attend church services. Macrina was also taught the proper knowledge of domestic governance and various handicrafts. She was never left idle and did not participate in childish games or amusements.
When Macrina grew up, her parents betrothed her to a certain pious youth, but the bridegroom soon died. Many young men sought marriage with her, but Macrina refused them all, having chosen the life of a virgin and not wanting to be unfaithful to the memory of her dead fiancé. Saint Macrina lived in the home of her parents, helping them fulfill the household tasks as an overseer together with the servants, and she helped with the upbringing of her younger brothers and sisters. After the death of her father she became the chief support for the family.
When all the children grew up and left the parental home, Saint Macrina convinced her mother, Saint Emilia, to leave the world, to set their slaves free, and to settle in a women's monastery. Several of their servants followed their example. Having taken monastic vows, they lived together as one family, they prayed together, they worked together, they possessed everything in common, and in this manner of life nothing distinguished one from another.
After the death of her mother, Saint Macrina guided the sisters of the monastery. She enjoyed the deep respect of all who knew her. Strictness towards herself and temperance in everything were characteristic of the saint all her life. She slept on boards and had no possessions. Saint Macrina was granted the gift of wonderworking. There was an instance (told by the sisters of the monastery to Saint Gregory of Nyssa after the death of Saint Macrina), when she healed a girl of an eye-affliction. Through the prayers of the saint, there was no shortage of wheat at her monastery in times of famine.
Saint Macrina died in the year 380, after a final prayer of thanks to the Lord for having received His blessings over all the course of her life. She was buried in the same grave with her parents.
Troparion of saint Macrina, tone 8
The image of God was truly preserved in you, O Mother, / For you took up the Cross and followed Christ. / By so doing, you taught us to disregard the flesh, for it passes away, / But to care instead for the soul, since it is immortal. / Therefore your spirit, O Holy Mother Macrina, rejoices with the Angels!
Kontakion of saint Macrina, tone 4
Thou didst love the good God with all thy heart,/ O venerable Macrina,/ and, taking His precious Cross upon thy shoulder,/ thou didst zealously follow after Him.// Wherefore, thou hast found forgiveness of offenses.
Romans 16:1-16 (Epistle)
1

I commend to you Phoebe our sister, who is a servant of the church in Cenchrea,

2

that you may receive her in the Lord in a manner worthy of the saints, and assist her in whatever business she has need of you; for indeed she has been a helper of many and of myself also.

3

Greet Priscilla and Aquila, my fellow workers in Christ Jesus,

4

who risked their own necks for my life, to whom not only I give thanks, but also all the churches of the Gentiles.

5

Likewise greet the church that is in their house. Greet my beloved Epaenetus, who is the firstfruits of Achaia to Christ.

6

Greet Mary, who labored much for us.

7

Greet Andronicus and Junia, my countrymen and my fellow prisoners, who are of note among the apostles, who also were in Christ before me.

8

Greet Amplias, my beloved in the Lord.

9

Greet Urbanus, our fellow worker in Christ, and Stachys, my beloved.

10

Greet Apelles, approved in Christ. Greet those who are of the household of Aristobulus.

11

Greet Herodion, my countryman. Greet those who are of the household of Narcissus who are in the Lord.

12

Greet Tryphena and Tryphosa, who have labored in the Lord. Greet the beloved Persis, who labored much in the Lord.

13

Greet Rufus, chosen in the Lord, and his mother and mine.

14

Greet Asyncritus, Phlegon, Hermas, Patrobas, Hermes, and the brethren who are with them.

15

Greet Philologus and Julia, Nereus and his sister, and Olympas, and all the saints who are with them.

16

Greet one another with a holy kiss. The churches of Christ greet you.
Matthew 13:4-9 (Gospel)
4

And as he sowed, some seed fell by the wayside; and the birds came and devoured them.

5

Some fell on stony places, where they did not have much earth; and they immediately sprang up because they had no depth of earth.

6

But when the sun was up they were scorched, and because they had no root they withered away.

7

And some fell among thorns, and the thorns sprang up and choked them.

8

But others fell on good ground and yielded a crop: some a hundredfold, some sixty, some thirty.

9

He who has ears to hear, let him hear!"