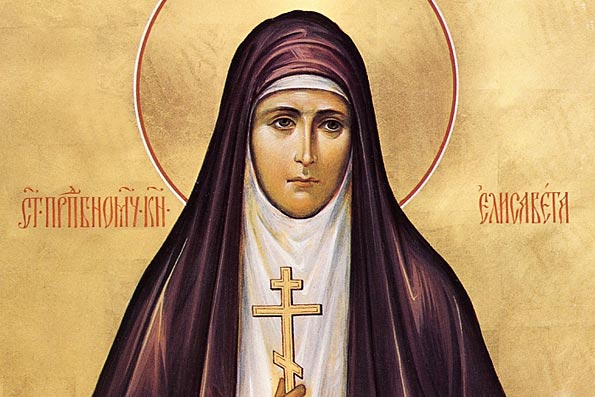 July 5 (old calendar) / July 18 (new)
Ven. Athanasius, Founder of the Great Lavra and Cœnobitic Monasticism on Mt. Athos, and his six disciples (1000). Uncovering of the Relics of Ven. Sergius (Sérgii) of Rádonezh (1422). Martyr Anna at Rome (304) and Martyr Cyrilla, of Cyrene in Libya, a widow (304). Ven. Lampadus of Hirenopolis (10th c.). Hieromartyr Cyprian of Mt. Athos (1679). Nun Martyrs Grand Duchess Elizabeth and Barbara (1918—July 5th O.S.).
Saint Grand Duchess Elizabeth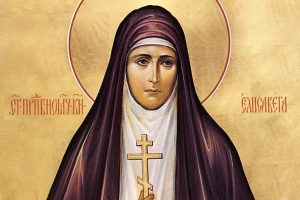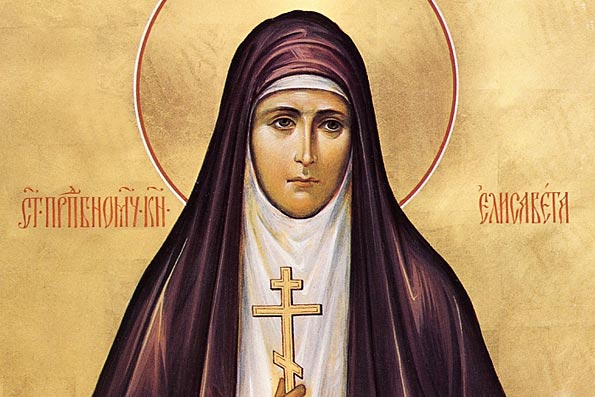 Saint Elizabeth was the older sister of Tsarina Alexandra, and was married to the Grand Duke Sergius, the governor of Moscow. She converted to Orthodoxy from Protestantism of her own free will, and organized women from all levels of society to help the soldiers at the front and in the hospitals.
Grand Duke Sergius was killed by an assassin's bomb on February 4, 1905, just as Saint Elizabeth was leaving for her workshops. Remarkably, she visited her husband's killer in prison and urged him to repent.
After this, she began to withdraw from her former social life. She devoted herself to the Convent of Saints Martha and Mary, a community of nuns which focused on worshiping God and also helping the poor. She moved out of the palace into a building she purchased on Ordinka. Women from the nobility, and also from the common people, were attracted to the convent.
Saint Elizabeth nursed sick and wounded soldiers in the hospitals and on the battle front. On Pascha of 1918, the Communists ordered her to leave Moscow, and join the royal family near Ekaterinburg. She left with a novice, Sister Barbara, and an escort of Latvian guards.
After arriving in Ekaterinburg, Saint Elizabeth was denied access to the Tsar's family. She was placed in a convent, where she was warmly received by the sisters.
At the end of May Saint Elizabeth was moved to nearby Alopaevsk with the Grand Dukes Sergius, John, and Constantine, and the young Count Vladimir Paley. They were all housed in a schoolhouse on the edge of town. Saint Elizabeth was under guard, but was permitted to go to church and work in the garden.
On the night of July 5, they were all taken to a place twelve miles from Alopaevsk, and executed. The Grand Duke Sergius was shot, but the others were thrown down a mineshaft, then grenades were tossed after them. Saint Elizabeth lived for several hours, and could be heard singing hymns.
The bodies of Saint Elizabeth and Saint Barbara were taken to Jerusalem in 1920, and buried in the church of Saint Mary Magdalene.
Troparion of the saint, tone 4
Emulating the Lord's self-abasement on the earth, / You gave up royal mansions to serve the poor and disdained, / Overflowing with compassion for the suffering. / And taking up a martyr's cross, / In your meekness / You perfected the Saviour's image within yourself, / Therefore, with Barbara, entreat Him to save us all, O wise Elizabeth.
Kontakion of the saint, tone 3
In the midst of worldliness, / thy mournful heart dwelt in Heaven; / in barbaric godlessness, / Your valiant soul was not troubled; / You longed to meet your Bridegroom as a confessor, / and He found you worthy of your martyric purpose. / O Elizabeth, with Barbara, / Your brave companion, / Pray to your Bridegroom for us.
Romans 15:17-29 (Epistle)
17

Therefore I have reason to glory in Christ Jesus in the things which pertain to God.

18

For I will not dare to speak of any of those things which Christ has not accomplished through me, in word and deed, to make the Gentiles obedient –

19

in mighty signs and wonders, by the power of the Spirit of God, so that from Jerusalem and round about to Illyricum I have fully preached the gospel of Christ.

20

And so I have made it my aim to preach the gospel, not where Christ was named, lest I should build on another man's foundation,

21

but as it is written: "To whom He was not announced, they shall see; and those who have not heard shall understand."

22

For this reason I also have been much hindered from coming to you.

23

But now no longer having a place in these parts, and having a great desire these many years to come to you,

24

whenever I journey to Spain, I shall come to you. For I hope to see you on my journey, and to be helped on my way there by you, if first I may enjoy your company for a while.

25

But now I am going to Jerusalem to minister to the saints.

26

For it pleased those from Macedonia and Achaia to make a certain contribution for the poor among the saints who are in Jerusalem.

27

It pleased them indeed, and they are their debtors. For if the Gentiles have been partakers of their spiritual things, their duty is also to minister to them in material things.

28

Therefore, when I have performed this and have sealed to them this fruit, I shall go by way of you to Spain.

29

But I know that when I come to you, I shall come in the fullness of the blessing of the gospel of Christ.
Matthew 12:46-13:3 (Gospel)
46

While He was still talking to the multitudes, behold, His mother and brothers stood outside, seeking to speak with Him.

47

Then one said to Him, "Look, Your mother and Your brothers are standing outside, seeking to speak with You."

48

But He answered and said to the one who told Him, "Who is My mother and who are My brothers?"

49

And He stretched out His hand toward His disciples and said, "Here are My mother and My brothers!

50

For whoever does the will of My Father in heaven is My brother and sister and mother."

1

On the same day Jesus went out of the house and sat by the sea.

2

And great multitudes were gathered together to Him, so that He got into a boat and sat; and the whole multitude stood on the shore.

3

Then He spoke many things to them in parables, saying: "Behold, a sower went out to sow.