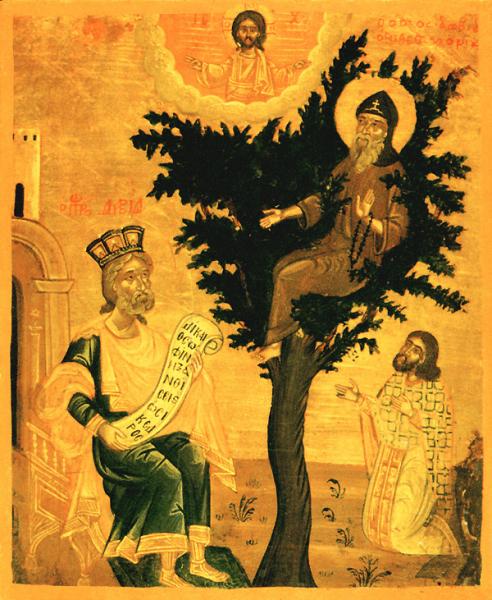 June 26
Apostles' Fast
St. David of Thessalonica (ca. 540). St. Dionysius, Archbishop of Suzdal' (1385). Translation of the Relics of St. Tikhon of Lukhov (Kostromá— 1569). St. John, Bishop of the Goths in the Crimea (8th c.). Appearance of the TIKHVIN Icon of the Most-holy Theotokos (1388). The "SEDMIYEZERSKAYA" Icon of the Most-holy Theotokos (17th c.).
SAINT DAVID OF THESSALONICA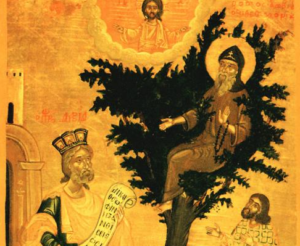 Saint David of Thessalonica pursued asceticism at the monastery of the holy Martyrs Theodore and Mercurius. Inspired by the example of the holy stylites, he lived in an almond tree in constant prayer, keeping strict fast, and enduring heat and cold. He remained there for three years until an angel told him to come down.
St David received from God the gift of wonderworking, and he healed many from sickness. The holy ascetic gave spiritual counsel to all who came to him. Having attained to passionlessness, he was like an angel in the flesh, and he was able to take hot coals into his hands without harm. He died the year 540.
Troparion of the saint, tone 8
The image of God was truly preserved in you, O Father, / for you took up the Cross and followed Christ. / By so doing you taught us to disregard the flesh for it passes away / but to care instead for the soul, since it is immortal. / Therefore your spirit, venerable David, rejoices with the angels.
Kontakion of the saint, tone 2
We bless you, servant of God David; / you are like the angels and estranged from earthly things. / Now you rejoice in divine gifts. / Grant us to share in them also, O holy and righteous Father!
Romans 4:13-25 (Epistle)
13

For the promise that he would be the heir of the world was not to Abraham or to his seed through the law, but through the righteousness of faith.

14

For if those who are of the law are heirs, faith is made void and the promise made of no effect,

15

because the law brings about wrath; for where there is no law there is no transgression.

16

Therefore it is of faith that it might be according to grace, so that the promise might be sure to all the seed, not only to those who are of the law, but also to those who are of the faith of Abraham, who is the father of us all

17

(as it is written, "I have made you a father of many nations" ) in the presence of Him whom he believed – God, who gives life to the dead and calls those things which do not exist as though they did;

18

who, contrary to hope, in hope believed, so that he became the father of many nations, according to what was spoken, "So shall your descendants be."

19

And not being weak in faith, he did not consider his own body, already dead (since he was about a hundred years old), and the deadness of Sarah's womb.

20

He did not waver at the promise of God through unbelief, but was strengthened in faith, giving glory to God,

21

and being fully convinced that what He had promised He was also able to perform.

22

And therefore "it was accounted to him for righteousness."

23

Now it was not written for his sake alone that it was imputed to him,

24

but also for us. It shall be imputed to us who believe in Him who raised up Jesus our Lord from the dead,

25

who was delivered up because of our offenses, and was raised because of our justification.
Matthew 7:21-23 (Gospel)
21

Not everyone who says to Me, 'Lord, Lord,' shall enter the kingdom of heaven, but he who does the will of My Father in heaven.

22

Many will say to Me in that day, 'Lord, Lord, have we not prophesied in Your name, cast out demons in Your name, and done many wonders in Your name?'

23

And then I will declare to them, 'I never knew you; depart from Me, you who practice lawlessness!'