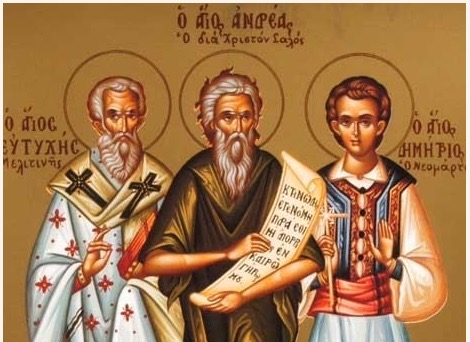 May 28
St. Nicetas, Bishop of Chalcedon (9th c.). St. Ignatii (Ignatius), Bishop and Wonderworker of Rostov (1288). St. Eutychius, Bishop of Melitene (1st c.). Martyr Heliconis of Thessalonica (244). Hieromartyr Helladius, Bishop in the East (6th-7th c.). St. Germanus (Germaine, Herman), Bishop of Paris (576).
SAINT EUTYCHIUS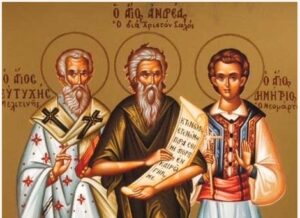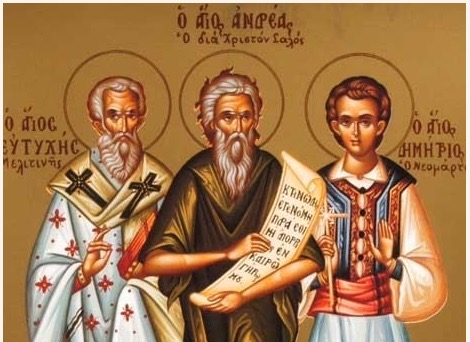 The Hieromartyr Eutychius, Bishop of Melitene, was a co-worker with the Holy Apostles, and he suffered for Christ in the city of Melitene during the first century.
***
Saint Nicetas, Bishop of Chalcedon, lived during the second half of the eighth century. For his God-pleasing life he was consecrated as Bishop of Chalcedon.
Saint Nicetas distinguished himself by his charity, he always helped the poor, he lodged travelers in his home, he cared for orphans and widows, and he interceded for those who had been wronged.
During the reign of the iconoclast Leo the Armenian (813-820), Saint Nicetas bravely denounced the Iconoclast heresy and urged his flock to venerate the holy icons of Christ, the Theotokos, and the saints. Saint Nicetas endured much suffering from the impious emperor and his like-minded cohorts. He was subjected to tortures and sent off to exile.
The holy confessor Nicetas died at the beginning of the ninth century. From his relics occurred many miracles of healing. The Canon of the service, written by the priest Joseph of Constantinople, also includes Saint Nicetas's brother, Saint Ignatius, among the saints.
Troparion for Midfeast of Pentecost, tone 8
In the middle of the Feast, O Savior, / Fill my thirsting soul with the waters of godliness, as You did cry to all: / If anyone thirst let him come to me and drink! / O Christ God, Fountain of our life, glory to You!
Troparion of the saint, tone 4
In truth you were revealed to your flock as a rule of faith, / an image of humility and a teacher of abstinence; / your humility exalted you; your poverty enriched you. / Hierarch Father Nicetas, / entreat Christ our God that our souls may be saved.

Kontakion of the saint, tone 8

You shone with the splendor of your deeds, venerable Nicetas. / You became an heir to the throne of the apostles. / Completely filled, O Father, with the teachings of God, you shone like the sun upon your flock. / Therefore we cry out to you: "Rejoice, beauty of Chalcedon."

Kontakion for Midfeast of Pentecost, tone 4
Christ God, the Creator and Master of all / Cried to all in the midst of the Feast of the law: / Come and draw the water of immortality! / We fall before You and faithfully cry: / Grant us Your bounties, for You are the Fountain of our life!
Acts 12:25-13:12 (Epistle)
25

And Barnabas and Saul returned from Jerusalem when they had fulfilled their ministry, and they also took with them John whose surname was Mark.

1

Now in the church that was at Antioch there were certain prophets and teachers: Barnabas, Simeon who was called Niger, Lucius of Cyrene, Manaen who had been brought up with Herod the tetrarch, and Saul.

2

As they ministered to the Lord and fasted, the Holy Spirit said, "Now separate to Me Barnabas and Saul for the work to which I have called them."

3

Then, having fasted and prayed, and laid hands on them, they sent them away.

4

So, being sent out by the Holy Spirit, they went down to Seleucia, and from there they sailed to Cyprus.

5

And when they arrived in Salamis, they preached the word of God in the synagogues of the Jews. They also had John as their assistant.

6

Now when they had gone through the island to Paphos, they found a certain sorcerer, a false prophet, a Jew whose name was Bar-Jesus,

7

who was with the proconsul, Sergius Paulus, an intelligent man. This man called for Barnabas and Saul and sought to hear the word of God.

8

But Elymas the sorcerer (for so his name is translated) withstood them, seeking to turn the proconsul away from the faith.

9

Then Saul, who also is called Paul, filled with the Holy Spirit, looked intently at him

10

and said, "O full of all deceit and all fraud, you son of the devil, you enemy of all righteousness, will you not cease perverting the straight ways of the Lord?

11

And now, indeed, the hand of the Lord is upon you, and you shall be blind, not seeing the sun for a time." And immediately a dark mist fell on him, and he went around seeking someone to lead him by the hand.

12

Then the proconsul believed, when he saw what had been done, being astonished at the teaching of the Lord.
John 8:51-59 (Gospel)
51

Most assuredly, I say to you, if anyone keeps My word he shall never see death."

52

Then the Jews said to Him, "Now we know that You have a demon! Abraham is dead, and the prophets; and You say, 'If anyone keeps My word he shall never taste death.'

53

Are You greater than our father Abraham, who is dead? And the prophets are dead. Who do You make Yourself out to be?"

54

Jesus answered, "If I honor Myself, My honor is nothing. It is My Father who honors Me, of whom you say that He is your God.

55

Yet you have not known Him, but I know Him. And if I say, 'I do not know Him,' I shall be a liar like you; but I do know Him and keep His word.

56

Your father Abraham rejoiced to see My day, and he saw it and was glad."

57

Then the Jews said to Him, "You are not yet fifty years old, and have You seen Abraham?"

58

Jesus said to them, "Most assuredly, I say to you, before Abraham was, I AM."

59

Then they took up stones to throw at Him; but Jesus hid Himself and went out of the temple, going through the midst of them, and so passed by.