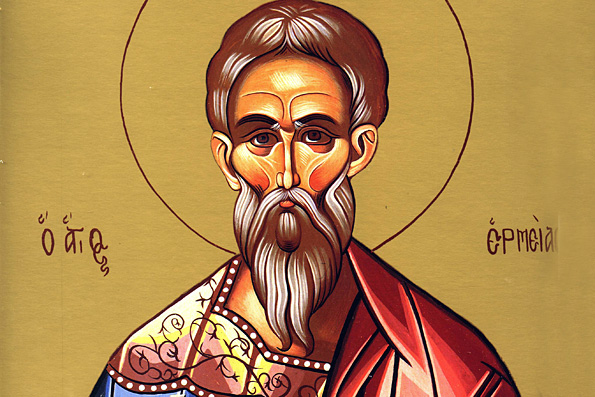 May 31 (old calendar) / June 13 (new)
Afterfeast of Ascension.
St. Apollonios (Apollo) of the Egyptian Thebaid (395). Apostle Hermas of the Seventy (1st c.). Martyr Hermias at Comana (2nd c.). Martyr Philosophus at Alexandria (3rd c.).
SAINT HERMAS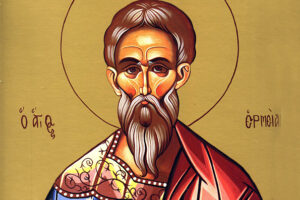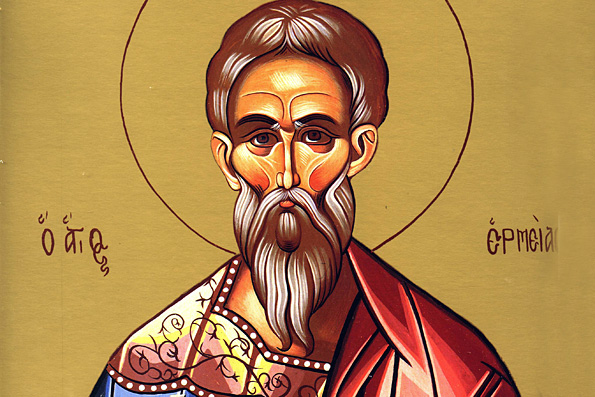 The Holy Apostle Hermas was a bishop in Philippopolis, Thrace. He was a Greek, but he spent some time in Rome. The holy Apostle Paul greets him in the Epistle to the Romans (Rom 16:14). The Apostle Hermas endured much grief from the pagans for preaching the Gospel, but he died in peace.
According to Tradition, Saint Hermas is the author of THE SHEPHERD, an instructive book based on revelations from angels.
Troparion of the Ascension, tone 4
O Christ God, You have ascended in Glory, / Granting joy to Your disciples by the promise of the Holy Spirit. / Through the blessing they were assured / That You are the Son of God, / The Redeemer of the world!
Troparion of the saint, tone 4
In his suffering, O Lord,/ Thy martyr Hermias received an imperishable crown from Thee our God;/ for, possessed of Thy might,/ he set at nought the tormentors and crushed the feeble audacity of the demons.// By his supplications save Thou our souls.
Kontakion of the saint, tone 6
Having struggled eagerly for Christ,/ thou didst acquire courage at an advanced age, O martyr Hermias;/ and having trampled the machinations of the iniquitous underfoot by the power of Christ,/ thou didst remain unharmed by sorcerous potions, crying:/ "God is with me!// Who then can stand against me?"
Kontakion of the Ascension, tone 6
When You had fulfilled the dispensation for our sake, / and united earth to heaven: / You ascended in glory, O Christ our God, / not being parted from those who love You, / but remaining with them and crying: / "I am with you and no one will be against you!"
Acts 25:13-19 (Epistle)
13

And after some days King Agrippa and Bernice came to Caesarea to greet Festus.

14

When they had been there many days, Festus laid Paul's case before the king, saying: "There is a certain man left a prisoner by Felix,

15

about whom the chief priests and the elders of the Jews informed me, when I was in Jerusalem, asking for a judgment against him.

16

To them I answered, 'It is not the custom of the Romans to deliver any man to destruction before the accused meets the accusers face to face, and has opportunity to answer for himself concerning the charge against him.'

17

Therefore when they had come together, without any delay, the next day I sat on the judgment seat and commanded the man to be brought in.

18

When the accusers stood up, they brought no accusation against him of such things as I supposed,

19

but had some questions against him about their own religion and about a certain Jesus, who had died, whom Paul affirmed to be alive.
John 16:23-33 (Gospel)
23

And in that day you will ask Me nothing. Most assuredly, I say to you, whatever you ask the Father in My name He will give you.

24

Until now you have asked nothing in My name. Ask, and you will receive, that your joy may be full.

25

These things I have spoken to you in figurative language; but the time is coming when I will no longer speak to you in figurative language, but I will tell you plainly about the Father.

26

In that day you will ask in My name, and I do not say to you that I shall pray the Father for you;

27

for the Father Himself loves you, because you have loved Me, and have believed that I came forth from God.

28

I came forth from the Father and have come into the world. Again, I leave the world and go to the Father."

29

His disciples said to Him, "See, now You are speaking plainly, and using no figure of speech!

30

Now we are sure that You know all things, and have no need that anyone should question You. By this we believe that You came forth from God."

31

Jesus answered them, "Do you now believe?

32

Indeed the hour is coming, yes, has now come, that you will be scattered, each to his own, and will leave Me alone. And yet I am not alone, because the Father is with Me.

33

These things I have spoken to you, that in Me you may have peace. In the world you will have tribulation; but be of good cheer, I have overcome the world."