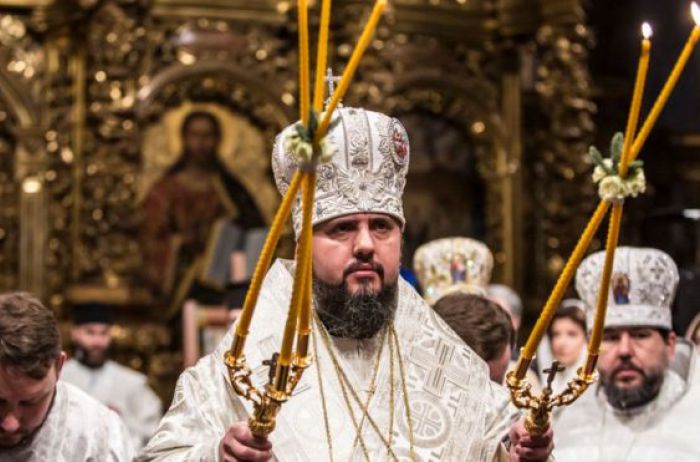 On February 3, 2019, Metropolitan Epifaniy (Dumenko)'s enthronement took place in Kyiv St. Sophia's Cathedral. The Metropolitan is the head of the new autocephalous Church established in Ukraine by the Patriarchate of Constantinople.
The Russian media noted the absence of delegations from the other Orthodox autocephalous Churches and of congratulatory messages (see for instance here and here).
The Patriarchate of Constantinople delegation consisted in Metropolitan Emmanuel of France; Metropolitan Amphilochios of Adrianople; Metropolitan George (Kalishchuk), the Head of the Ukrainian Orthodox Church in Canada; Archimandrite Alexis, the Hegumen of Xenophontos Athonite Monastery; Father Mikhail Anishchenko, exarch of the Phanar in Kyiv; and two monks of a skete belonging to the Athonite monastery of Koutloumousiou.
Others were present at the ceremony: Archbishop Sviatoslav Shevchuk, the head of the Greek-Catholic (Uniate) Church of Ukraine; Bishop Bronislav (Bernatsky), the head of the Roman Catholic Conference of Bishops in Ukraine; Metropolitan Mieczyslav Mokshitsky of Lvov (Roman Catholic Church in Ukraine); and representatives of Protestant denominations.
Ukrainian political representatives also attended the ceremony: President Petro Poroshenko and his spouse; Yulia Tymoshenko, the leader of the All-Ukrainian Union "Fatherland" party; Defense Minister Stepan Poltorak, and others.
It should also be mentioned that "patriarch" Filaret of Kyiv was absent due to health problems, according to the spokesperson of the new autocephalous structure.
You can watch Metropolitan Epifaniy's enthronement on the Facebook page here below or here.
Source