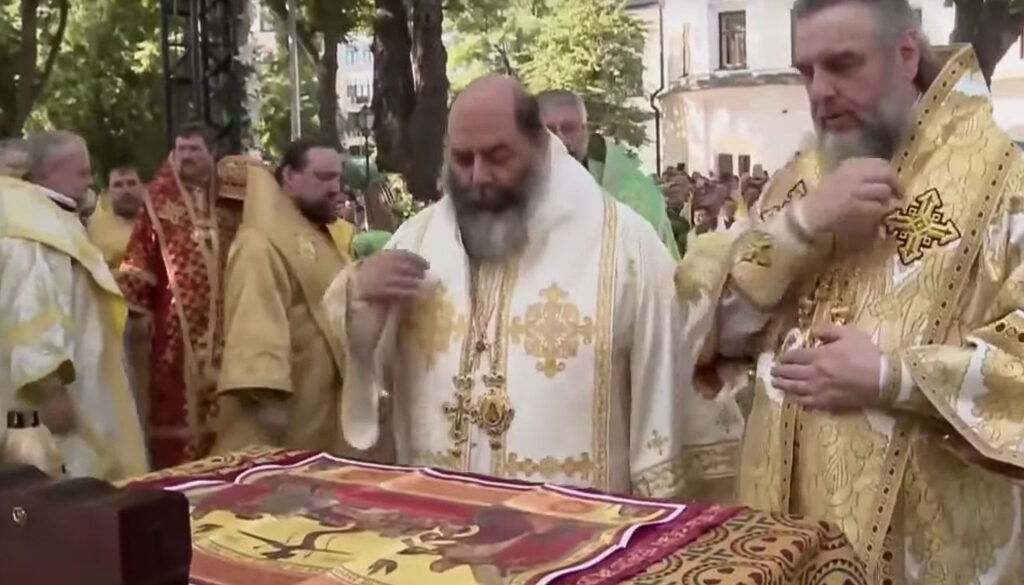 On July 28, 2019, during celebrations commemorating the Baptism of Rus', Epifaniy declared the "de facto recognition" of the AOCU (CP) by the Orthodox Church of Greece. "In fact, we are working to ensure that the autocephaly of our Church is recognized by representatives of other local Orthodox Churches," said Epifaniy at the end of the celebration on St Vladimir Hill. "And today, the Orthodox Church of Greece participated in the concelebration of the Divine Liturgy. Besides, one of our bishops served the day before yesterday and yesterday with representatives of the Greek Church in Thessalonica. This testifies to the fact that the Church of Greece recognizes the autocephaly of our Autocephalous Orthodox Church of Ukraine ".
Before the procession, at the end of the Liturgy at St. Sophia in Kyiv, Epifaniy also stated that "our brothers of the Orthodox Church of Greece participated in the service. Gradually, step by step, we are getting the recognition of our autocephalous status from the other Orthodox Churches".
The bishop in question was the Metropolitan John of Langadas, head of the Langadas metropolis of the Greek Church, which belongs to the "new territories", that is to say, which belongs both to the churches of Constantinople and Greece. Metropolitan John of Langadas declared later that he acted on his own initiative.
His visiting Kyiv during the celebration of the 1031st anniversary of the baptism of Russia was a private visit, and the Church of Greece has not reached an agreement on the "Ukrainian question", Romfea said. According to the information received, Metropolitan John served with the hierarchs of the AOCU as a professor at the Ukrainian Academy of Theology of Uzhgorod, and not as a representative of the Church of Greece.
In addition, Epifaniy stated that the AOCU Synod had created a Vicariate for Romanians who wished to pray in Romanian in their communities. He also said that a delegation had visited Romania several times, and that he had personally sent a letter to Patriarch Daniel with proposals.
"We have now implemented the request of their Synod to have their Romanian Vicariate in Ukraine, just as in Romania there is a Ukrainian Vicariate within the Romanian Orthodox Church, under the leadership of the Patriarch himself. Therefore, we opened the Romanian Vicariate to be led by the Primate," specified Epifaniy. "As you can see, we are doing a great deal to ensure that our autocephaly status is recognized by every Church, one by one".