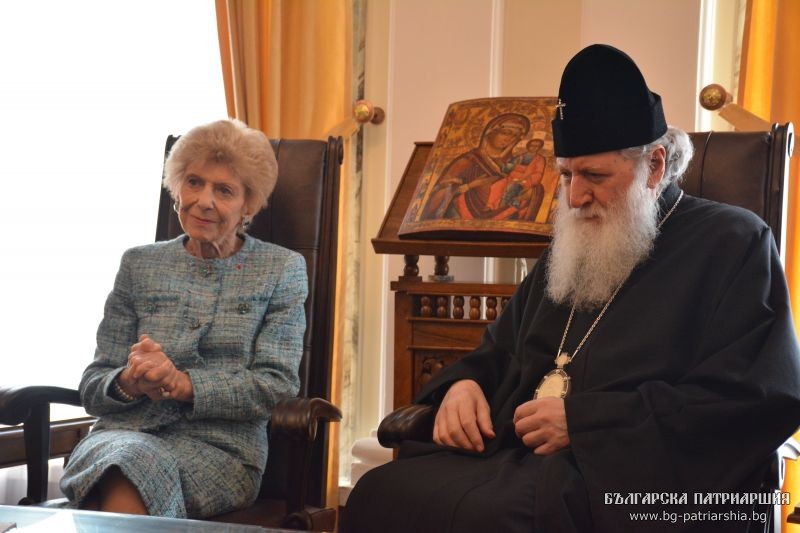 Patriarch Neophyte of Bulgaria patriarch Neophyte met with the French historian Hélène Carrère d'Encausse and with Éric Lebédel, the French ambassador to Bulgaria.
The reception was held on March 19 on Sofia Cathedral's premises.
During the meeting, Hélène Carrère d'Encausse expressed her thanks for the opportunity to meet with the bishops of the Orthodox Church of Bulgaria. She added that this meeting was of great importance to her, as she is Orthodox herself.
Were also present Metropolitan Nikolai of Plovdiv; Bishop Polikarp of Belogradchik, the Vicar of Sofia Metropolis; Archimandrite Basil, the Protosyncellus of Sofia Metropolis;  Nikolay Georgiev, Head of the Public Relations Department of the Holy Synod, and Deacon Angel Angelov.
The current situation in Europe was discussed, as well as the relationships between the Orthodox Church of Bulgaria and other traditional religions in Bulgaria. Metropolitan Nikolai of Plovdiv mentioned that "we wish to live in peace with everyone, and we are called to work at it". As an example, he talked about the history of his diocese, in which a Muslim was in charge of building a chapel dedicated to the Mother of God.
Pope Francis's next visit to Bulgaria was also discussed. Patriarch Neophyte expressed the hope that his upcoming meeting with him will take place in a spirit of understanding and good relationships.
The meeting ended with mutual good wishes, the satisfaction of having exchanged ideas, and the hope for similar discussions in the future.
Source (with picture) in Bulgarian