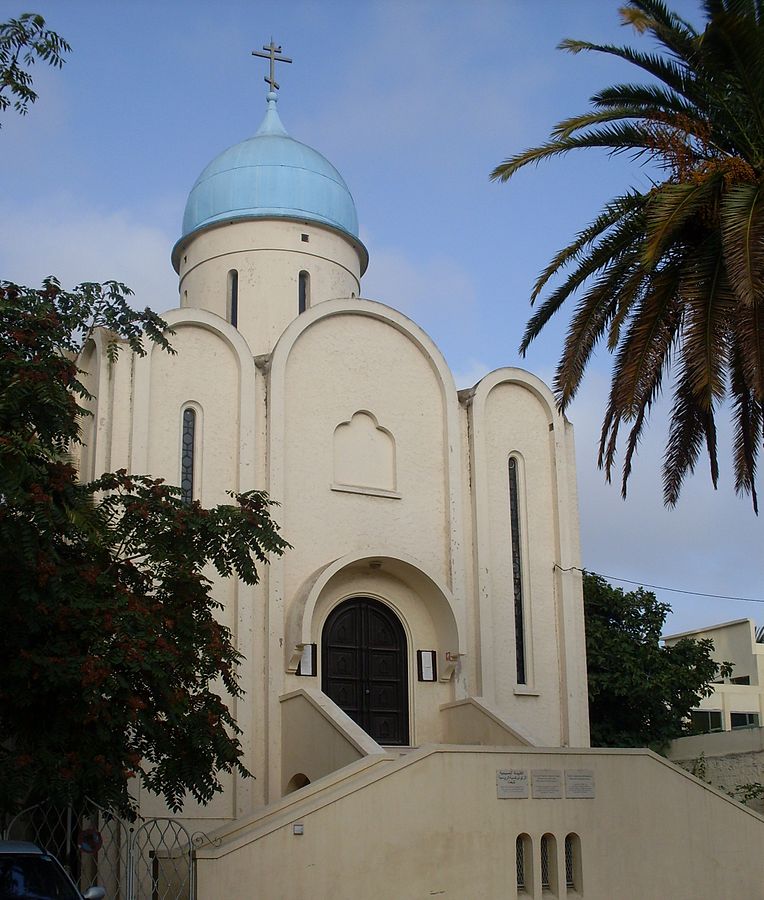 Two online articles have been recently published on Orthodox churches in Tunisia:
Holy Resurrection Orthodox Church is located on Mohammed V Avenue in Tunis (see picture above).
It was consecrated in 1956 by Archbishop John Maximovitch (ROCOR), now Saint John of Shanghai and San Francisco. It is one of the emblematic buildings of Tunis.
When you pass by , you cannot but notice its dissimilarity with the rest of the buildings on Mohammed V Avenue and the rest of the city. It is indeed a stylized reproduction of the Church of the Intercession of the Holy Virgin on the Nerl, near Moscow.
It was built on a property of the White Russian community. Two Russian Orthodox communities settled in Tunis and Bizerte in the 1920s, when a wave of refugees from the White Army fleet landed in Tunisia.
Holy Resurrection Orthodox Churchreplaced the Medina premises, where the religious services used to be held. The construction project, led by architect Mihail Fedorovic and engineer Vladimir Efimovic Lagodovskij, members of the White Russian community, lasted for three years.
Saint Alexander Nevsky Orthodox church in Bizerte was built in 1937 and 1938, to commemorate the Russian squadron. The construction project was authorized by the French authorities in 1936. It was entrusted to Colonel-Engineer N. S. Soukharjevski, and the church was dedicated to St. Alexander Nevsky.
It is built in the neo-Russian style and its interior is as splendid as its exterior. There is a marble plaque engraved with the names of the ships of the Russian squadron of Bizerte. The royal doors of the iconostasis are covered with the flag of St. Andrew, the emblem of the Russian Imperial Navy.
It was restored after the Second World War, then abandoned for a few years during the independence of Tunisia in 1956. In fact, with the exception of the two services celebrated for Nativity and Pascha, the church was abandoned, as most of the Russian parishioners left Tunisia at that time.
But at the end of the 1980s, parish life gradually resumed with the return of the wives of Tunisians from Russia, Belorussia or Ukraine, who settled in the vicinity of the church.
In 2006, the Bizerte City Council decided to name the square in front of the church after Anastasia Manstein-Chirinsky, who was unofficially the head of the parishioners for many years and the last survivor of the period of the Russian squadron.