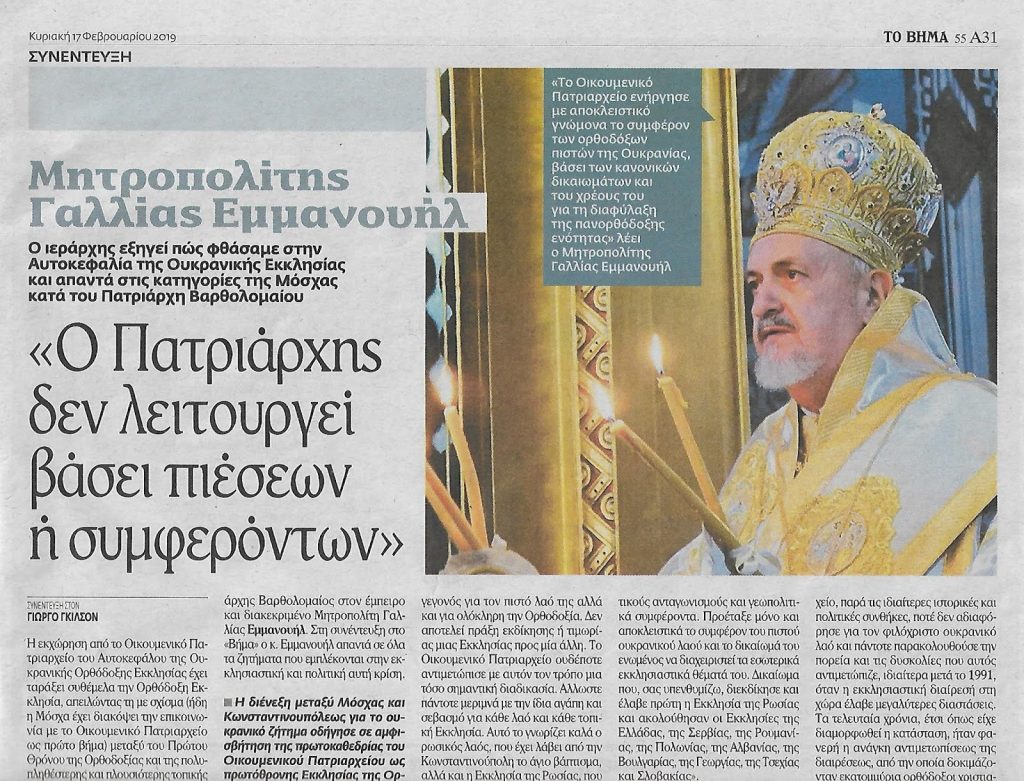 In an interview published in the February 27 Sunday edition of the Greek daily To Vima, Metropolitan Emmanuel of France responded to accusations made by the Moscow Patriarchate against Ecumenical Patriarch Bartholomew. He stressed that: "the Ecumenical Patriarchate acted only on the basis of the interests of the Orthodox faithful in Ukraine (…). He did not act for his own interests, nor under political pressure, and was certainly not influenced by political antagonisms and geopolitical interests".
About the hard stance adopted by Moscow against the Phanar and Russian ecclesiastical leaders' harsh words, Metropolitan Emmanuel stressed that "the Ecumenical Patriarchate, in his constant respect for every human being, knows how to support and forgive… As the "Mother Church, it is with affection and selfless love that he understands his relationships with all the new autocephalous Churches begotten by him and which have received autocephaly from him".
It is in this spirit of love and peace for all, that the Ecumenical Patriarch has urged Metropolitan Epifaniy of Kyiv, the primate of the newly established Church, to act "without any exception nor discrimination", said Metropolitan Emmanuel of France.
Source in Greek