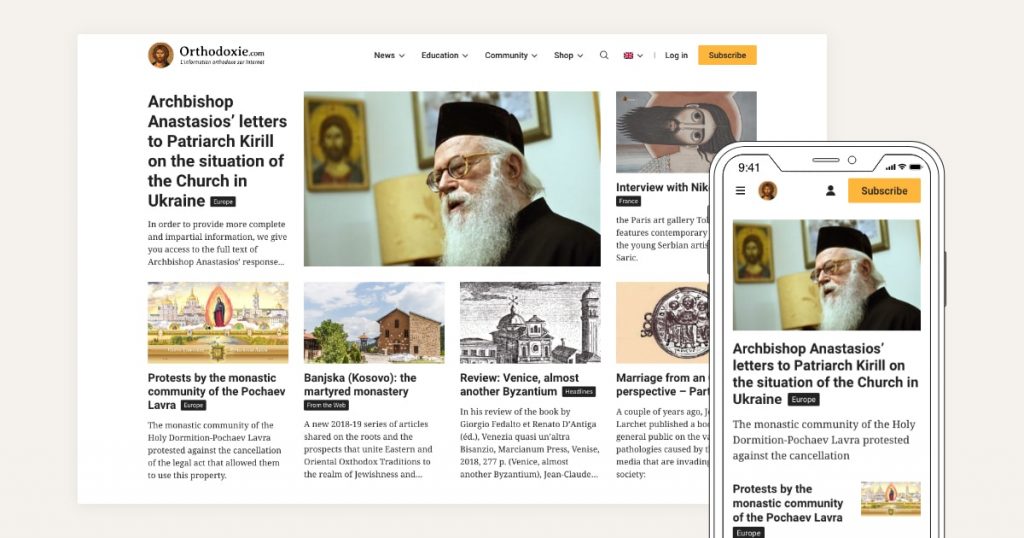 For the past 14 years, Orthodoxie.com has always stood for free and independent journalism, reporting equally about all events that happen in and related to the Orthodox world. Along with the news and updates, our team has always steered to create unique and useful content like book reviews, video conferences, interviews and lectures, as well as organize workshops and Orthodox book fairs.

Our mission has always been to provide information, educate about and involve all people around the world interested in Orthodox Christianity.

The vision we are steering towards is to implement an early-Christian methodology that is based on three levels of inclusion:

To attract and inform, which corresponds to the early-Christian concept of kerygma (κήρυγμα).


To educate and train, which corresponds to the early-Christian didache or didascalia (Διδαχή των Αποστόλων), and


To spur the community through further engagement, which corresponds to ecclesiation and building of the real-world community in the Church.
This is the theme we recently implemented on our website. We have separated the News, Education and Community sections, and we will work on developing them even further in the future.

Our website has traditionally been written and designed for francophone readers but, given the global nature of our mission, we have recently started opening the content for anglophone readership as well. Our next stage will be to make sure all our content is ready for the English-speaking world, including a stronger article translation coverage, but also video transcripts and subtitles.
What's new?
We have been hard at work at bringing you the best readership experience we could. As you may know, we have been facing certain technical challenges in the past several months, which we needed to solve in order to bring Orthodoxie.com into 2019 and the web experience that everybody expects and demands.

New website
Starting today, you will experience the new website that has been meticulously designed and built using the latest web technologies for publishing and consuming content. The website has been re-engineered with the speed and convenience in mind, so you can always get the latest information without breaking a sweat.

Quarterly reports
Each quarter we will write special reports on trending topics from the Orthodox world and deliver it to you in a series of connected articles for understanding the context. For our subscribers, we will prepare a special newsletter format and deliver it to their mailboxes.

New subscription model
In order to follow up with the standards of independent journalism and keep Orthodoxie.com afloat, we were forced to move to a new subscription model that will include a set of free articles that everyone can read, after which we will require a subscription in order to read unlimited articles. Everyone will have a chance to try the new Orthodoxie.com out for only 1 euro for a whole month. For those who already know that they love and support Orthodoxie.com, we will have special discounts for quarterly and yearly subscriptions. There will no longer be an option for "Lifetime" subscription. Please refer to our new Subscription options on this page.

For the current subscribers
In case you are currently subscribed to Orthodoxie.com, we will have to cancel your current subscription and ask you to subscribe again under the new model. Your login information stays the same, but you will have to subscribe again. Your access, however, will remain until the end of your last subscription cycle.

Naturally, if you have purchased a "Lifetime" subscription before, you will keep having full and unlimited access to all content on our platform.

We hope you will enjoy the new Orthodoxie.com website and that we will keep up to your high expectations!